09.12.07
home | metro silicon valley index | news | silicon valley | news article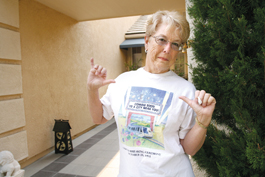 Photograph by Felipe Buitrago
Train Spotter: Former Dublin Mayor Linda Jeffery Sailors is still pushing BART to deliver on its long-ago promise to extend a line to Livermore.
The Waiting Game
All those years, all that money, but the fabled BART extension to Silicon Valley is still just a gleam in politicians' eyes
By Erin Sherbert
IT IS all we have been hearing about for years—how linking BART to Silicon Valley will relieve commuting woes, bring more jobs and business to the region and bolster the overall image of the Bay Area's biggest city, San Jose.
But is it really going to happen? You can cross your fingers but don't hold your breath.
Sure, we have 80 percent of the $4.7 billion BART project funded, but that's just the money needed to build the BART extension. We have zero dollars to operate the trains.
That doesn't seem to matter. Everyone is blithely marching ahead, making plans to begin constructing the 16-mile mass-transit project in 2009, with the goal of having BART in service by 2016. The plan is to connect BART from Fremont to Milpitas, San Jose and Santa Clara.Engineers are spending $500 million of taxpayer dollars on designs and planning, while local politicos are clearing the grounds to make way for thousands of new offices and houses clustered around the planned stations. Recently, the San Jose City Council approved a megahousing and retail development to replace the nearly 50-year-old San Jose Flea Market at the corner of Berryessa Road, a future BART stop.
This long-dreamed-of expansion is by far the most audacious transportation project ever for Santa Clara County, which is responsible for gathering the funding and delivering the BART line from Fremont to Santa Clara.
"We are just going to have to wait and see how these things are going to play out," said Hans Larsen, San Jose's deputy director of transportation. "It's a matter of time before all the pieces fall into place either economically or politically."
But there is some concern among state lawmakers that BART to the South Bay is destined to fall off track.
Recently, the state's joint legislative audit committee approved an independent audit of the Santa Clara Valley Transportation Authority, the agency responsible for delivering the Silicon Valley BART line. Part of that audit will include reviewing the financing and governance of the BART project.
The agency doesn't have a good track record when it comes to estimating project costs said Assemblyman Jim Beall (D–San Jose), who along with Assemblywoman Sally Lieber (D–Mountain View) initiated the audit. "I'm worried about promises we can't keep," Beall said. "Is BART going to be full of surprises, including additional costs unexpected? I'm concerned about that."
Promises, Promises
It wouldn't be the first time BART was promised to communities and never delivered on budget, on time—or at all for that matter.
In eastern Contra Costa County, cities took a blow after plans for the heavily touted eBART system were scaled back last year, bumping cities from Byron to Oakley off the planned extension.
Now, eBART, a clean diesel-train system that would connect to the main BART line, will end at Hillcrest in Antioch, BART officials said. Cities had made plans around the anticipated eBART line, which was supposed to provide mass transit to one of the fastest-growing regions of the Bay Area.
But BART couldn't cut a deal to get the land needed to run eBART all the way to Byron. On top of that, there wasn't the money to pay for the entire extension, BART officials said.
"The whole situation has been a little frustrating," said Steve Kersevan, Brentwood's traffic engineer. "It's on the back burner, and everyone has accepted the fact that Hillcrest is about as far as we can go."
But other communities aren't so forgiving. In Livermore, residents have been paying into the BART system for years—and they are still waiting for their BART stop.
What is further frustrating the Livermore community is that the city has been bumped off the BART map for now. There just isn't the money or enough potential riders to justify building a BART line to Livermore, officials said.
"If they can come up with the dough, we will come up with the line," said Linton Johnson, chief spokesman for BART.
However, Linda Jeffery Sailors, a Livermore resident and the former mayor of Dublin, pointed out that the tri-valley commute is one of the most congested spots in the Bay Area. Traffic will only worsen without BART, which could accommodate commuters traveling to the Bay Area from San Joaquin County.
Now, she is working to push BART to deliver on a pledge made decades ago to build a line to Livermore. Sailors, one of the politicians involved in BART when it was promised to Livermore voters, started a vociferous campaign, gathering more than 3,000 signatures from incensed residents who are demanding a BART link to Livermore.
"I'm hoping BART will live up to its promise to everyone before they go out and make new promises like BART to San Jose—those were not on the original system," Sailors said.
Taxing Ride
Perhaps one of the biggest mistakes Santa Clara County made was not linking the region to BART from the start, when construction began in 1964. But at the time, San Jose was a relatively small city with a shallow job market. There was no Silicon Valley and nobody considered that Santa Clara County would become the epicenter of innovation.
"A lot of people scratch their head and say, 'Why aren't we part of the BART system?'" Larsen said. "That's what drove people to say, 'OK, we are going to tax ourselves.'"
In 2000, Santa Clara County voters overwhelmingly approved Measure A, a half-cent sales tax, to pay for transportation projects, with BART at the top of the list.
But with the dotcom blow-out, sales-tax revenues dropped, and now officials are scrambling to close the funding gap for the BART project—estimated at roughly $750 million.
Transportation officials are hoping to capture federal dollars to help pay for the construction of BART, yet the federal government says it won't consider helping until the locals can secure the revenue needed to operate BART, which is estimated to run $65 million annually.
The only option on the table now is to go back to voters in 2008 and ask for more money. And that could be a tough sell, considering that Santa Clara County voters last summer nixed another sales-tax measure, some of which would have helped close the BART funding gap.
One thing is certain: The longer we wait for money, the more costly, the BART project will become.
"Things don't get cheaper over time," Larsen said. "That's part of the urgency to get it done sooner than later. " The drive to link BART to Santa Clara County has pushed us far enough to get knee-deep in planning, but is there enough momentum to kick this project over the finish line?
Local politicians continue to think so. Yet even if we find the money to operate BART, there is still no guarantee the federal government will pay the remaining 20 percent needed for construction.
The competition for mass-transit projects across the country is stiff, especially as transportation agencies look to provide more public transportation as a commuting alternative.
Moreover, mass transit isn't a top priority politically, and there's only so much money to go around.
It may be that the area's only hope lies in the winner of the next presidential election. "One thing to look at is the focus of the new administration and will they make transit a priority?" Larsen said. "If that happens, it could be easier; we are somewhat optimistic there will be a positive change in terms of transit funding."
Send a letter to the editor about this story.