September 13-19, 2006
home | metro silicon valley index | features | silicon valley | feature story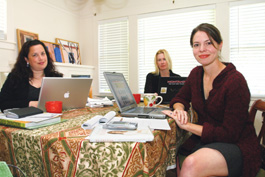 Firestarters: Left to right: Elisa Camahort, Lisa Stone and Jory Des Jardins are the co-founders of the BlogHer conference in Silicon Valley, which has been an overwhelming success for two years running.
The Hand That Blogs The Cradle
Blogs, moms and sex—they're three words that have thrown the women's movement for a loop online, leading to all kinds of infighting about what is and isn't politically correct. Are these new 'mommyblogger' and 'sexblogger' movements the 21st century version of emancipation?
By Vrinda Normand and Deena Bustillo
Photographs by Felipe Buitrago
CROSS ventilation isn't working in the stuffy conference room. Dozens of women in stiff metal chairs (if they managed to snag a seat) flutter makeshift paper fans. They'll be sweating through the next hour, and not just because of the hot air.
They've convened in San Jose on this sunny July weekend for an international gathering of women bloggers called BlogHer. The current discussion is about "mommybloggers," a new wave of women writing about everything from the toils of parenting to the politics of vaccination. The tension rises to a boiling point when one mom mentions a nasty Internet post written by someone at the conference.
"I've spent one evening in San Jose ... near a handful of obnoxious "mommybloggers," and I already want to rip their fucking ovaries out," wrote a 30-year-old blogger named Sherri.
"I don't want to hear about how many times a day your retarded kid poops or stabs itself in the eye with its own foot. I don't want to hear about how it was extracted from your smelly, overstretched vagina."
A chorus of indignation erupts from the crowd. It's starting to feel like a TV talk show in here—charged with attitude and doused with splashes of comic relief.
One speaker with a microphone says that the offending blogger must have hatched from an egg because she couldn't possibly have a mother and say such things. Another woman yells from the back of the room, "Bring her to us!"
Then the mom who brought up this explosive topic tries to quell the flames. She advises the angry crowd to walk away and "deflect the bullshit."
The flustered women agree that they're giving the "hateful post" too much attention. They move on to the next can of worms.
A panelist named Mir describes herself as an "overeducated, underappreciated, divorced mom of two," and sarcastically says she is hated because she supposedly set back the feminist movement by choosing to stay home to raise her kids.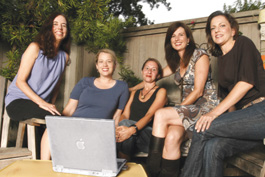 Blog Your Life: From left to right: Tekla Nee, Jill Asher, Pamela Miller-Hornik, Pamela Weiss and Beth Belcherman of the Silicon Valley Moms blog.
"In my opinion the point of the feminist movement is to have choices," Mir says. The crowd goes wild.
Jill Asher and Beth Blecherman from the Silicon Valley Moms blog are two of the women clapping in agreement. Six months ago, they helped launch a website that has become a virtual haven for working-professionals-turned-full-time-moms.
"I'm the product of a feminist," Asher says in a later interview. "I'm very fortunate that I have the ability to choose if I want to work or if I want to say home with my kids."
She left the corporate world to raise her two daughters and lead a family life that she shares with the world on her blog.
Over 1,000 visitors land on the Silicon Valley Moms website everyday, and the numbers are growing. It's a microcosm for the way the explosion of blogs on the Internet is propelling the private details of women's lives into public debate—kicking up a storm of feminist politics and igniting a push for a gender-equal cyberspace.
In the process, this virtual social movement has made for strange bedfellows.
Take 28-year-old sexblogger Melissa Gira, who found herself relating to 19 mommybloggers during an informal discussion at last year's BlogHer conference. They all felt unfairly judged for the uncensored details of what they were writing. The moms got flack for swearing. Gira got burned for being erotic.
"There are clearly parts of women's experience that most people think are just obscene or dirty if you talk about them in public," Gira says. "But for us they're not scandalous. They're just our everyday lives."
Mommybloggers and sexbloggers are both trying to get the world to take them more seriously. But cleaving through the web can be messy. Make way for onscreen bitch fights, biting opinions and all the dirty details that sprout when the niceties reserved for face-to-face Starbucks chatter disappear.
Blog Equality Now
Hundreds of women swarm around a sapphire pool set against a sunny backdrop of palm trees and high-rise office buildings. There's hardly a man in sight.
Pregnant women wearing knit T-shirts that hug their round bellies kick back on chaise lounges. Twentysomethings sporting summer dresses talk animatedly while biting into ripe peaches. Fortysomethings wearing khaki capris nurse laptops while chatting with online friends they're meeting in person for the first time.
It's a far more tranquil scene than earlier in the day, around 7:30am, when cranky bloggers ran around searching for coffee. Technical difficulties also delayed the day's first presentation, forcing three speakers to cover with a shaky rendition of "All You Need Is Love."
When things were finally up and running, conference co-founder Elisa Camahort announced the booming attendance: 750 bloggers, more than double the number at last year's debut meeting (which sold out and left 100 people on the waiting list).
The idea for a women's blogging conference bloomed in February of 2005 in response to a question that was circulating throughout the online community: "Where are all the women's conversations?"
Camahort, Lisa Stone and Jory Des Jardins—all female bloggers and entrepreneurs—came together to try to answer that question.
They used their personal blogs to advertise the conference and sparked a surprising amount of interest. Last July, they held the first BlogHer Conference in Santa Clara.
The event's success led to the creation of the BlogHer website, which has connected a community of women bloggers. Camahort describes the site as a blog-version of the telephone book and TV Guide. Sixty editors write blurbs highlighting hot blog topics and have built up a directory of 5,000 bloggers listed by category.
The goal of the site, Camahort says, is to create more opportunities for women and give their blogs greater visibility.
Although 56 percent of the 52 million blogs out there are created by women, only 12 of the top 100 blogs are written by women, according to Technorati, a San Francisco-based search engine.
Those stats could soon be changing. Visibility at this year's BlogHer was only a problem if you sat behind a tall woman. So many people wanted to attend that the location had to be moved to a bigger hotel. Conference-goers flew to San Jose from as far away as Saudi Arabia.
For many of these women, blogs have become a megaphone to air their issues. The mommybloggers have empowered themselves to reclaim the word "mommy," and the sexbloggers have banded to reclaim online sex from a massive porn industry marketed to men.
Sexologist and author Susie Bright says blogs are an inherently subversive feminist force because they make the personal political.
She returned to her home in Santa Cruz after the conference and wrote about it on her website:
"The hand that blogs the cradle informs the world—this, the blog-her generation, is the crux of women's liberation that I thought had passed its due date."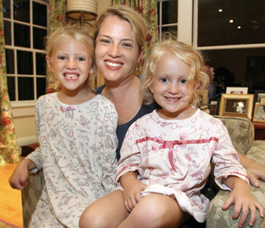 Mommy's Going to Blog You a Controversy: Jill Asher with her daughters Julia, 6 (left) and Emily, 4. Asher isn't afraid to stir up debate on the Silicon Valley Moms blog.
Let's Blog About Sex
As the poolside lunch crowd at BlogHer disperses for the afternoon sessions, one room attracts a steady stream of women. They range from college students chronicling their sensual adventures to middle-aged moms wondering how much to reveal about their marital relations. They crowd the back wall after the seating has overflowed. They all want to talk about sex.
Except one lady.
She stands up midway through the steamy discussion and says, "I don't talk about my sex life. I don't do sex blogging, and I'm not going to."
Then she chides the four panelists for "overpoliticizing" sex and scaring off women who don't feel safe inviting cyberspace into their bedrooms. "I've been a sex educator for probably longer than some of you have been getting your period," she says.
A few boos and hisses rise from the audience. This is not what most of them came to hear—although it probably isn't the first time they've been shushed for sharing intimate details. Many have been called "sluts" and "whores" by online trolls for blogging their personal diaries. It's not porn, they say. It's not even X-rated. It's just life.
"Sometimes you just have to push that line and put yourself out there as a completely full person and say, "Fuck them!" says Christine Keith, an audience member and self-described lesbian blogger.
"If you want to discuss sex frankly, politically or from the female point of view, you are going to face a prejudiced kind of backlash," says Bright, a panelist at this session.
She has often been censored for writing about anatomical truths. One of her most controversial essays broke the silence about sex during pregnancy. "Everyone knows that a pregnant woman's breasts swell in accompaniment to her belly," Bright wrote, "but why had no one told me that my genitals would also grow?"
Despite sneers and name-calling from Internet critics, Bright stands her ground: "I don't have a single drop of patience for anti-sex phobia that comes about because women are talking about real life."
That includes the freedom to be quirky and kinky and everything in between.
"Why not put sex and lasagna together?" jokes another panelist, Halley Suitt. "I'm a CEO with a real life that I want to write about across the board."
Suitt says women are redefining their sexuality through blogging. "Guess what?" she adds. "Yeah, we can."
Mommy Things
Kate Sanford's lean frame hovers near 5 feet 10 inches. A charcoal-colored ponytail snakes down her back, blending with her fitted black T-shirt and workout shorts. With intense blue eyes, she describes herself as a threat to other women: she drives a big, expensive car and lives in a big, expensive home on the peninsula.
Despite this intimidating demeanor, however, Sanford asked that we not reveal her real name.
"I blog 'high concept,' she says with a smirk, boasting of her forays into cyberspace while she's nursing a writing career on hold. Her work on the Silicon Valley Moms blog allegedly transcends wordy accounts of domestic minidramas.
The 45-year-old author/consultant says she started working at 15 as a columnist for a Northern California newspaper. After writing a novel and a screenplay, she took three years off to devote herself to "mommy things."
That would be for her now-6-year-old son, whose trinkets and unconventional toys are strewn across Persian rugs. Late afternoon sunlight streams in through the kitchen windows, illuminating buttery yellow walls and lending a sharp contrast to Sanford's smoldering presence.
Blogging, she says, is a way to deal with what she calls immense financial and social pressure that comes from living among Silicon Valley's elite. Her eyes widen as she rails on the "toxic" female culture, where cliquey mothers make sanctimonious statements at playgroups like, "I only feed my kid organics."
"All the girls you couldn't stand in high school are moms," she says, "and they're on the playground with their sucky little kids."
"They're baaaack," she adds in an eerily accurate Poltergeist 2 impression.
Instead of letting these opinions fester, Sanford created a Parenting Manifesto for her blog. The 14-point treatise includes tips like, "Eat real food," "Trust your judgment" and "Don't hyper-stimulate your kid."
After a trip to Nordstrom one day, Sanford posted an entry about seeing a 2-year-old girl being prodded to pick out her own shoes. The kid will turn into a "high maintenance spoiled brat beast," she wrote. Her advice? Let children get as dirty as possible.
The conveniently anonymous blogosphere gives women like Sanford a place to vent—and to be honest about times when they screwed up.
"We absolutely do not want to hear about anyone's perfect parenting," says Asher of the Silicon Valley Moms blog. "You can go on anyone else's site and read about how they are a perfect parent, but we don't care, and we don't want to hear it."
One mom admitted that she let the F-word slip in front of her preschooler and then felt relieved when another kid got in trouble for saying the same thing in class. Now the teacher wouldn't suspect her of being the foul influence.
Other Silicon Valley mommybloggers go a step further to stir up controversy.
"Dear Hippy Mommy Who Refuses to Give Vaccinations and Then Allows Your Children to Run Free in the World, Exposing Disease to Other Children:~ I hate you," began Rebecca Eisenberg's heated post.
Her baby had just been exposed to chicken pox the day before a long-awaited vacation to New York and Hawaii.
When Asher, one of the website moderators, found this rant in her inbox, she hesitated. Instead of posting it right away, she sent an email to Eisenberg suggesting she "tone it down a bit" and warned her about potential hate mail.
A minute later, Asher changed her mind. "You know what, you don't tone it down," she wrote. "This is your voice. Go for it."
Then she added, "OK, I really love it. I don't want to censor anything."
With the click of her mouse, Asher set off one of the most contentious debates on the Silicon Valley Moms blog.
The pox post drew a string of comments, some encouraging, some furious.
"I hope someone pointed out to you that YOU in fact are the extraordinarily selfish person who is whining like a little baby because her precious vacation might be ruined," one reader responded.
"You people don't actually think vaccines are 100 percent effective, do you?" another mom wrote. "Who will you blame when you catch something after you've burned all the 'hippies'?"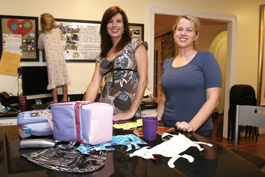 Post Imperfect: Pamela Weiss and Jill Asher in Asher's Palo Alto home. 'We absolutely do not want to hear about anyone's perfect parenting,' she says.
'I'm Turned On and I Don't Know Why'
Melissa Gira doesn't look anything like a sex worker. At least, not according to the street-hardened, lipstick-laden image burned into our minds by Hollywood.
The petite blonde curls up on the couch in a plush San Francisco hotel lobby. Her fair skin and blue eyes show only faint traces of makeup, and her feminine clothing adds to her soft aura. Ballet flats on her feet peek out from under a camel-colored, knee-length skirt. Her black blouse plunges well below her neckline, revealing a sliver of her lacy bra.
Gira says she's wanted to work in the sex industry ever since she was a kid. "It wasn't like I woke up one day and said, 'I am a prostitute at my core," she says, "It was more like, "That would be a job I could do."
So she began exploring her adult dreams as a young college student at the University of Massachusetts Amherst in the late 1990s. She became a stripper and dabbled in porn modeling. Eventually she found her niche: webcams. The Internet-based technology gave her control over her environment and allowed her to reach a national clientele from the safety of her bedroom.
Blogging went hand in hand with her webcam work. She found her first sex worker community on Live Journal, one of the earliest online forums. There she met women who could openly share advice about their trades, including prostitution, pornography and stripping.
She also wrote prolifically on blogs, weaving her experiences and thoughts into stream of consciousness diatribes tinged with political and erotic undertones. But she is careful to distinguish her writing from porn.
"I so don't do 'top 10 sex tips,'" she says, waving her hand. Unlike the in-your-face T&A on X-rated websites, Gira prefers alluring obscurity. She tucks provocative details into reflections or intellectual musings.
"I would get very vulgar and explicit, but I did it in such a poetic and abstract way that people were like, "What the hell was that? What was I reading? I'm turned on and I don't know why," Gira says about her earlier writing.
For many women, sexblogging has become a political expression because it brings matters of the flesh down to a realistic level. By telling the story of someone's life, sex blogs indulge in intimacy that porn just doesn't deliver.
"Why are people always setting off sex over here as this separate thing?" Gira asks. "Why can't it just be a part of everything that you're doing?"
And everything she does, Gira says, has something to do with that three-letter word. She still calls herself a sex worker, even though she's retired from stripping and now serves as the development director at the St. James Infirmary in San Francisco, a health clinic for sex workers.
"You don't need the full-on gynecological shot of a vagina to be turned on," she adds. "You can see it wherever."
Send a letter to the editor about this story.