September 13-19, 2006
home | metro silicon valley index | features | silicon valley | sports news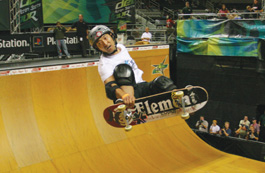 Irony: Lincoln Ueda from Brazil busts out a huge frontside Japan Air over the channel.
Wall-to-Wall Action
By Felipe Buitrago
What is it with Brazilians? If it's soccer, they just happen to be one of the best teams in the world. If it's partying, they make a carnival and everyone from everywhere is invited. And if it's vert skating at the Dew Action Sports Tour last weekend, they fly higher than anyone. Sandro Diaz, Bob Burnquist and Lincoln Ueda held a clinic on vert-ramp flight over the weekend at San Jose's HP Pavilion. But unfortunately, massive air isn't everything. Bucky Lasek took the vert win for this leg of the Dew Tour. Also sitting pretty was 16-year-old Ryan Sheckler, who looks like he learned how to ride a skateboard before he learned how to walk. He took the win in Skateboard Park and Nate Adams triumphed over Travis Pastrana in Freestyle Motorcross. Sadly Ryan Nyquist was outdone by Scotty Cranmer and only landed second place. Not bad for a guy who's had some problems with his ACL.
Whether it was cruising the booths or watching your favorite pros, this weekend was all spectacle. A lot of the action also came from the crowd, as Sheckler was close to being mobbed at the skatepark facility by the fans. This kid's only 16, but the girls love him, and the guys wanna be him. Meanwhile at the BMX park track, Professional Freestyle wheelchair rider Darwin Holmes was watching the action from the sidelines. He'll be doing his own thing at the Tim Brauch Memorial Skatepark later this month. And at the Vert Ramp, the Brazilians of course were putting the fans on their feet waving flags of pride as Bob Burnquist attempted a 900. But my jaw hung wide when I saw the demo put on by a few 10-year-old prodigious vert riders, who tamed the enormous halfpipe with front and backside airs over the channel and kick-flips from ramp to channel. In its second year here, the Dew Tour is really putting San Jose on the map for alternative sports.
Send a letter to the editor about this story.