September 13-19, 2006
home | metro silicon valley index | features | silicon valley | feature story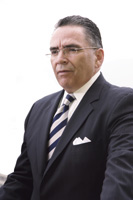 Ask an Anchorman! Ron Burgundy on Ron Gonzales: 'He looks good. I mean really good. Hey everyone, come see how good he looks!'
Skin Deep
By Joseph Rosenfeld, AICI, CIP
SO MUCH emphasis is placed upon appearance in our culture that people's shortcomings are often cloaked beneath the guise of a well-groomed person. Consider San Jose Mayor Ron Gonzales. Smartly dressed and well coifed, he has the look of authority befitting a mayor of one of the nation's largest cities. But appearance is not just a skin deep issue that can be enhanced with a suntan and strong-holding hairspray. Communication and behavior impact one's appearance, too. In Gonzales' case, all one needs to do is look at the behavior that got him into the trouble he's in and his mayoral image is washed away by all of that hot water. This is what happens when behavior overpowers one's appearance.
Shift southward to Hollywood Land and consider actors Tom Cruise and Mel Gibson, two Hollywood heartthrobs with not a hair out of place between them. They have perfect teeth, adoring (or in Gibson's case, worshipping) fans and swirling rumors (or fantasies) about their sexual proclivities. Cruise gets cut from Paramount Pictures by a very personal yet public statement by Viacom chairman Sumner Redstone. Gibson gets arrested while driving intoxicated and makes anti-Semitic comments to the arresting officer. Now that the stars' dirty laundry has been aired so publicly, and their image and box office cache are at risk, the two men have changed their tunes to become more contrite. Apologies abound with Cruise making up with Brooke Shields, and Gibson extending the olive branch to the Jewish community.
Few Hollywood stars have shone brighter than theirs. Both have made many hundreds of millions of dollars for their respective Hollywood studios. They are their own brands. But their success is dependent upon the public's willingness to buy their brands. Recent polls showed that the public is tired of the folly created by their poor public behavior. Even Redstone commented to the Wall Street Journal that Cruise's "recent conduct has not been acceptable to Paramount."
That the public is fed up with the likes of Gonzales, Cruise and Gibson suggests an interesting shift that everyone should note. Even if you don't work on such a large public scale, your behavior can impact the perception that others will have of you. Certainly, you should not have clandestine meetings to spend millions of the public's money, jump on furniture while being interviewed, assault the character of your colleagues, drink on the job or make derogatory comments about religion. If there's anything redemptive about observing the failure of these men it is the fact that no matter how much money or power you possess, sooner or later you probably will have to pay the piper. If your physical appearance doesn't offend, but your behavior does, you've got an image issue that is bigger than a makeover or teeth whitening could ever fix.
Send a letter to the editor about this story.