09.16.09
home | metro silicon valley index | news | silicon valley | news article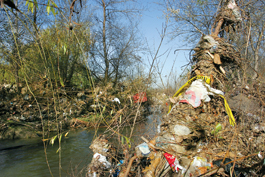 Photograph by Felipe Buitrago
LEAVES OF TRASH: Coyote Creek earned the distinction of being named one of Save the Bay's 'Bay Trash Hot Sfpots,' after 1,100 plastic bags were fished out of the area.
Plastic Surgery
Coastal cleanup moves upstream in an effort tokeep trash out of the bay
By Jessica Lussenhop
AS California's Coastal Cleanup Day gears up for its 25th anniversary of beachcombing for cigarette butts and bottles, Save the Bay restoration coordinator Natalie LaVan says there's good news and there's bad news. "In this day and age people are becoming more aware," she says. "Folks are going out and cleaning up the beach on their own. They don't need a special day for it."
And though LaVan says our coasts are cleaner now that people are picking up after themselves, that's no reason to declare "Mission accomplished"—there's still lots of work to do further upstream.
She connects this weekend's efforts to the recently discovered continent-size patch of plastic garbage in the North Pacific Gyre.
"We're finding that a lot of the trash is coming in from the hills and winding its way through these little creeks," she says. "If we can get the trash at that point, before it actually hits the ocean, we can actually minimize that giant gyre."
Creek Connections Action Group, Save the Bay's partnership with the Santa Clara Water District and city of San Jose, has data from last year's cleanup showing huge amounts of trash being collected in local riverbeds. Los Alamitos Creek coughed up 54,000 pounds, while 16,611 pounds were hoisted out of various locations along Coyote Creek, and Palo Alto's San Francisquito Creek gave up 5,000 pounds.
Coyote Creek earned the distinction of being named one of Save the Bay's "Bay Trash Hot Spots," after 1,100 plastic bags were fished out of the area.
"Almost everything in our county flows to the bay," says Santa Clara Valley Water District volunteer coordinator Kate Slama. "There's a lot of people out there who still don't understand the connection between throwing something on the sidewalk and it ending up in the creek."
But focusing more on riverbeds has its own set of complications.
"Homeless camps are inevitable," Slama says. "A lot of the sites where we know they're there, we have a police liaison." Slama says some camps are notified the day before about the cleanup, not only to keep them in the loop, but to provide campers with bags and an opportunity to join in the cleanup.
"The volunteers should give them a wide berth," Slama says. Ultimately, however, "they are creators of trash. We would like to get it cleaned up."
Cleaning up a creek or slough doesn't have the same charm of a day at the beach, and it also brings up some sticky social issues outside the purview of an environmental day of action.
"Rivers do present different challenges in terms of human waste and drug paraphernalia. There's a lot of yucky stuff going on along the riverways," says Kaitilin Gaffney, the Ocean Conservancy's director of Pacific Ecosystems Protection.
Though she estimates only about 10 percent of the overall garbage is a direct result of homelessness on the rivers, Gaffney knows firsthand that it is a delicate issue, since her husband has been the site coordinator for the San Lorenzo River in Santa Cruz in the past.
"You give the homeless their space," she says. "People are not using the river as a toilet because they have a choice. The city and the county and the state need to come up with solutions for those problems."
Slama says she's hopeful that about 1,300 volunteers will turn out, and learn through their landlocked assignments the direct link between the health of the rivers and the health of the coasts.
"I think we're putting things in place to try to get people to realize it's a big issue, before it gets like it is down in Los Angeles," she says. "It's a slow process."
Save the Bay hopes to use the results to continue to push for plastic bag bans throughout the Bay Area.
"Plastic bags come from everywhere, those are the things that get blown around," says LaVan. "Everything gets washed down in the storms in our creeks. That's where we definitely need a lot of help."
Coastal Cleanup Day is Saturday, Sept. 19, from 9am to noon. For more information or to sign up visit www.clean acreek.org.
Send a letter to the editor about this story.