09.17.08
home | metro silicon valley index | features | silicon valley | Best of Silicon Valley 2008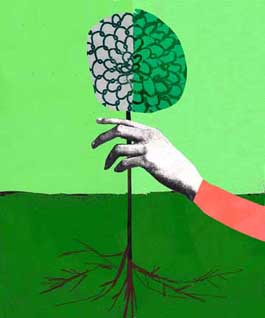 Short List
Each year we put together a short list of the editors' personal favorites of quintessential amenities that make valley living a little more fun or interesting. Here's a sampling of this year's picks, more of which will be posted to SanJose.com and Metroactive.com in coming weeks.
Best New Architectural Icon
San Jose International Airport
As the new Terminal B at San Jose International takes its place alongside the quaint Terminal C and the bad '80s brown and black granite Terminal A, Silicon Valley will now greet airborne visitors with a "wow" factor. Designed by the Denver firm Fentress Bradburn, Terminal B is skinned with a high tech curved metal facade that screams "high tech!"—something that has too often been missing in the valley's architecture.
Best Car Detailing
AJ Auto Detailing
With two decades in business and a mini-detail as low as $35, AJ is a clear leader in this category. Service is fast and personal, and wireless Internet in the waiting room keeps motorists plugged in while waiting for their wheels to re-emerge clean and shiny. 702 Coleman Ave, San Jose; 408.947.1111.
Best French Fries
Morton's Steakhouse
A large order of fried potato sticks served with melted blue cheese, red pepper flakes and chives is a signature Morton's dish and a singularly decadent side dish. 177 Park Ave, San Jose; 408.947.7000.
Best New Coffeehouse
Caffe Trieste
Strong coffee, scrumptious pastries and a North Beach heritage make Caffe Trieste a welcome addition to downtown San Jose's SoFA district. The legendary Papa Gianni even pops in from time to time. 315 S First St., San Jose; 408.287.0400.
Best Thick Sashimi Slices
Fuji Sushi
Too many sushi joints carb it up with rice or flash-fry their fancy-named creations, then skimp on the fish. Not Fuji Sushi, a small, humble downtown restaurant that excels at the basics for raw-fish lovers in need of a protein rush. 56 W Santa Clara St, San Jose; 408.298.3854.
Best Deck
Axis Condominiums
The fourth-floor pool deck and barbecue area at the new 22-story Axis condominium high-rise complex is an urban space that works well, a spacious site with sunshine, views, eating areas and greenery. The clean, contemporary common area was designed by the Portland firm Ankrom Moisan. 38 Almaden Blvd. San Jose; 408.297.9888.
Best Wine Room
Plumed Horse
Saratoga's fully transformed Plumed Horse has as its centerpiece a glassed-in multistory wine room with a collection that recently garnered the Wine Spectator Best of Award of Excellence. The list is deep in California cabs as well as champagnes, and includes Dom by the glass. 14555 Big Basin Way, Saratoga; 408.867.4711.
Best New Restaurant Décor
La Fondue
The eclectic design of Saratoga's new La Fondue pushes the edge to stand out amid the clean modernism that's seemingly legislated for restaurants these days. A mashup of Philippe Starck gun lamps and polished aluminum chairs amid pop art backdrops and projected laser level beams, it's amazing that the self-created décor holds together, but it somehow works, creating a comforting space to dip food in an unsettling world. 14550 Big Basin Way, Saratoga; 408.867.3332.
Best Irish Pub
O'Flaherty's
If you raise a glass here on a night when Ray O'Flaherty is in the house, you'll learn that Smithwick's ale is actually pronounced "Smittick's," along with many yarns covering O'Flaherty's journey from the Emerald Isle to Silicon Valley. After all, an Irish pub is as much about the stories and songs as it is about the drink—although that's pretty important too. 25 N San Pedro St, San Jose; 408.947.8007.
Best Unopened Club
Club Wet
We've been waiting a long time for the successor to Polly Esther's/Cabana/Glo to unlock its doors, and by the looks of things, the opening is near. With shark tanks, waterfalls over the bars and a light and sound system that's ready to pound out beats, the delay has done nothing to dampen the anticipation for this new venue. 396 S First St, San Jose; 408.282.8938.
Best Lobby Art
Dale Chihuly Chandelier
The renowned glass artist's show at the De Young has earned Dale Chihuly some new friends around these parts, but anyone who has ever had any reason to visit the new El Camino Hospital (now PAMF) already knows his work. The enormous, bright sculpture forces patients and visitors to look up in wonder—a good way to walk into a hospital. Palo Alto Medical Foundation, 701 E El Camino Real, Mountain View; 650.934.7000.
Best Car Service Bay to Eat In
Toyota Sunnyvale
Adam Simms hosted a meeting of new Prius owners in his dealership's service bay not long ago, with food and drink. Under the hydraulic lifts and dangling air hoses, the hangar-size garage has a spotless ceramic tile floor. Like a surgical theater for cars. 898 W El Camino Real, Sunnyvale; 408.245.6640.
Best hole-in-the-wall Burger and Falafel Joint
Vivi's
Vivi's is small and unglamorous, but it's clean and the food is great. The décor consists exclusively of James Dean posters, dress is capital-C casual and the menu is an interesting blend of burgers, fries, falafels and pizza. The fries are thick-cut and greasy, kind of like the patrons. 21731 Stevens Creek Blvd, Cupertino; 408.255.3535.
Best Ride in Palo Alto
Old Pro's Mechanical Bull
Back in the '80s, you could find one in every roadhouse—but it was strictly a Country thang. At the Old Pro, the buckin' cowgirls are Stanford gals. Yee-haw. 2865 El Camino Real, Palo Alto; 650.325.2070.
Best late-night Dining in Los Gatos
Valeriano's
OK: So 10pm (11pm on weekends) isn't exactly late-night; but Valeriano's, warmly housed in a old bank lobby, serves excellent Italian cuisine and dozens of wines by-the-glass, and features a cool old wrap-around bar. And they don't throw you out when the rest of town is rolling up the sidewalks. 160 W Main St, Los Gatos; 408.354.8108.
Best Free Found of 'Golf'
Parque de La Raza Disc-Golf
This sweet little nine-hole winds through a decommissioned picnic grounds, right along Coyote Creek. Although it's virtually next to 101, La Raza is an oasis. A nice mix of cottonwoods and pines make it a shady and challenging course. Coyote Road near Blossom Hill Road, San Jose.
Send a letter to the editor about this story.