09.17.08
home | metro silicon valley index | features | silicon valley | sports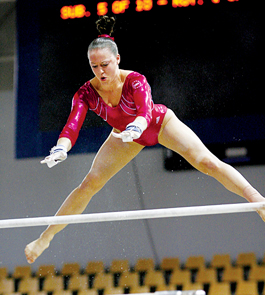 WHY DO THEY CALL THEM FINGERS IF THEY DON'T FING? From signature moves on the uneven bars to a Vogue photo shoot, Chellsie Memmel will be visiting the HP Pavilion Sept. 21.
For Those About to Flip
By Felipe Buitrago
TIME TO STOP wasting your energy on Guitar Hero, dreaming of playing blazing solos to thousands of adoring fans. Gymnastics is the new cool. After an amazing performance in Beijing at the Summer Olympics, the U.S. gymnastics team—including gold medalist Nastia Liukin and silver medalist Shawn Johnson—will be touring the States, making a stop in San Jose on Sept. 21 to give us pro gymnastics, MTV-style. No more biased judges and quiet hushes; this will be rock-show-style with lights and music. choreographed lights and music. The Tour of Gymnastic Superstars will also have a guest appearance by 2004 Olympians the Hamm brothers, Morgan and Paul. Both unfortunately had to back out of the 2008 Olympics due to injury. Now with a full roster, the U.S. gymnastics team is ready to rock with plenty of flair. Warning: if you miss them on this tour, you'll have to wait for the inevitable gymnastics cover band China Girl: The Shawn Johnson Experience.
TOUR OF GYMNASTICS SUPERSTARS, with Olympic gymnasts Shawn Johnson, Nastia Liukin, Chellsie Memmel, Shannon Miller and Paul Hamm, happens Sunday, Sept. 21, at 5pm. Tickets are $31.50–$92. HP Pavilion, 525 W. Santa Clara St, San Jose, 408.998.TIXS.
Send a letter to the editor about this story.