09.19.07
home | metro silicon valley index | features | silicon valley | feature story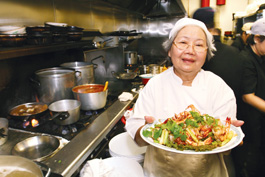 Photograph by Felipe Buitrago
RE-MADE IN AMERICA: Chac Do at her restaurant Vung Tau II in Milpitas. Do escaped from Vietnam in a fishing boat in 1975; she has since launched a series of successful restaurants in the South Bay with her family.
A Taste of Freedom
The valley's ethnic restaurants often reveal stories of courage about the refugees who struggled to reach America.
By Stett Holbrook
WHEN THE NIGHT finally came to make her escape from Vietnam, Chac Do gathered her seven children and nine other family members and piled into a fishing boat. Since the communists had taken over the country in 1975 they had commandeered her modest shrimp business and slashed her wages so that she couldn't support her family.
"The ocean and everything in it belonged to the communists," she remembers. "Even the fish."
So when her husband, a former South Vietnamese police officer, was released from a detention camp, the couple were resolved to flee the country. But they almost didn't make it.
When the outboard-motor-powered boat launched from the shores of the southern Vietnamese city of Vung Tau in 1976, there were 63 men, women and children people aboard a vessel built to carry a fraction of that.
Just as the laboring boat was getting under way, gunshots rang out behind them. The Vietnamese military had gotten wind of their escape and tried to stop them as they began to motor south for Malaysia. But Do's huddled family and other refugees were soon out of reach of the communists. They slipped into the night and joined the growing exodus fleeing the country.
"We weren't carrying anything, just the shirts on our backs," says Do, 70.
As the silver-haired woman remembers that night now, she recalls the risks she took to make a better life for her family and the desire to come to America. When she left her life in Vietnam, she never imagined that she would become the matriarch of a successful restaurant family that now owns five restaurants in Silicon Valley and San Francisco.
People Like Us
For residents of Silicon Valley, the culinary diversity of the area is part of the appeal of living here. But for refugees, restaurants represent a lifeline, a toehold in their adopted countries and often a connection to the cultures they leave behind.
So-called ethnic restaurants benefit refugees as well as the local population at large, says Carlos Garcia, assistant professor of sociology at San Jose State University. Because immigrants often lack English skills that would enable them to do other kinds of jobs, working in a restaurant with their fellow countrymen can be ideal.
"It provides them this opportunity to work in a protected environment," he says.
For the restaurant-going public, restaurants serving food from different regions of the world provide something that might not otherwise be available—traditional food from Ethiopia, Cambodia, Iran, etc.
Garcia sees the potential for societal benefit as well. When different ethnic groups or cultures come into contact with one another, this has the potential to promote greater acceptance and awareness.
"With increased contact comes greater tolerance," he says. "You say, 'Those people aren't so weird; they use forks just like we do.'"
While Do's story as a refugee fleeing across the South China Sea in an overloaded boat is gripping, it's not uncommon. Many of the owners and workers in Silicon Valley restaurants have similar tales to tell.
As a restaurant critic, I'm fortunate to get to experience Silicon Valley's culinary diversity on an almost daily basis. But after spending so much time trying to understand what makes one cuisine different from another, I wanted to hear more about the people who make the food and what they went through to get here. What follow are a few of their stories.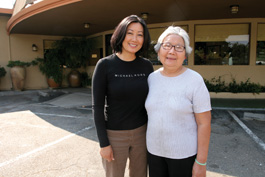 Photograph by Felipe Buitrago
STRENGTH IN FAMILY: Chac Do, right, with her oldest daughter Tammy Huynh, who helped her launch Vung Tau in 1985.
Safe Haven
A refugee is defined as someone living outside his or her country who has a well-founded fear of persecution or death if they returned home because of their ethnicity, religious identity or political beliefs. Each year the U.S. Department State allows 70,000 refugees to enter the country, but the actual number is well below that. September often sees the greatest influx of refugees, because it's the end of the resettlement year.
"One of the things that makes San Jose very different from other resettlement offices is just the level of income that's necessary to live in this area and to be successful," says Michael Cook, resource developer for the San Jose office of the International Rescue Committee (IRC), one of 10 refugee resettlement agencies in the country.
"As people know in Santa Clara County, even if you grew up here and have a college education—even with a college education—it's difficult. Most people can't buy a house."
Most of the refugees the agency works with come from Vietnam, Iran and East Africa. There are also a number of Iraqi refugees who are expected to be arriving here. Since 1979, the IRC has resettled about 40,000 refugees in San Jose.
"It's part of the United States' history to be a safe haven for the people of conflict since the beginning of our existence," Cook says.
From Vung Tau to Vung Tau
It took four long days for Chac Do's boat to reach Malaysia. "I remember it was so crowded we had no place to sleep," says Tammy Huynh, Do's daughter. "We had to sleep sitting up."
Bedraggled and hungry, the refugees finally arrived in Singapore only to be placed in jail for a night because they didn't have the proper travel documents. The next day, they were sent to neighboring Indonesia, where they ultimately landed in a refugee camp in the capital city of Jakarta.
Do and her family spent a year in the camp hoping to be resettled in the United States. Other refugees were being resettled in Europe, Australia and elsewhere, but they wanted to go to America.
"If you want to go to the United States, you have to wait the longest," said Huynh, 44. "But we stuck it out. We knew that it was the land of opportunity. We knew if you worked hard there you could make it."
Finally, they boarded a plane for California. A distant cousin who lived in Lodi picked them up at the airport, and the 13 family members who came to the country all moved into a two-bedroom apartment.
With the help of Catholic Charities, another refugee resettlement agency, the family slowly began to adapt to life in the United States. The children enrolled in school and began to learn English while Do got a job in a local Del Monte plant and a school. In time, she learned that there was greater opportunity in San Jose, a city with a growing Vietnamese population.
She began to work as a cook in a number of San Jose restaurants. Although she was in the shrimp business back in Vietnam, Do wasn't much of a cook. Because she worked such long and erratic hours in Vietnam, she had to hire a housekeeper to cook for her children. But in San Jose, she developed a keen interest in preparing the food of her homeland and quickly mastered the art of cooking.
With family help, she and her oldest daughter, Nhan Huynh, opened a 32-seat restaurant of their own on San Carlos Street in 1985. They named it Vung Tau after their hometown, which they had left less than 10 years before. The restaurant was a hit with San Jose's burgeoning Vietnamese population, who were hungry for the tastes of home. "It got so successful we had to expand," she says proudly.
Two years later, the restaurant moved to a 120-seat space on East Santa Clara Street, where it still sits today. In 2004, Vung Tau closed for five months to undergo an extensive remodel. Opaque glass and marine colors evoke the seascapes of Vung Tau.
Meanwhile, Tammy Huynh had completed college and was working as a pharmacist when a developer friend of her brother's approached her about opening a second Vung Tau in Milpitas. She decided she'd do it but still keep her day job. The restaurant opened in 1996, but what began as a part-time job soon became her life.
"I started to get that itch just like my mom," she says. "I said, 'This is fun. This is what I want to do.' I was just like my mother."
Partnering with her niece Anne Le, the self-taught chef went on to open Tamarine in Palo Alto and Bong Su in San Francisco, two highly acclaimed contemporary Vietnamese restaurants. Last year, Esquire magazine named Bong Su one of the country's Top 20 new restaurants. The family also opened a third Vung Tau in Newark.
Huynh says her 14-year-old son appears to have caught the same itch to cook that she and her mother have. "He says, 'I want to be a chef. I want to be like you.'"
Fleeing Saddam Next War
George Silyou was a working as a taxi driver in Iraq in 1990 when he saw a chance to get out of the war-ravaged country. He had just served 12 years in the Iraqi army and survived the bloody Iran-Iraq war, a conflict that claimed more than a half-million Iraqi lives.
Silyou, a 49-year-old man with a cherubic face and a quick laugh, worked as a mechanic and cook in the army and was able to avoid the front, although he says the Iranians would sometimes circle around and attack the supply lines where he was positioned. As a Christian Assyrian, an ancient culture centered in northern Iraq, Silyou says it was God, not chance, that kept him alive.
"It's not luck or anything," he says matter-of-factly. "It's what God gives to you. Life is given to you, and sometimes it's taken away. That's it."
After the war, Saddam Hussein relaxed the travel ban that had prohibited anyone from leaving the country. Though the war with Iran was over, Silyou didn't want to wait around until Saddam started another war and ordered him back into the military. Silyou says he predicted that the Iraqi dictator would invade Kuwait, and he and his wife got out of the country just in time. The Gulf War started later that year.
"We heard that we could travel out of the country, and we left on the second airplane," says his wife, Hoda Silyou.
They bought a round-trip ticket to Greece and stayed for one year. George had a brother who lived in the United States, and he sponsored his brother and sister-in-law to come to America in 1991 as refugees. When I ask what would have happened if he had to return to Iraq, Silyou pantomimes a noose around his neck.
Shortly after arriving in Silicon Valley, they received assistance from Catholic Charities. Even though neither of them spoke English at the time and didn't have jobs, their caseworker told them that if they worked hard they could have a new car, buy a house and live everyone else in America.
"I didn't believe him," George recalls. "I thought he was lying."
Hoda landed a job as a seamstress at Rebecca Rags, a local children's clothing company, and George drove a truck and learned to sew to help out his wife with piece work at home. Four years after arriving in this country, they bought a home of their own.
"If you work hard, hard, hard, hard, you get money," George says, still sounding incredulous. "He was right."
Fearing a downturn in their sewing income, George opened the Palms in 2005. The Campbell restaurant serves Middle Eastern food and a few Iraqi specialties such as shawerma (known as gus in Iraq), cubba (egg-size balls of fried bulgur wheat filled with ground beef) and paga (intestines stuffed with lamb tongue, ground beef, rice, garlic and other spices, a better-than-it-sounds dish made on Sundays).
As difficult as Iraq was, George still misses it, and the food he cooks reminds him of what he left behind.
"When I'm making shawerma, I go back [to Iraq], 20, 30 years. I'm making it here, but my mind is not here. It's there."
Deciding to Stay
The first time the Taliban came to Azizollah Mohammadi's home in Mozar e Sharif in northern Afghanistan, local forces in the Hazara stronghold inflicted severe casualties and beat back the army of the new government. When word came that they were coming back, Mohammadi's family took no chances and fled into the nearby mountains. The Taliban's grip on power was now a stranglehold, and the black-turbaned forces would be out for blood, he tells me.
The Hazara ethnic group has faced historical discrimination from other groups in Afghanistan and was singled out by the Taliban because they were Shia, not Sunni, Muslims.
"When they came to my city, in three days they killed about 1,000 people because they were Hazara," says Mohammadi, 29.
Mohammadi's family had fled Afghanistan once before, when he was 3 years old. They lived in Iran for 12 years and returned when they thought peace had returned, but now they were on the run again. Mohammadi's family spent six months living in the mountains before he began an odyssey that would take him to Pakistan, Iran, Turkey and, ultimately, the United States, where he became the head baker at Santana Row's Cocola Bakery.
He arrived in Turkey without papers in 1998 and worked as a tailor for five years. He and his friends pooled their money and bought a boat with plans of sneaking into Greece or somewhere in Europe. Three times they tried, and each time ended in disaster.
"I lost 15 of my friends," he says. "I don't like talking about it. Sometimes I think, How did I survive?"
Today, he says passing the ocean or even swimming pools brings back the fear of drowning in cold water. "I still can't take a cold shower."
One day, he was accompanying a friend to pick up someone at the airport when the Turkish police stopped him and arrested him for being in the country illegally. He spent three months in prison expecting that any day he'd be sent back to Afghanistan and delivered into the hands of the Taliban.
While he was imprisoned, he had a recurring nightmare that the Taliban were chasing him and two younger brothers. He was telling them to run this way and that when a shot rang out. He looked back and saw one of his brothers had been hit and lay on the ground.
"This was one of the worst times in my life," he says, his eyes watering and his voice trailing off.
But this bad luck ended up being a lucky break. In jail, he learned that he could apply for refugee status with the United Nations.
He didn't know where he would go and didn't care. He just wanted to be somewhere safe. Finally, he learned he'd be going to the United States and landed in San Jose.
He didn't know anyone. Catholic Charities helped him with English classes and job placement. As an experienced tailor, he was hoping for a job at Nordstrom, but nothing was available. Instead, he took a job at Cocola. He had no baking experience of any kind, but as a hard worker and quicker learner, he quickly mastered the job. He is now the head baker for the Santana Row location and two others in San Jose and Redwood City.
"After three months, I really liked it," he says. "I enjoy it when people like something I make."
In addition to finding a good job, Mohammadi found something unexpected: a wife. Until he met Nadia Mozaddedi, who is also an Afghan refugee, Mohammadi says he was terribly lonely and longed to be with his family, some of whom are back in Afghanistan. Even during his 12 years in Iran, he never felt at home.
But with his wife and a baby boy on the way, he is committed to staying and maybe opening a bakery of his own one day.
"Now we're starting a family. Why not build some future here? You never know what's going to happen."
"America really is the land of opportunity," adds Mozaddedi. "Anything can happen if you work hard enough."
Send a letter to the editor about this story.