09.19.07
home | metro silicon valley index | features | silicon valley | sports news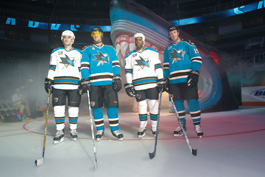 Photograph by Felipe Buitrago
THE LATEST IN SHARKWEAR: Sporting the new uniforms are (left to right) Partick Marleau, Kyle McLaren, Mike Grier and Joe Thornton.
Teal From the Deep
By Felipe Buitrago
It's no secret that many professional athletes have superstitions, good luck charms or little rituals that they perform to help out with the game. Pitchers like Mark "The Byrd" Fidrych, who would talk to the ball and to himself before pitching. Or Michael Jordan, who wore his North Carolina shorts under his Chicago Bulls shorts for luck. Who knows, maybe that's what makes these pros so great. And maybe that's why the Sharks are getting new uniforms just in time for the preseason. After last season's choking spectacle when the Sharks followed up a 2-1 series lead against Detroit Red Wings by forking over the following three consecutive games and loosing on home ice, a few extra luck charms may be just what the team needs. But instead of shopping for rabbits' feet, the team has recently acquired some new blood. Additions to the lineup include goalie extraordinaire Timo Pielmeier from Deggendorf, Germany. This 18-year-old has already shown amazing prowess, saving 29 of 30 shots the Ducks took during a rookie match. Two other newbies to keep an eye on this season, not only for their innate ability to score but also for their sense of spectacle with the puck, are Canadian centers Torrey Mitchell and Logan Couture.Hopefully with these new additions and a little luck the guys in "deep teal" (the official name of the new uniform color) will bring the Stanley Cup home and Sharky won't have to perform the Heimlich in the event of a late-season choke.
SAN JOSE SHARKS VS. ANAHEIM Friday, Sept. 21, 7:30pm; tickets $19–$150. VS. VANCOUVER Saturday, Sept. 22, 7:30pm; tickets $19–$150. HP Pavilion, 525 W. Santa Clara St, San Jose, 408.998.TIXS.
Send a letter to the editor about this story.