September 20-26, 2006
home | metro silicon valley index | news | silicon valley | news article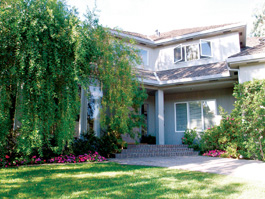 Photograph by Felipe Buitrago
Eye of the Storm: The home of Palo Alto Mayor Judy Kleinberg is just a few hundred yards from the site of the mugging incident that set off 'Operation Safe Neighborhoods.' but she says the increased police presence is nothing personal.
High Anxiety
Palo Alto is on edge about the recent, heavily hyped crime wave. There's just one problem: the numbers don't add up.
By Vrinda Normand
STROLLING along the picturesque sidewalks of Crescent Park in Palo Alto, it's hard to imagine anything disturbing the peace. Ample, two-story houses loom over manicured gardens bordered by cobblestones and wrought iron fences. The median value of these storybook dwellings: $2 million.
Several windows hang open to let in fresh air, possibly a sign that residents have forgotten about the scuffle that sent ripples through their neighborhood last month.
On the first night of August, three middle-aged women were walking home from dinner at a new upscale eatery downtown. As they turned onto Center Drive from Forest Avenue, a T-crossing flanked by magnolia trees and trimmed hedges, they came upon two Latino men.
Leslie Huey says the men surrounded her and her two girlfriends. One demanded her first friend's purse, but the lady said, "No" and attempted to walk past him. In doing so, she slipped and fell onto the street.
Huey's second friend was reaching for her cell phone when the other man jumped on her back and knocked her to the ground. She managed to keep her purse and swung it at him in self-defense. Huey says she dove in to try to help, but got hit in the head with her first friend's bag, which the initial suspect had finally wrestled free.
Then the men fled on foot. The shaken women heard a car start around the corner and speed off. They escaped with a few minor scrapes and bruises.
Police sketches depict the suspects with dark skin and heavy-lidded eyes, one wearing a baseball cap, the other a beanie with the Raider's logo. Neither appeared to be over 20 years old or taller than 5 feet 8 inches.
The women's encounter would become the epicenter of a so-called "crime wave" rushing through Palo Alto—igniting a dramatic increase in police activity. After the mugging, Mayor Judy Kleinberg met with city officials to brainstorm a solution to what they are calling a widespread problem. Their plan: "Operation Safe Neighborhoods." Police Chief Lynn Johnson says four officers have been added to both the day and night patrols, increasing round-the-clock police presence by 30 percent to 40 percent.
Everybody feels good about safer streets. And yet, in the last month-and-a-half, questions about this strategy have festered under the surface. Critics wonder if the binge on city resources is needed to fight a "crime wave" they're not even sure exists.
"Some people feel that the response is a little excessive and not the best use of city funds," says one Palo Alto police officer who asked to remain anonymous. "It's primarily a PR thing because we're doing something that's very highly visible."
She chuckles at the phrase "crime wave."
"My impression is that the mayor said, "Do something about this now,'" as though there was this chaotic crime wave sweeping over the city when there actually isn't."
The numbers tell a similar story. A few crime rates have seen slight increases over last year, but just as many have shown decreases.
From Jan. 1 to Aug. 31, the rate of residential burglaries went up to 18 per month from a 2005 monthly average of 15. The number of thefts from cars also reached 123 since January, surpassing last year's total of 110. Interestingly, these crimes have happened primarily in south Palo Alto, on the other side of town from Crescent Park.
The mugging that set this all off ironically falls into a category that has diminished in the first eight months of 2006. Robbery, the least common theft-related crime in Palo Alto, went down to three per month this year, compared to four per month in 2005.
The rates of auto burglaries and commercial burglaries have also gone down. Thieves broke into an average of 36 cars per month since the beginning of this year, vs. 40 cars per month in 2005. Businesses have been burglarized an average of 13 times per month this year, compared to over 15 times per month last year.
Location, Location, Location
There's another issue Palo Alto "crime wave" skeptics have been clucking about: Mayor Judy Kleinberg lives just a few hundred yards from where the mugging occurred. The backyard of her spacious gray house on Ashby Drive faces the intersection of the crime scene.
Is it a coincidence that city officials devised Operation Safe Neighborhoods only after the Crescent Park incident? Kleinberg responds that the proximity of her home is "immaterial and irrelevant. The crime wave is all over the city."
"It's a personal issue because I'm the mayor," she adds. "It's my job to take these things personally."
She says she was worried about an increase in residential burglaries that started at the beginning of the summer, but this incident "really pushed me over the edge."
As part of Operation Safe Neighborhoods, meter-readers and other city staff have also been instructed to keep an eye out for suspicious people. Kleinberg has organized a handful of community meetings to promote the effort and get everyone to "pitch in."
"We just want to make a show of our complete presence in the city," Kleinberg says.
But how much is this show costing taxpayers?
No one seems to know just yet. Johnson says she didn't discuss the dollar amount because "when we have a crime wave, it's pretty silly to say, 'You only have so much to spend.'"
"Obviously we're not going overboard," she adds.
"We made a judgment call that we would do whatever it took for the short-term to take control," says Kleinberg. "If the cost means public safety, then I'm sure the public would support it."
"So far I've heard nothing but kudos," she adds.
Scene of the Possible Crime
A major focus of the extra police presence is to patrol neighborhoods for residential burglars; two officers are devoted to this task alone every day. But some doubt this tactic is giving the public the best "bang for their buck," as one source puts it.
"The likelihood of actually seeing a residential burglary is very low," says the police officer who spoke with us under conditions of anonymity. While some arrests have been made, no one has actually witnessed a break-in.
Meanwhile, cops in the minimally staffed department have been working overtime to satisfy Operation Safe Neighborhoods—some are taking on as many as two to three extra shifts a week.
That means a 30 percent to 40 percent increase in police activity could translate to a 45 percent to 60 percent increase in wages because officers filling in with overtime are getting paid time-and-a-half.
The police source says that many colleagues jumped at the chance to make a little extra money because the administration is usually stingy when it comes to approving overtime. But after more than a month of the beefed-up patrolling, they're getting tired, and the strain could be affecting their alertness on regular shifts.
Metro called Norm Beamer, the president of the Crescent Park Neighborhood Association, to ask if he felt comforted by the city's new efforts.
"Obviously there's been a lot of anecdotal chatter about the supposed increase in crime," he said. "But I'm not convinced that the problem was as bad as people thought it was."
And what about Mrs. Huey? The mugging victim says she's still afraid to walk at night, even after a month of Operation Safe Neighborhoods. When asked how she felt about the law enforcement response, she hesitated.
"I guess the community would feel safer to see more police around," she said.
Send a letter to the editor about this story.