09.24.08
home | metro silicon valley index | features | silicon valley | feature story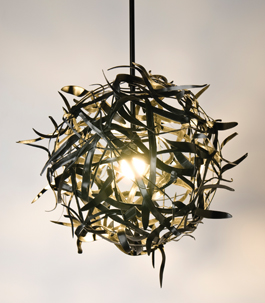 WASTE:NOT: Trash lights up your life
Tech to the Rescue
Clean-tech innovators break out a new batch of world-saving, fortune-making ventures
By By Diane Solomon
West Coast Green, which was launched as a kind of trade show for sustainable practices around the idea of "the built environment," this year expands to include the ever-bigger, still-blossoming world of green technology. A centerpiece of this year's show (relocated from San Francisco to San Jose—the new Capital of Clean-Tech) is an exhibition called the Innovation Pipeline, which showcases cutting-edge green products. Or, in some cases, products that will be cutting edge when they get out of development.
The products on view in the Innovation Pipeline represent the freshest advances in the area of sustainable technology, and range from updates of hippie-era "alternative technologies" to brand-new, highly charismatic high-tech wonders, to just-plain-awesome little gizmos.
While the chief value proposition of these devices is no doubt their planet-saving aspect, we appreciated them mainly for their sheer coolness.
Alchemical Reaction
This one sounds miraculous. Florida-based Island Sky's Skywater 14 and Skywater 300 products make clean drinking water from air.
The company has patented a process for transforming atmospheric humidity into drinking water. The Skywater 14 looks like an ordinary water cooler that's missing the 5-gallon bottle on top. And the delivery person. No need for either: It can produce up to 14 gallons of drinking water per day out of thin air. (Literally!)
The company says it costs as little as 16 cents per gallon to pay for the electricity that makes the magic, which works out to 4 cents per liter.
Under optimum conditions, a Skywater 300 unit can extract up to 300 gallons per day. It weighs 900 pounds, is about the same size as a refrigerator and is slated for release in 2009.
Ron Coletta says because over a billion people don't have access to clean drinking water, at least 14,000 people die each day. If his machines perform as advertised, they could be married to wind or solar technology and provide water where it's scarce or unavailable.
DAUPHIN: Up to 90 mph in an electric car
Green Speed
Cleaner and greener electric cars are yesterday's news, but the Dauphin promises something different. Wrapped in designer Ricardo Baiao's futuristic shell, the Dauphin employs an onboard server to wirelessly communicate with any home computer. And: Dauphin's roadster was designed to reach speeds of up to 90 miles per hour, with one full charge good for 190 miles. Almost noiseless, it can be charged at home in just over six hours.
Glass Houses
The first product that BottleStone is bringing to market is a set of countertops whose looks rival Italian marble. They are (you may have guessed) made from recycled glass, which means less diesel fuel burned hauling the increasingly rare stone across the ocean, and, of course, less marble mined from the Alps.
The company plans to expand to produce other building applications that now require virgin stone, such as external building facades. And tests show that BottleStone may have secondary benefits in passive solar heating.
The company's co-founder, Paul Burns, owns San Jose's Fireclay Tile, which produces BottleStone down in Aromas, near Salinas.
Functional Junk
When industrial design students at Appalachian State University in Boone, N.C., met over Buffalo wings to figure out how to enhance their portfolios, they were struck by the amount of disposable eating utensils they were wasting. So they decided to take these worthless pieces of plastic and morph them into valuable objects.
Collecting dirty utensils from the restaurant's tables, they tested the plastic's limits by melting, bending and stretching the pieces to see what forms were possible. They formed the Black Valley Design Collective to design and fabricate the Waste:Not series of light fixtures, which are made from nearly 100-percent post-consumer waste.
"At first the waitresses gave us weird looks because they thought that we were stealing their tips," recalls professor Donald Corey. "When they found out we were taking the dirty utensils, we got even weirder stares."
"Furthering the theme of 'waste:not'," says Corey, "we created the 'WANT' series of furniture from items that are normally just thrown away."
ATLAS: Shake, shake, shake your cell phone
Time to Move
The batteryless Atlas Kinetic Cellular Phone never needs charging. Just shake it, shake it, shake it! The Atlas' central power unit transforms movement into electricity, which supplies power to the phone's electronic components. It's the same idea as Seiko's kinetic watches, which have used oscillating weight to power their mainsprings since the 1980s.
If this phone is left static, just turn its lateral crown a couple of times and it powers up again. The aluminum case and buttons ensure that this phone will survive a lot of shaking. Minimal functions are its downside: It makes and receives calls and text messages only. And no more excuses about not returning calls because your battery died.
Cool Tech
Coolerado says its air conditioners use 80 percent to 90 percent less power than conventional AC systems, and the company has tests by PG&E and the National Renewable Energy Laboratory to prove it.
Drawing on only 600 watts of power, the R600EC delivers 5 tons of cooling capacity. Which means, says Coolerado CEO Mike Luby, "a Coolerado can cool a 2,500-square-foot home using less energy than a cheap hair dryer." Water is used to cool but the systems don't add any moisture to the cooled air—and (more to the point) don't use chemical refrigerants like ozone-depleting CFCs.
Hay Ya
The quest for sustainability (and thrift) has led to experimentation with the creation of attractive, resource-efficient materials from compost heaps.
Green Design Systems' Straw Wall panels are a new take on the old straw-bale construction idea. Produced from agricultural byproducts and combined with recycled steel mesh (that's the innovation), Straw Walls make building insulated walls with local and natural materials more accessible to architects, contractors and do-it-yourselfers.
Founder Harry Hagaman says using prefabricated straw wall panels, instead of conventional "stick-framed" walls filled with fiberglass insulation, costs less because it uses less labor. And, he points out, this new/old technology provides a much less toxic highly insulated wall. And because it takes no energy to produce the straw, they're way greener than fiberglass.
Power of Music
Move over iPod—the Sunflower MS is a music-system/power-station that converts solar energy into electrical power. In addition to powering its own tunes, the Sunflower's three electrical sockets allow users to plug in cell phone chargers, PCs or whatever. The Sunflower's CD player and two speakers "will transform common living spaces into enjoyable and sustainable living environments," says designer Ricardo Baio,
Send a letter to the editor about this story.