09.24.08
home | metro silicon valley index | features | silicon valley | sports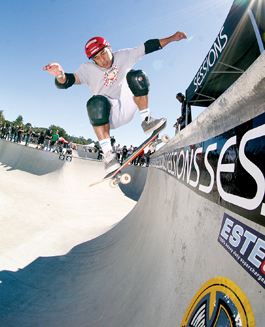 Photograph by Grady Brannan
GRANDMASTER: Steve Caballero keeps the dream alive taking first place in last year's bowl contest at Tim Brauch Memorial Skatepark in Scott's Valley last year.
The Legend of Tim
By Felipe Buitrago
WHO WAS TIM BRAUCH? Good question. I personally never met Tim, but his skating ability was the stuff of legend. As a teenage kid constantly day dreaming about the next skate session, it was hard not to notice Tim plastered all over the ads in my favorite skatezines. He was part of my league of superheroes on skateboards that I could only admire and dream I could meet. But I never realized that despite his super skater powers, he was also human, a native of San Jose and not of Krypton. In 1999, Tim sadly passed away at the age of 25. But he left a legacy that will live on not only because of his way of wielding a deck but also because of who he was. That legacy now takes the shape of a concrete skatepark in Scotts Valley, where a contest has been held for the past 10 years to commemorate Tim and what he believed in. This year the two-day contest will be held in two locations. The street contest on Saturday, Sept. 27, will be held as usual at Scotts Valley Skate Park and will kick off bright and early at 9am and run until 6pm. The bowl contest on Sunday, Sept. 28, will be held at San Jose's brand spankin' new skatepark in Lake Cunningham. Rest assured that there will be more going on than I have room to list here. So who was Tim Brauch? Come down and take a look. You may not be able to shake his hand but you will definitely see what this guy was made of.
THE 10TH ANNUAL TMB MEMORIAL CONTEST happens Saturday, Sept. 27, 9am–6pm at Scotts Valley Skate Park, and Sunday, Sept. 28, starting at 9am at Lake Cunningham skatepark in San Jose. Get more information and register online at www.timbrauch.com, or at the event.
Send a letter to the editor about this story.