09.30.09
home | metro silicon valley index | features | silicon valley | feature story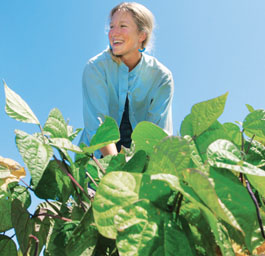 Photograph by Felipe Buitrago
GREEN ACRES: Meghan Cole, manager of the Full Circle Farm in Sunnyvale, sees urban farming as part of a larger movement for change.
Growing a Revolution
Local farmers with a vision are reclaiming the valley's rich agricultural history one acre at a time
By Stett Holbrook
SUNNYVALE'S Full Circle Farm is a-bloom in late-summer glory. Just about everything in the ground is heavy with fruit and vegetables—tomatoes, pole beans, eggplant, artichokes, carrots, sunflowers and cucumbers. A midweek produce stand attracts some neighbors who snack on samples of tomatoes and green beans while a pair of falcons swoop and dive for ground squirrels scurrying for their burrows.
As I lift my eyes from the leafy farm and look toward the east, I have no trouble imagining what the Santa Clara Valley looked like 75 years ago when plums and cherries, not microchips and software, were the main cash crops. No buildings or freeways obscure the view, just green trees and then the tawny hills rolling to the horizon. The view is serene—idyllic, even.
The land is classic "Valley of the Heart's Delight," what the fertile Santa Clara Valley was called before it became Silicon Valley. But this farm isn't a history project or nostalgia trip. The 11-acre organic farm is on the cutting-edge of a national urban agriculture movement. By planting small plots of land in and around cities to create a closer link between farmers and consumers, this movement is challenging the way we grow food. In some cases, consumers are becoming farmers and eating the food they grow, and relocalizing the food system in the process. Boosters call the movement a revolution, and it's taking root in Silicon Valley.
Coming Full Circle
Like much of Silicon Valley, Full Circle Farm was once an orchard, but the rows of Santa Rosa plum trees were plowed under when the orchard was in full blossom one spring in the early 1960s. The Santa Clara Unified School District bought the land and used it as an informal athletic field.
When the school district later considered selling the undeveloped parcel, it was valued at $60 million. That's a huge sum of money for a cash-strapped district, but thanks to grassroots community support and former school board member Teresa O'Neill, who championed the idea of a community farm early on, the district saw another use for the land and decided not to sell out to developers.
"To me that's the most amazing part of the story," says Liz Snyder, interim executive director of Sustainable Community Gardens, the nonprofit group that runs the farm. "In Silicon Valley, where land was being gobbled by development, that was a minor miracle."
The school district now leases the land to Sustainable Community Gardens. The organization also runs the 1-acre Charles Street Garden, which it leases from the city of Sunnyvale. The first tree planted at Full Circle Farm was a plum tree in honor of O'Neill and the orchard that once stood there. The farm has become many things to many people. Students get their hands dirty as they learn about the source of their food and what makes it grow. Last year, 1,200 students spent time on the farm.
With the planned construction of an on-site kitchen, Snyder, an earnest, soft-spoken woman, hopes to incorporate food grown on the farm into the school district's food-service program. That would allow them to unplug, at least in part, from the national school-lunch program's notoriously inferior menu of frozen heat-and-serve meals. She wants to replace 50 percent of what the school cafeterias now serve with produce from the farm.
The farm also provides fresh produce to the community at its thrice-weekly farm stand and community-supported agriculture (CSA) program. Local restaurants buy some of the produce. In addition, the farm attracts a wide range of volunteers who simply want to learn to grow vegetables and literally reap what they sow. The farm and its half-acre garden where schools and local residents can experiment and plant on a smaller scale has proved so popular that there are often more volunteers than work.
"Instead of going out to fast food, I can I cook with my own food that I learn to grow here," says Kristal Caidoy, 20, a De Anza College student and volunteer.
Snyder studied the relationship between community food systems, exposure to food-marketing messages and childhood nutrition at Oxford University. For her, the farm and the support it has received are part of a national shift in the way we think about food: "I think we're absolutely at a tipping point where urban agriculture is going to be more commonplace. ... I think it's a change in awareness at the community level and [a desire] to know where your food comes from."
With concerns about food safety, E.coli outbreaks and simply a desire for better-tasting food, locally grown food "offers a pretty solid alternative," she says. "Eating closer to the plant is an easy way to eat healthy. You can stop fretting and just eat from the farm."
The cost and access to land are the greatest obstacles to projects like Full Circle Farm, but with the ebbing of development pressure because of the down economy, along with what Snyder sees as a growing appreciation of locally grown food, urban agriculture has suddenly become more attractive than ever before.
"Now might be the time," she says optimistically.
Farm manager Meghan Cole, 29, became a farmer, in part, because of her desire to be part of "something real, something that has meaning." She grew up in the suburbs of St. Louis but worked on farms in rural Missouri and North Carolina before moving to Silicon Valley. Early on, she noticed an improvement in her health and vitality after eating what she grew. It still seems to be working for her. Her default expression is a blissed-out grin.
Walking the farm, wearing cutoff Carhartt overalls, with her braided blonde hair tucked into a green Mao cap, Cole sees her work in urban farming as part of a larger movement. "I'm part of something hopeful that's trying to create change," she says.
And Cole says that change means growing healthier food and forging a greater sense of community between growers and consumers: "Food is central. It connects us. It's something we all have in common. It is who we are."
Urban agriculture isn't new, but the idea has been given new life by a coalescence of factors. The aforementioned food-safety concerns, the growing awareness of the harmful effects of food production on the environment, the popularity of farmers markets, the works by "good food" advocates like Eric Schlosser and Michael Pollan and movies like Food Inc. and Super Size Me have all propelled us toward this "tipping point" moment. Urban farms also offer low-income communities access to fresh produce, job training and a potential source of income.
While most of the pressure for change has occurred at the grassroots level, the recently planted White House garden is hastening the change. Last month, President Barack Obama floated the idea of starting a White House farmers market to sell produce from the garden and local farms, as well as creating distribution networks to get locally grown food in the schools.
In a recent interview on National Public Radio, Pollan, author of The Omnivore's Dilemma and In Defense of Food and the best-known critic of the ills of the industrial food system, commented on the impact of Michelle Obama's involvement in the White House garden.
"There's now a garden in Buckingham Palace," he said. "People are planting gardens all over America. ... I think [the Obamas] understand that before you can begin to change this food system, you need to raise consciousness about it because, for a lot of people, the food system works just fine. There's plenty of cheap and abundant food. The fact that it makes people sick, the fact that it takes an enormous toll on the environment, on animals, on workers, isn't really clear to everybody, so that there's a kind of raising of consciousness that needs to happen. And I think that Michelle Obama is playing a very important role in that."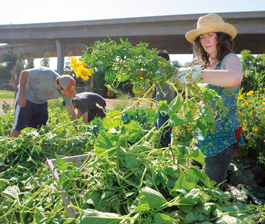 HARVEST TIME: Volunteer Claire Jervis reaps the green benefits at Veggielution.
Quail Safe
East Palo Alto farmer David Winsberg was into urban agriculture before it was cool. He's big man who is quick to smile. While he describes himself as someone with a liberal mind-set who eschews the use of chemicals, he didn't start Happy Quail Farms in 1980 to save the world. He's a businessman.
"The most important thing for me is to have a product to sell," he says. "I don't do it as a hobby."
But with crops growing behind his house and in neighboring back yards in a part of town originally designed as an agrarian community, Winsberg offers a vivid example of how a successful farm can exist within a concrete jungle.
Winsberg's specialty is chile peppers. He grows 50 different cultivars. His marquee crop is the padrón pepper, a small green chile from Spain that he pioneered in the United States. They've become a favorite of tapas bars and high-end restaurants across the country. He also grows specialty crops such as ginger blossoms, rhubarb, cucumber and exotic squash in open fields and greenhouses within sight of the mammoth blue Ikea building on Highway 101.
"It's an ideal location for us," Winsberg tells me. In addition to restaurants, he sells to Bay Area farmers markets, most of which are within 50 miles of his farm.
His neighborhood of 1-acre lots was once known as "Weeks poultry colony" after agrarian visionary Charles Weeks bought a plot of land in the early 1920s. Weeks subdivided the property into lots in order to establish a farming community that would give residents economic self-sufficiency and a source of eggs and vegetables for nearby peninsula and San Francisco markets. The community sprang up in part in response to industrialization and a desire to return to a simpler rural way of life, sentiments that sound familiar today.
The farming community didn't last long. Many farmers sold when they found out farming was hard work. Saltwater contamination of wells, a poultry epidemic and the Depression hastened its decline. But in time, flower growers moved in to farm under greenhouse glass. Happy Quail Farms keeps East Palo Alto's farming tradition alive and offers hope for the future of locally grown food.
Although Winsberg says it's easy for people to romanticize farming, he sees great value in small scale farming in an urban setting: "It doesn't take a lot of space to feed a lot of people. It's a shame to see such rich agricultural lands disappear under lawns and parking lots."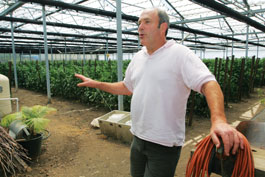 CHILE SCENES OF SUMMER: David Winsberg has found his niche growing peppers and other specialty crops in East Palo Alto.
Veggielution
Amie Frisch and Mark Medeiros were two San Jose State University students with a hankering to get dirty and grow vegetables. They didn't have yards of their own, and there was a waiting list at local community gardens. Two years ago, they struck upon the idea of asking downtown residents with big back yards to let them grow there in exchange for fresh vegetables. Even though they knew little about gardening, they attracted other students and their idea took off.
"We just wanted to garden," Frisch says from under the brim of her wide straw hat.
It soon became hard to manage all the different gardens, especially when the harvest coincided with final exams. Rather than gardening in different sites, Frisch and Medeiros began to look for one big site. They discovered it in a corner of east San Jose's 42-acre Emma Prusch Park under the shadow and roar of the 101 and 280 freeways.
Emma Prusch donated land to the city in 1962 to preserve the agricultural history of Santa Clara Valley. It includes a thriving community garden where residents tend their individual plots, but there wasn't a community project quite like what Frisch and Medeiros had in mind.
"We saw this land in the middle of the city framed by these huge overpasses, and it wasn't being used," Frisch says, 26. "Coming from downtown back yards, it was huge."
Frisch and Medeiros convinced members of the skeptical Emma Prusch Foundation to let them farm on a small plot as a demonstration project. Veggielution was born. With volunteer help from local university and high school students, the organization, which has since grown into a nonprofit, broke ground last spring by laboriously double-digging the soil and planting row crops like corn, amaranth, squash and tomatoes.
"After that they really started taking us seriously," says Frisch.
Veggielution has since expanded to a larger 1-acre parcel nearby, and if its demonstration project continues to go well, Veggielution hopes to start growing on an adjacent 10-acre parcel.
Veggielution now runs a farm stand at the park on Fridays that sells low-cost vegetable to nearby residents. Anyone who comes out to work the land leaves with an armful of vegetables, too. Surplus vegetables go to a local food pantry, and Frisch hopes to start supplying local restaurants after securing the proper permits.
Frisch, a former environmental-studies major, sees the project and locally grown food in general as a "hub issue" that addresses several social ills—access to fresh produce for low-income communities, food security, the environment and childhood obesity.
"This is a place to get people to think past just buying food at the grocery store," she explains. She exudes so much enthusiasm and energy for the project that she almost hops up and down. "I've had people pick a carrot for the first time and say, 'This is the greatest carrot of my life.' ... Sustainably farmed food shouldn't be just for the affluent. [With Veggielution] we're actually creating what we want to see."
Sean Jones, 25, started gardening with Frisch and Medeiros when they began their backyard project. Now an intern with Veggielution, he helps lead volunteers in the field.
"I don't have a garden of my own, and that's a deep hole in my being," Jones tells me. "Coming here sets me at ease. It soothes me."
Frisch says resources have been flowing to them. The city's Environmental Services Department has trucked in loads of compost and mulch. Nora Campos, who represents east San Jose on the City Council, donated $25,000 in city funds to Veggielution and has become an enthusiastic supporter of the organization and its work. Campos, who grew up in the East Side neighborhood near Emma Prusch Park, said if the pilot project proves successful, she hopes to replicate the model throughout the city: "I don't just see it as planting vegetables. I see it as growing community."
Last year, Campos unsuccessfully pushed for a ban on fast-food restaurants near school zones. She says that she believes that urban farms like Veggielution offer an antidote to the "saturation" of fast food in low-income neighborhoods. "Young people now understand that food doesn't just come from a grocery store."
Urban farming, Campos says, offers "a real vision about where the city needs to go. We need to be bold. We need to change the culture of the way we look at food."
Working with the Department of Parks, Recreation and Neighborhood Services, Campos hopes to create new policy to create more urban farms and gardens. "I do see this as a seed that will start spreading throughout the city," she says.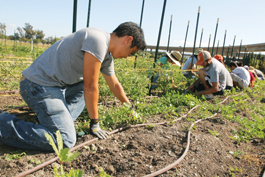 BACK TO THE EARTH: Jeff Leng and other Veggielution volunteers get on their knees for some hand weeding.
A Tasty Future
San Jose Mayor Chuck Reed has created an ambitious 15-year agenda to green the city. Under his 10-point "Green Vision for San Jose," Reed plans to create 25,000 "clean-tech" jobs, reduce per capita energy use by 50 percent, receive 100 percent of electrical power from clean renewable sources and divert 100 percent of landfill waste for conversion into energy.
His plan is one of the most progressive of any American mayor. Hats off. But his vision makes no mention of cultivating local food sources, even though food production and distribution have been identified as major contributors to climate change.
By contrast, San Francisco has embarked on an aggressive sustainable food policy. In July, Mayor Gavin Newsom instructed all city departments to conduct an audit of unused city land, including vacant lots, rooftops and median strips, that could be turned into urban gardens or farms to feed local residents. Under the policy, food vendors that contract with the city will also have to offer food that is deemed healthy and sustainable food.
In June, the annual U.S. Conference of Mayors adopted a resolution urging President Obama to "seek out partnerships with mayors on local food initiatives to develop strategies that help urban America develop better access to quality food."
While Reed says he loves his homegrown tomatoes and believes that locally grown produce tastes better, he told me that San Jose's budget constrains what the city can do. But he points to city subsidies for farmers markets, community gardens and composting programs. The city oversees 19 community gardens that are used by approximately 3,000 residents. "We're ahead of a lot of cities," he said.
San Jose is currently updating its general plan; revisions could include new ways to measure the city's sustainability, and that might include sources of food, Reed said. "The more we can support locally grown food, whether it's back yards or elsewhere, the better off we'll all be."
But given the economic climate, that support appears to be more moral than material.
Here's my admittedly food-centric vision for a greener Silicon Valley. Dozens, even hundreds, of small farms spread around Silicon Valley in back yards, vacant lots, rooftops, schools and parks would produce a huge, year-round supply of fruits and vegetables. The produce would go to those who grow it and to nearby residents via local farm stands. Neighborhoods without farmers markets or an organic grocery store would suddenly have access to seasonal and fresh produce.
School districts would work with groups like Sunnyvale's Sustainable Community Gardens to manage farms as a source of food for school lunch programs. Locally high rates of childhood obesity and type 2 diabetes would drop, because not only would students be weaned off prepackaged school lunches but they would also get exercise and fresh air as they worked in the outdoor classrooms that grow the food they eat.
To capitalize on the local bounty, a European-style urban produce market like San Francisco's Ferry Plaza opens in downtown San Jose. It becomes a place where tourists and locals alike can buy local food as well as eat at small cafes that cook with food grown nearby. Commercial kitchens could also sell value-added products—pickles, jams, canned vegetables, honey, salsa—made from local crops and provide scores of jobs in the process.
Developers have submitted plans to the city to develop an urban market at San Pedro Square. As proposed by former San Jose Mayor Tom McEnery and other partners, the project would include year-round restaurants and food vendors that expand on the already successful San Pedro Square farmers market. Such a development would be a perfect outlet for Silicon Valley–grown produce.
Silicon Valley restaurants, many of which operate under the long shadow cast by San Francisco's food scene, could contract with local farmers to grow impeccably fresh and seasonal food that would distinguish them and make Silicon Valley a destination for food lovers who want to experience what the famed weather and soils of Santa Clara County can produce.
The rebirth of agriculture within Silicon Valley would become such an attraction that tour groups would pop up to take visitors on guided tours of urban farms and stops at local restaurants that buy from them.
Santa Clara County can't go back to the days of fruit orchards and wide-open spaces, but who says urban agriculture can't co-exist in between the office parks, neighborhoods and freeways of Silicon Valley? We've got the soil, the weather and the know-how. Increasingly, we've got the will. Now, Silicon Valley's small but growing number of local farms and gardens are showing the way.
Send a letter to the editor about this story.