09.30.09
home | metro silicon valley index | news | silicon valley | news article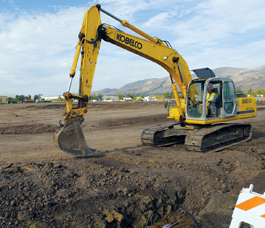 Photograph by Felipe Buitrago
GROUNDBREAKING TECHNOLOGY: Armed with the first loan guaranteed by the federal Recovery and Reinvestment Act, Fremont's Solyndra Inc. is building a solar-powered solar panel plant.
Solar Stimulus
Solyndra puts $535 million federal loan guarantee to work building a new manufacturing plant in Fremont
By Laura Fishman
MEN and women scramble in and out of a pair of metal doors wearing goggles, hard hats and lab coats. More than 500 factory employees meander through a maze of machines. Some hover over computer monitors, programming new assignments. Others scribble furiously on clipboards while watching over the production process. A few stand behind glass windows with rows of colored buttons in front of them. Everyone is on their feet. Yet it's the machinery of this factory that's running the show.
Automated vehicles roam around transferring equipment from point A to point B. One vehicle sounds a mechanized version of the melody "London Bridge Is Falling Down" while transporting stacks of metal blocks. Gigantic cranes do a dance of their own, putting solar panels together one after another. A symphony of knocks and clanks chimes endlessly, with a racket echoing throughout the factory floor.
This is Solyndra Inc., a 300,000-square-foot Silicon Valley company that is creating a revolutionary new kind of solar panel.
The city of Fremont has long been home to the NUMMI auto manufacturing plant—which is slated to close this year, putting more than 4,000 people out of work. Meanwhile, Solyndra is building a new plant has already created 3,000-plus construction jobs, and will create permanent employment for 1,000 more workers.
Solyndra has given photovoltaic electricity generation a new look. The company claims that its flat design is different from anything else on the market, and produces more electricity per square foot due to the way the sun hits the panels. Its horizontal mounting system is tailored for commercial-rooftop use, and reportedly also provides unique "air-flow" properties.
At the factory, a stairwell to the roof leads to what employees refer to as the gem of the building—the solar grid that powers the factory. As advertised, the paneling lies flat on the rooftop's surface. Each panel consists of cylindrical black tubes, all lined up horizontally in rows that stretch across the entire roof. The sun's rays hit the 360-degree photovoltaic surfaces of each tube.
Conventional solar panels are angled vertically and spaced apart for optimal energy.
Solyndra's co-founder Kelly Truman says the company's innovative solar panel structure is not based on new technology at all, but is instead based on old practices.
"We came up with something that really made flat rooftops a great way to generate electricity," Truman says. "Roofs are not being used for anything else and you can turn that into power. We're taking advantage of this underutilized resource in an economical way that reduces the world's greenhouse gases."
The company started marketing its new brand of solar technology in 2005, but is just now starting to get off the ground in the United States and abroad. While the company's headquarters are in Fremont, Truman says most of Solyndra's business comes from Europe.
"There's more political support for renewable energy [in Europe]," Truman says. "Their governments are firm believers in nongreenhouse gases, so they choose to invest in it."
Green Money
While this country may be behind in the race to become carbon neutral, Truman admitted that the U.S. government is now taking great strides to invest in renewable energy resources. In fact the U.S. Department of Energy recently granted Solyndra a $535 million loan guarantee to build its new manufacturing plant. It was the first company in the nation to receive a loan guarantee through the Recovery and Reinvestment Act.
Earlier this month Gov. Arnold Schwarzenegger and U.S. Energy Secretary Steven Chu visited Solyndra's headquarters to announce their support of the company's expansion. Chu made the obvious joke: "Solyndra proves that if you build a better solar panel," he said, "the world will beat a path to your door."
Vice President Joe Biden joined the officials via satellite video to announce the finalization of the $535 million loan guarantee.
"By investing in the infrastructure and technology of the future," Biden said, "we are not only creating jobs today, but laying the foundation for long-term growth in the 21st-century economy."
Solyndra's senior director of marketing, Mike Grunow, is particularly pleased that the company is expanding its factories at the local level rather than outsourcing factory labor in other countries. For Grunow, this truly makes the company sustainable.
"We take a lot of pride that our factory is locally based in the Silicon Valley, using local labor," Grunow says.
The new factory is expected to be fully built by late 2010 and will provide all the energy the plant uses—the equivalent of 24,000 homes a year. Additional money for the company's expansion will come from venture capital funds and private donations that have thus far totaled $800 million.
With Solyndra's expansion, it may not be long before the United States pulls ahead on the solar power bandwagon. In the meantime, Truman takes pride in his company that works to make a difference when it comes to renewable energy innovation.
"We're excited to finally be ramping up," Truman says. "We're happy to be making a difference in the world providing people with their energy needs and environmental needs."
Send a letter to the editor about this story.