10.01.08
home | metro silicon valley index | features | silicon valley | feature story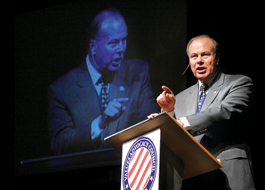 Photograph by Felipe Buitrago
TO THE POINT: Larry Pegram addresses the crowd at an pro-Prop. 8 rally at the Church on the Hill in San Jose.
Missionary Man
San Jose councilman turned evangelical activist Larry Pegram has a plan for kick-starting the right-wing religious movement in Silicon Valley. It all starts with gay marriage and Proposition 8.
By Erin Sherbert
INSIDE the Church on the Hill in San Jose, hundreds of Christians gather before the pulpit, fixated on the one subject that's rocked the religious community this year: gay marriage. It's a final attempt to mobilize the local Christian vote on Proposition 8, the statewide gay marriage ban going before voters in November.
In what has become an epic fight to preserve marriage between a man and a woman, they listen and nod in agreement as Christian leaders who have come from all over the country, including Texas Congressman Louie Gohmert, deliver their messages on marriage with as much passion and conviction as a Sunday sermon.
"Do we support homosexual marriage?" one speaker yells to the crowd.
"No!" the group shouts back, the echo ringing through the church.
The man behind this rally scene last Sunday is Silicon Valley's Larry Pegram. The former San Jose Councilman-turned Christian political activist has long been a flickering presence in South Bay politics, stepping out on issues that run against his "values" agenda, especially those advancing equal status for same-sex partners.
The unapologetic Pegram, also a former cop, has been positioning himself against the gay community's political agenda for years, dating back to his term on the city council in the 1970s when he voted against a gay event being organized in San Jose. As the gay community has progressed with its civil rights agenda, Pegram, 63, has remained unwavering in his convictions against granting new legal rights to gays and lesbians.
Three decades after his council term, Pegram founded his own Christian organization, the Values Advocacy Council, which has been out front on local issues, particularly same-sex marriage.
Pegram says he believes the California courts made an egregious mistake by overturning the voter-approved Proposition 22, which codified the legal definition of marriage as strictly between a man and a woman. (California voters had passed Proposition 22 in 2000 with 61 percent of the vote).
"We feel very strongly that marriage for 5,000 years has been defined as being between a man and a woman, and we are not sure that this rush to recognize same-sex marriage is all that prudent," Pegram says. "It's the beginning of the destruction of families as we know it."
Pegram has stayed out front on this culture war even when it has weakened his position as he struggles for his Values Advocacy Council to gain a deeper political foothold in a liberal bastion like the South Bay.
Recent polls show waning support for Proposition 8, with 55 percent of California voters opposed, according to the Public Policy Institute of California. With Election Day closing in, Pegram has been steadfast about getting conservative Christians registered to vote and encouraging them to vote early. He's convinced proponents can turn the polls around.
"We, as a community, have not done the job of educating ourselves on the ramifications of same-sex marriage," Pegram says. "Once people have a better understanding of that they will be more inclined to leave things the way they are."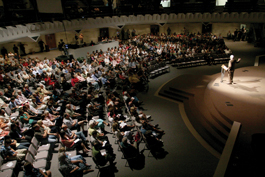 Photograph by Felipe Buitrago
UNITED FRONT: Don Ainge affirms the Church of Latter Day Saints' commitment to Prop. 8 at last Sunday's rally.
The Right Fight
Gay leaders aren't relaxing just yet. In fact, they are somewhat shaken by the idea that vice presidential candidate Sarah Palin, the Pentecostal Republican, has injected a new shot of energy into the GOP base.
"It is shifting the polls and it's very scary, and I think it will bring those people out of the woodwork," says Wiggsy Sivertsen, founder of the Bay Area Municipal Elections Committee, a four-county LGBT political action group. "I'm not convinced we have this in the bag."
Sivertsen has been aboard most gay rights battles running back to the 1980s when the Briggs Initiative, a move to ban gays from working in public schools, was shot down. Since then Sivertsen and others have carved out a political voice for gay rights. And Pegram worked against many of their efforts.
Despite her fears of Sarah Palin, Sivertsen believes if Prop. 8 fails, this is sure to be the death knell for the anti-gay movement.
Religious and conservative leaders were infuriated when the California Supreme Court in May ruled to legalize gay marriage; they immediately launched the effort that led to Prop 8. Pegram's group worked the local campaign to get the measure on the November ballot; they gathered and sent off more than 35,000 signatures in favor of placing a gay marriage ban on the November ballot.
Since then, he's worked to unite church leaders on the issue. He's hosted events, bringing prominent church leaders to speak to members about the "Armageddon of marriage."
Win or lose the Proposition 8 battle, you can bet this isn't Pegram's last fight. He made a recent foray back into City Hall, with his joint effort with San Jose Councilman Pete Constant to introduce Internet porn filtering in city libraries. He's also talked about his desire to groom more conservatives for local office, hoping to restore morals in city government.
One of San Jose's moderate Republicans and community leaders Pat Dando says Pegram has kept his agenda alive at City Hall, despite his lack of any real victories.
"He's dedicated and committed and vigilant about keeping his issues and his organization in front of policy-makers," says Dando, who is a former San Jose vice mayor and now president of the San Jose Silicon Valley Chamber of Commerce. "He's always had a presence."
Still, many City Hall insiders and community leaders continue to shrug Pegram off as a pest with peripheral power.
"I think he's trying to get back into the door he got booted out of back in the late '70s," says Sivertsen, who is also director of counseling services and a visiting professor of sociology at San Jose State University. "I see him walking in and out of City Hall in the same elevator I'm in, coming from the same floor I'm on."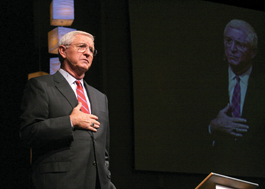 Photograph by Felipe Buitrago
WEDGE ISSUES: Pastor Dick Bernal, founder and senior pastor of San Jose's Jubilee Christian Center, is one of the local religious figures supporting the campaign for Prop. 8.
Boy Wonder
Larry Pegram was a boy wonder on the City Council, elected in 1974 at 28. That was when San Jose was an up-and-coming city facing enormous growth.
But religion really didn't shape his politics at that time. He says he was loosely religious, having grown up as a "cultural Christian," often attending church. Instead, he was a typical conservative Republican, a strong champion of limited government, whose only political-religious position was an opposition to abortion.
Pegram was sharp and outspoken, which quickly earned him a reputation as part of the notorious "fearsome foursome," a group of pro-development men on the council who were known for bullying San Jose's first female mayor, Janet Gray Hayes. Even today, Pegram winces at the name.
"He was rigid and difficult," says Hayes, a liberal Democrat elected mayor in 1974. "They tried to block everything I was trying to do as mayor. They didn't like the idea of a woman being the mayor."
They fought over budget items, development and taxes; as Pegram recalls, he and the mayor just didn't see eye-to-eye on many of these items.
In 1977, Pegram cast his first anti-gay vote. Members of the San Jose gay community came to City Hall, asking for permission to host a gay event, Pegram recalls. It created a stir, but he stuck by his "no" vote, saying local government was created to build roads and balance budgets.
"I was the only one that voted against it," Pegram says. "I just didn't feel it was an activity or issue for the city to take up."
Pegram was on the council for two terms before he decided to run for state office 1980. He launched his Republican campaign for state Assembly, losing to Democrat Dominic Cortese (the father of San Jose Vice Mayor Dave Cortese).
After that loss, Pegram, a father of three, faded from politics, only keeping loose ties to City Hall. He went into business as a financial planner. And along the way he became a devout Christian.
Pegram says he didn't give himself over to religion until the early 1990s, after what he describes as hitting "low points," which included a divorce.
"I started looking back at some of the actions I had taken in my life," Pegram says quietly. "I needed something and I found that something in Jesus."
He had been a member of the Catholic church for 17 years before he embraced his newfound faith as a member of the Venture Christian Church, a nondenominational Evangelical congregation in Los Gatos. Since then, he says, he reads the Bible, doesn't drink and rarely misses a Sunday service unless he's sick or traveling.
But Pegram could not shake his passion for politics. In 2003, he joined his pastor from Venture Christian to establish the nonprofit Values Advocacy Council, giving Christian conservatives a chance to shape public policy with a "values" agenda.
"We felt there needed to be a balance," Pegram says. "This is a pretty liberal, pretty secular valley, so we thought that being able to put forth a values perspective in public policy mattered."
Pegram chuckles when he talks about how his organization has had very little influence in public policy matters to date. He's built relationships with as many elected officials as possible, even those who don't share his values, and kept close tabs on happenings at City Hall, resurfacing when there's an issue that touches his group's agenda.
In 2004, Pegram and his Values Advocacy Council led a charge to recall Mayor Ron Gonzales after the city voted in favor of same-sex benefits for city employees and to recognize same-sex marriages performed in San Francisco. Pegram's group went as far as raising funds for the recall, but later backed off after Gonzales told church leaders he had no plans to fight the courts pending a decision on same-sex marriage, according to news accounts. The following year, Pegram came before the City Council again, opposing a council-backed resolution supporting the state Legislature's move to legalize gay marriage.
Whatever battle Pegram has picked over the years, City Hall Democrats aren't quick to embrace him.
"Many of them see us coming and they'd like to run the other way," Pegram says, laughing.
But that doesn't mean he's been entirely ineffective.
With a $200,000 annual budget, Pegram has been building his membership (there are some 10,000 families listed in their database) over the last five years, hosting events that have been slowly unifying Christian leaders and megachurches in the South Bay. Probably his greatest political mark has been publishing a "values voter guide," a questionnaire local candidates fill out that places them "in" or "out" of the values camp on hot-button issues like homosexuality and abortion.
As the organization grows, Pegram says, they will probably get more involved in identifying conservative candidates to run for office.
"The organization has matured, and they are becoming increasingly more influential," says Constant, also a Christian and Republican. "Larry, particularly, has done a good job of getting to know all the councilmembers and he is in a good position to lobby and influence public policy."
I Now Pronounce You Chuck and Larry
Pegram doesn't particularly have much pull with the majority of Democrats in the South Bay—except perhaps one. There have been whispers about Pegram's personal and political connection to Mayor Chuck Reed, a moderate Democrat who is known to reach out to both liberals and conservatives.
The two go back to the days when Pegram was on the council; Reed was a hot-shot environmental attorney at the time. Since then, they have remained acquaintances, crossing paths at city events. (Both are members of San Jose Rotary, a club that includes more than 400 of the valley's most powerful community members.) Despite Pegram's reputation as a religious extremist, Reed has kept his ties with him. Reed has been spotted speaking at Pegram's Values Advocacy Council lunches and National Day of Prayer events. The two have also been known to attend church services together, according to Reed.
"I think Larry is an honest person with strong core values and integrity who is not reluctant to take a position," Reed says.
When Reed was elected mayor in 2006, he included Pegram on his transition team, along with 67 other community members, from labor leaders and environmentalists to elected officials and members of the gay community.
Reed's intentions are mostly political; he's stated that he wants to draw on congregations and Christian leaders to help battle San Jose's social problems, such as homelessness and gangs, a top priority on the mayor's legislative agenda this year.
"I'm working to engage our religious organizations in our efforts," says Reed, who is a Christian but does not belong to a church.
Still, Reed's faint connection to Pegram has irritated foes who were particularly irked by Pegram's presence on the mayor's transition team. Reed put Pegram on his public safety subcommittee drawing on his expertise as a former cop and elected official.
"It made my antennae go up," says Sivertsen, who was also on the mayor's transition team. "Because I know Larry to be a right-wing arch conservative Christian, and I thought to myself, 'Why is he here?' He has got a lot more influence over the mayor than I thought he had."
Suspicion about Reed's conservative roots crystallized this summer, when he publicly refused to take a stance on Prop. 8. (Reed is well known in the gay community, where he attends many events.)
Reed said the gay marriage ban was not a San Jose city issue. Meanwhile, San Francisco Mayor Gavin Newsom and Oakland Mayor Ron Dellums both came out against Prop. 8 early this summer. After that, the spotlight was on Reed as the media waited for him to take a position publicly.
Reed says he hasn't strayed on his personal feelings about gay marriage. Over the years, he has supported domestic partnerships and benefits for same-sex couples that work for the city, while maintaining that marriage should be between a man and a woman. He noted that since the Supreme Court has ruled otherwise, as mayor he will follow the state law.
Pegram is hopeful to publicly get the mayor's support for Prop. 8. He said he's had "passing" conversations with Reed regarding the topic.
"We have had conversations about it, but my conversations with the mayor are between the mayor and I," Pegram says cryptically. "One of the things I know about Chuck Reed is he doesn't skirt things. I know him and I believe he will take a position."
Reed is resolute about it; he says he told Pegram the same thing he has told everyone else: he's not taking a position on Proposition 8.
"My focus in November 2008 is on ensuring passage of our local San Jose ballot measures," Reed says. "I am trying not to take a position on measures that don't directly connect to the city's adopted legislative agenda ... and I am trying to avoid involvement with any other ballot measures."
War on Porn
Pegram's most recent return to City Hall came long before Prop. 8 was on the radar. It was 2006 when he first started poking around libraries, picking up on what has become a lightning rod issue in San Jose: Porn.
He says he was shocked to learn that he could easily access Internet images from Hustler and other "raunchy stuff" on library computers. So Pegram marched to the mayor's office and asked for his blessing to take on the issue.
Pegram says he went to Councilman Constant with his concerns and a proposal; however, Constant claims it was the other way around: He says he was working on porn filtering long before Pegram came to him.
Regardless, the issue made it before a council committee, hitting a nerve with community members on all sides of the issue.
It's put San Jose's head librarian, Jane Light, on the spot; she's been defensive about the potential cost and censorship issues that go along with porn filtering.
Pegram diligently worked with the Alliance Defense Fund, feeding Constant's office with research and data to help direct a policy. Porn filtering has become the flashpoint issue for the Values Advocacy Council.
"We felt it was the right issue to take on," Pegram says.
Onward, Christian Soldiers
As far as Pegram is concerned, porn filtering is not going to be a losing battle for his organization. He says the law is in his favor; the U.S. Supreme Court in 2003 ruled that communities have the right to regulate content on public library computers.
San Jose is merely his first effort in confronting the issue. Pegram said his staff has already been "knocking on doors" in other communities to find out whether they have filtering devices in their libraries.
"Our area of interest is broader than San Jose," Pegram says. "We're going to make some decisions about what we are going to do."
The fact that porn filtering has garnered so much attention as it wends its way to council this month has only bolstered Pegram's confidence in his overall values mission.
In fact, Pegram says he has other issues brewing, including possibly interfering with the Day of Silence, during which students and teachers take a vow of silence to bring attention to the bullying of gay, lesbian, bisexual and transgendered kids.
"That's one we are going to take a closer look at," Pegram says. "I don't have any problem with a student not wishing to speak for a day but I do have a problem with teachers that choose not to teach that day. They signed a contract that they would come to work and work and I have a difficult time understanding how remaining silent for a day furthers the education of those in the classroom."
For now Pegram has his plate full, juggling the last-minute efforts of Proposition 8. And he says he is not going to give up his role as an outside activist.
"No plans to run for office," Pegram says, flashing a smile. "I think I can make a difference here."
Send a letter to the editor about this story.