10.03.07
home | metro silicon valley index | features | silicon valley | sports news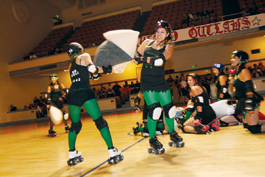 Photograph by Felipe Buitrago
PILLOW SHOCK: The Silicon Valley Roller Girls' BB Doll and Sadie Mae Gutz go at it Rock 'Em Sock 'Em Style during a halftime break.
B.A.D. Attitude
By Felipe Buitrago
BEING a bad girl isn't an easy task, but being a B.A.D. Girl is a lot more than having a little attitude. It's about getting out there and kicking some ass on a flat track with some old-school skates. And that's exactly what's going to happen on Friday, Oct. 5. In case you don't know the drill by now, the Bay Area Derby Girls will be riding into town to duke it out at the Civic Auditorium. The ShEvil Dead are coming back to resuscitate their dignity after the fall against their eternal rivals, the unruly Outlaws of Oakland. This time the tribe of devilish women must face off against the ranks of the Richmond Wrecking Belles. This bout isn't only about the Bay Area League Championship that will be going down in December but will also help determine 14 of the best skaters the Bay has to offer to form the B.A.D. All-Stars team that is scheduled to travel first to Los Angeles to battle the Angel City Rough Rollers on Oct. 13. Then it's off to the Raleigh, N.C., where they will go up against the Carolina Roller Girls on Nov. 18. So for those of you who think NFL, NHL, MLB, beware, there's a new acronym in town ready to make itself known in a big way.
BAY AREA DERBY GIRLS Flat-track roller derby. San Francisco ShEvil Dead vs. Richmond Wrecking Belles. Friday, Oct 5, 8:30pm. $15. San Jose Civic Auditorium, 135 W. San Carlos St, San Jose.
Send a letter to the editor about this story.