10.08.08
home | metro silicon valley index | features | silicon valley | sports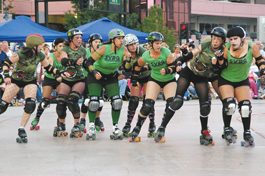 Courtesy of the SVRG
SPANKS FOR THE MEMORIES: The Silicon Valley Roller Girls are headed your way this Halloween.
Fans Stand Corrected
By Felipe Buitrago
I NEVER REALIZED how popular spanking has become. Now, the Silicon Valley Roller Girls have even made the loud smack of wood coming in contact with someone's butt a fundraising enterprise. Our beloved roller girls will be off to Oakland at the Uptown Club for Knocktober Fest this Saturday, Oct. 11, but if you're jonesing for a local spanking, don't despair—a Support Your Local Derby Girl Night is being held at Jack's Bar in San Jose the same day. Bringing the smackdown is a key part of the SVRG game plan, which no doubt will no doubt come in handy at the upcoming bout Oct. 25, El Derby de Las Muertas. The ShEvil Dead of San Francisco are the selected opponents for this bout, with team captains Sassy Slayer and Miss Moxxxie bringing their zombie posse to San Jose Skate to eat our roller girls' brains. El Derby de Las Muertas will also feature a haunted house, a half-time spectacle, a raffle and a beer garden. This epic showdown with the undead will underscore a fundamental truth about the world of roller derby: it's spank or be spanked.
For more information on all things Derby, go to www.svrollergirls.com.
Send a letter to the editor about this story.