October 11-17, 2006
home | metro silicon valley index | features | silicon valley | feature story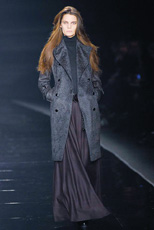 This fall, cover up!
Let the Fall Fashion Games Begin
By Joseph Rosenfeld
JUST TRY making sense of all the fads, trends and messages that the fashion world flings at women each season. It may be fun for fashionistas, but this season many friends of fashion have cried foul. Although they aren't suggesting that anyone's looking like a turkey, they are warning women to play the game of fashion cautiously this fall.
Hide and Seek
As a reaction to the revealing skin and screaming sex appeal of previous seasons, this fall is about covering up. Who says that fashion doesn't follow (or foretell) politics? From head to toe, there are many ways to hide your entire body, or regions of it. Get cloaked with capacious capes. Disappear under a dress layered over pants. Divest from your girlish figure with a voluminous vest. Swathe your body with a wide assortment of sweater styles. Wrap your legs in a pair of leggings. Or obfuscate your eyes with a pair of oversize occhiali (sunglasses in Italian). Sirens will swirl with striking red accessories worn against a stark backdrop of black. Arming your style militarily accentuates your assertiveness. Maureen French, an East Bay image consultant, suggests that a long tunic-type top or a flowing trapeze dress is the perfect complement to wear with super skinny jeans or leggings. Seek shelter from the season's storms, cover up and get warm.
Naughty or Nice
Play the ultimate game of paradox. Black may be the common color this season, but you can create quite a commotion by altering what styles you wear. The designers made this easy to do by manipulating mixed-up motifs that can leave one mystified. Glorify your naughty side with gothic jewelry or flaunt it with fetish footwear. Or, have you been too naughty and want to sweeten up your look? Tame your dark side by wearing gray or purple tones. Charm your admirers with a corsage, or beguile them with bows. Should these fashion developments leave you feeling dazed, consider that the simplicity of a straightforward style is the standard by which niceness is defined.
Trick or Treat With Trinkets, Trimmings and Textiles
If you have restricted resources for such recreation as playing the fall fashion game, dropping some dough on a new fashion accessory is still a great way to score some points. A big bag goes with big proportions, and it says that you're a big deal. You can never break the fashion chain with a new chained bag, clutch or chain belt. With a black palette to build upon this season, selecting a signature accessory is an excellent way to update your entire wardrobe. Michele Benza, a San Francisco fashion stylist, suggests that if belts are flattering for your figure, add a bow and wear it around pants, coats and jackets.
Color your mood "metallic" with a myriad of this season's copper-, bronze-, silver- and gold-toned items. Options from skirts to shoes, dresses to minaudi╦res are marked by metallic motifs. Beads, crystals and paillettes are encrusted onto so many items that you can easily make a spectacle of yourself.
No color conversation is complete without covering how to create captivating looks for your face. Peninsula-based fashion stylist Colleen Abrie recommends combining deep red lips with nude or neutral defined eyes and brows. Or, conversely, choose deep smoky eyes with nude or subtle colored lips. As you traipse through the stores, don't trip up on the trends. Try one thing at a time and you'll triumph at this season's fashion games.
Send a letter to the editor about this story.