October 11-17, 2006
home | metro silicon valley index | features | silicon valley | sports news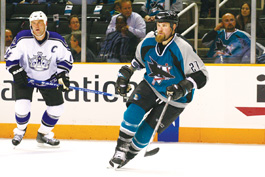 We're gonna need a bigger boat: A true shark, Scott Parker skims the ice for his prey while L.A. Kings' defenseman Mattias Norstrom stays on Parker's good side—that is, out of sight.
Talk to the Fin
By Felipe Buitrago
IF IT GETS HOT in the winter in San Jose, it's not because of the beautiful California weather—it's because of the Sharks. The glorious 6-3 win against the Calgary Flames along with the bitter 2-5 loss at home against the L.A. Kings in the pre-season is keeping the fans on their toes with this season's start. Last season, the Sharks were a little slow out of the gate, but the changes made to the lineup proved to be essential to the team's performance. With the veterans gone, the defense was crumbling, and the rest of the team was in a slump. Introducing center Joe Thornton and marksman Jonathan Cheechoo cranked it up and the Sharks were suddenly contenders. The team ended up nabbing the fifth seed in the Western Conference; Thornton walked away with the Hart Memorial Trophy as the league's MVP, and for leading the league in scoring he added the Art Ross Trophy to his mantel. Also, Jonathan Cheechoo was awarded the Maurice "Rocket" Richard Trophy for most points scored during the regular season. And it looks like they're gonna pick up right where they left off. With 82 games this season, we'll have more excitement at the Tank than we'll probably know what to do with. How about this: Phoenix Coyotes will be bringing ex-Sharks Mike Ricci and Owen Nolan to the table. To eat or be eaten? That's the question. Or how about ZZ Top look-alike Scott "The Sheriff'" Parker and the can-o'-whoop-ass he took to Nashville's bench and particularly defenseman Brendan Witt. The Sharks continue their campaign for ultimate NHL conquest right here in San Jose for three straight games starting Tuesday, Oct. 17, against the Dallas Stars and on Oct. 19 against the Red Wings; on Oct. 21 they take on the Minnesota Wild.
Send a letter to the editor about this story.