10.15.08
home | metro silicon valley index | features | silicon valley | feature story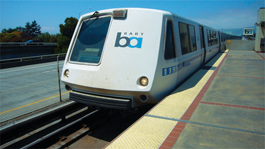 HOME STRETCH: Short-sightedness kept BART from connecting San Jose with the rest of the Bay Area when the commuter rail line was first built. It's time to finish the job.
Local Measures
Trains, plans and all manner of municipal needs
Measure A Hospital Seismic Safety and Medical Facilities
Metro recommends: Yes
The TV commercials may appear overly dramatic or even ironic, but this really is a matter of life and death. Passage of Measure A would result in an $840 million bond to perform a seismic retrofit on the Trauma Center at Valley Medical Center. That's a good and necessary thing, since Valley Med's Trauma Unit is the go-to place for treatment of major injuries, such as those that happen in earthquakes. Besides, if we don't make the place earthquake-proof, the state will close the hospital. This measure requires a two-thirds majority to pass, so it's simple: vote yes or die.
Measure B BART Extension—Santa Clara Valley Transportation Authority
Metro recommends: Yes
If voters want a commute alternative through the South Bay, there's really no other choice but to support BART. The community has been divided into two camps: those who are on the BART bandwagon and those who are frustrated that the BART project has been moving slower than traffic on the I-880. But let's face it, what the South Bay needs now is a mass transit makeover, with BART as the first stop. If this one-eight-cent sales tax is going to get us an inch closer to a smoother commute, then vote yes on Measure B.
Measure C Valley Transportation Plan
Metro recommends: Yes
Every six years the Valley Transportation Agency must put its transit program up for a vote. It's that time again. The plan lays out the agency's proposed improvements for buses, light rail and trains.
Opponents point out that a "yes" vote means essentially signing a blank check, given that the plan isn't completed yet—the VTA board of directors is due to vote on it in December.
In reality, a yes vote on this advisory measure tells the VTA to keep going. Once the final plan is released, the public will have an opportunity to comment on it and you can bet we'll take a close look at it. But voting against Measure C will send the wrong message. We need the VTA to make progress.
Measure D Valley Transportation Authority Ordinance—County of Santa Clara
Metro recommends: Yes
Voting for Measure D would mean never having to vote on Measure C again. It would eliminate the legal requirement that VTA seek an advisory vote on its transit plan every six years. In place of the referendum (which is only an advisory vote) Measure D would create a "Citizens' Watchdog Committee" to review the plan.
Given its spotty history (including a recent slap from the Grand Jury), it's difficult to vote to eliminate any oversight of VTA. But the fact is, no voter ever read the 200-plus-page VTA plan anyway—this year, it's not even done. Smarter to set up a watchdog group, and then watchdog the watchdogs. And let this be a vote against governing by referendum.
Measure E Municipal Election Date—City of Gilroy
Metro recommends: No
The city of Gilroy has been holding local elections on odd-numbered years since its Charter was adopted in 1960. Measure E would amend that Charter, moving municipal elections to even years. Proponents hope that the change will streamline the city's election process and help preserve tax funds for use on basic city services like police and firefighters. The measure would also extend City Council members' terms by one year.
Opponents state that the measure could just as easily have shortened terms by one year, but pointedly chose not to. We are with those who believe Gilroy's odd-year elections benefit the city by putting local issues front and center, not overshadowed by larger gubernatorial or presidential ballot issues.
Measure F New Library Building—City of Gilroy
Metro recommends: Yes
Gilroy outgrew its pubic library decades ago. The library was built in 1975 to serve a city of 15,000 people. Gilroy's population has grown to 51,000. The library's 147,000-item collection is crammed into an outdated building that's no longer earthquake safe. Librarians are forced to be more crowd-control agents than aids to research when kids flood the building after school to use the Internet.
If the measure passes, the city would issue $37 million in general bonds to pay for a larger, safer modern facility to fit the demands of the growing South County community. Cost to the average homeowner would be about $140 a year.
Measure G City Services Protection Measure—City of Morgan Hill
Metro recommends: Yes
With a recent spike in crime and gang activity in Morgan Hill, it's increasingly clear that the Morgan Hill Police Department has become overwhelmed. With the city's population ballooning to more than 39,000 residents, Morgan Hill still has the lowest police-officer-to-population ratio in Santa Clara County.
Measure G would ensure Morgan Hill vital public safely services by increasing police staffing. More officers would be put on the street to expand the department's anti-gang, anti-drug and crime prevention efforts. Costing around $120 per household a year, the measure would raise about $1.6 million in utility taxes annually for the city's general fund. Taxes on services like sewer, gas, electricity and water would go up by 2 percent, with low-income exemptions included.
Measure H Residential Development Control System Exemption—City of Morgan Hill
Metro recommends: Yes
Measure H is a key component in bringing Morgan Hill residents the vibrant small town urban experience they've been striving for in their downtown since the 1980s. If voters pass the measure, it will amend the city's General Plan and Zoning Code, allowing 500 new residential units to be built within the 20-block radius of downtown Morgan Hill. A great example of smart growth, the planned residential dwellings would be high-density, therefore reducing sprawl by building up instead of out. Supported by the entire Morgan Hill City Council, Measure H will also allow downtown development to occur simultaneously, speeding up construction and lowering traffic impacts.
Measure J 9-1-1 System Access Fee Change—City of San Jose
Metro recommends: Yes
Converting the 9-1-1 System Access Fee into a tax is not the most elegant way to maintain funding for emergency telephone services. In fact, this measure is further flawed by the fact that it creates a tax that goes into the general fund, and doesn't even have to be used to fund 911 services.
But the existing fee is set to expire next year and, thanks to legal challenges, may not be renewable. If we want to maintain this service, this is the way we're going to have to pay for it.
As proposed, the new tax will either reduce or leave unchanged the amount you currently pay. We hate all the weird little fees/taxes tucked into our phone bills, but it's a small price to have 911 there when we need it.
Measure K Telecommuni-cations Users Tax Change—City of San Jose
Metro recommends: Yes
Though Mayor Chuck Reed's vision for change is sometimes criticized as too abstract, Measure K is an example of how it can elegantly combine practicality with progress. In making changes to San Jose's antiquated telecommunications users tax, Reed has brought it into the 21st century without putting an undue burden on local taxpayers. Under Measure K, technologies that have been developed since the tax was introduced in 1970 such as voicemail and text messages would be treated the same as traditional telephone services. (Don't worry, Internet access can't be taxes under federal law.) The upside for taxpayers is that the rate would be reduced from 5 percent to 4.5 percent. A wider (and more fair) scope for the tax combined with the cut equals about the same amount of revenue for the city general fund.
Measure L Fire Station Construction—City of San Jose
Metro recommends: Yes
You might wonder: Why am I being asked to decide this? And you might ask: Don't decisions about where to locate fire stations require some kind of expertise? Isn't this what elected officials are supposed to do? And didn't we just approve an emergency plan authorizing the city to build fire stations? Good questions. And the answers are: yes, yes and yes. Which is why this measure deserves a yes vote.
Opponents are afraid that it will mean shuttering Fire Station 6. Proponents promise that it won't. They should fight that out in the council chambers, not the voting booth.
FREE LAND: Measure M will make it easier for community groups to lease public parks. That's a good thing,
Measure M City Park Use Agreements—City of San Jose
Metro recommends: Yes
Measure M will amend the city charter to allow for the leasing of parkland to community groups for up to 25 years in select parks. Currently any lease of more than three years requires voter approval, severely limiting any possible partnerships on pools, skate parks, community centers and more. We can't imagine any reasonable person arguing against this long-overdue shredding of city red tape—indeed, no argument against it was submitted.
Measure N Library Improvements—City of Palo Alto
Metro recommends: Yes
Last year's audit on the state of Palo Alto libraries wasn't pretty. They are in dire need of help, and the turning point has come with Measure N. Unanimously supported by the city council, it will create a $76 million bond for construction on a new Michell Park Library and community center, expansion of the main library.and renovations on the downtown library. It's a smartly conceived, fully greened plan for a job that can't wait.
Measure O City Services and Facilities—City of Campbell
Metro recommends: Yes
Unlike property taxes, which get whisked away to the state for redistribution, all the revenue generated by this quarter-cent sales-tax increase in Campbell will go straight back to Campbell. The entire Campbell City council is on board, projecting that the new tax will enable them to close the structural budget deficit without cutting any more city services. In this sprawling metropolis, that amounts to maintaining public safety and repairing city streets.
Measure P Christopher High School Construction—Gilroy Unified School District
Metro recommends: Yes
Gilroy has grown a lot within the past 10 years, causing a significant strain on the existing school system. Measure P makes money available to make improvements to Gilroy High School and fund the remainder of construction of Christopher High School, alleviating overcrowding at GHS.
While the actual process of issuing bonds is becoming a tricky proposition in the current financial climate, we say let them try. If we can't keep building schools to educate our children, the terrorists have won.
Measure R School Funding—Campbell Union High School District
Metro recommends: Yes
Campbell Union High School District (CUHSD) has always been a high-achieving district, and an $85 parcel tax will restore funds swiped away by the state and help maintain its prestige. No taxes will be raised and every penny goes to the schools. Seniors and folks receiving SSI checks are invited to apply for exemptions. Furthermore, Del Mar High will celebrate its 50th anniversary next year. Adrienne Barbeau of film and TV fame graduated from Del Mar in 1963 and if we can produce just one more of her during the next 50 years, then the parcel tax will be well worth it. Probably for that reason alone, there seems to be no significant opposition to Measure R.
Measure S School-Improvement Bond for Oak Grove School District
Metro recommends: Yes
The measure asks the voters (a 55 percent majority is required) to approve $125 million in bonds, with the revenues to be used to upgrade facilities in southeast San Jose. Among the improvements called for are fixing electrical, heating and ventilation equipment, repairing roofs and making buildings more energy-efficient. Opponents worry that the list of improvements is not narrowly specific enough.
No one likes raising taxes in a tanking economy, but without a commitment to adequate schools, how are our grandchildren going to be smart enough and employable enough to pay off the debt we are creating for them?
Measure T School Improvements—Evergreen School District
Metro recommends: Yes
We recommend voting yes on Measure T, a parcel tax to raise funds for the Evergreen School District. Measure T will help preserve quality schools by supporting class-size reduction, more individual attention from teachers, enhanced science and math instruction, and a return of music and arts programs.
What's it going to cost? Ninety dollars per parcel for five years, with exemptions available for senior citizens. That works out to $7.50 a month.
Lots of people talk about the importance of education and the sorry state of our schools, but few do anything about it. Here's your chance.
Measure U School Improvements—Franklin-McKinley School
Metro recommends: Yes
To pay for a variety of educational programs in the elementary schools of Franklin-McKinley School District in San Jose, voters are asked to approve, by two-thirds vote, a parcel tax of $72 per year for nine years. The money will be used to improve math, science and literacy teaching and to reduce class size in kindergarten through third grade; other uses for the money include getting and keeping qualified teachers and helping at-risk students.
No formal opposition has weighed in on the measure.
In California's era of tight budgets, such local funding measures are becoming more common. Although the measure is somewhat vague on exactly how the teaching improvements will be made, the goals are worthy.
Measure V To improve Schools in Patterson District
Metro recommends: Yes
The measure authorizes general obligation bonds not to go over $50 million and requires a 55 percent vote for passage. The bond money will be used to repair and improve old classrooms, add classrooms for science and career training and ease crowding in the Patterson Joint Unified School District. Some repairs proposed—such as fixing rusting sewer lines—would benefit everyone, not just the students and teachers.
Measure W School Improvements—Berryessa Union School District
Metro recommends: Yes
Sacramento is asking Washington for a bailout. That means local schools will continue to suffer from budget cuts. A yes vote on Measure W to approve a parcel tax that will help ease the pain for the Berryessa Union School District.
Because of budget cuts the district ranks 30th of the 32 Santa Clara County districts in funding. While the district has already cut administrative positions by 40 percent and laid off teachers, it still faces a $1.3 million deficit.
Measure W will help retain teachers, keep libraries, maintain math and science and update classrooms technology. At $79 per parcel for five years with exemptions available for seniors, we call that a bargain.
Send a letter to the editor about this story.