10.15.08
home | metro silicon valley index | features | silicon valley | feature story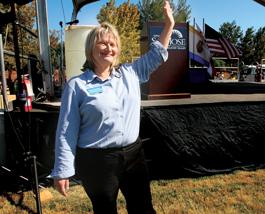 Photograph by Felipe Buitrago
FLY GIRL: Rose Herrera, formerly of the U.S. Air Force, brings experience form the world of business to her quest for a seat on the San Jose City Council.
Herrera, Kalra for San Jose Council
PLEASE don't check Jackie Adams' name on the November ballot for San Jose's District 2 council seat. For starters, she has officially supported her opponent, Ash Kalra, a sharp and savvy local attorney. Adams is clearly popular in the district—voters sent her to the November runoff despite the fact that she had officially withdrawn during the primaries. Her name still appeared on the June ballot, and so she was selected for the runoff. If Adams wins, she will have to officially resign as a councilmember, forcing the city to hold another special election to fill her seat.
That brings us to the only real race for San Jose City Council. Two candidates are vying to fill termed-put Dave Cortese's District 8 council seat. Neither Rose Herrera nor Pat Waite have any political experience. But both candidates have strong track records of community experience that would be relevant in tackling some of the district's top issues: traffic congestion and economic development.
They both also have shown strong business leadership in the San Jose community, which would be a big asset at a time when the city faces some serious budget problems.
As a Democrat in a traditionally liberal district, Herrera seems to have garnered broader support than Republican Waite. A local businesswoman who has served in the Air Force, Herrera has received diverse endorsements—from the South Bay Labor Council and the Chamber to teachers and elected officials, including Congressman Mike Honda.
Waite, who surprised many by advancing to the November runoff, has a legion of his own supporters, including San Jose Councilman Pete Constant. His work with nonprofit organizations and faith-based social service groups is commendable. Although he has tried to avoid being stamped as right-wing, his values and ideologies are far from the majority of the current of the council, many of whom have endorsed Herrera. We believe Herrera would be a better fit for the job.
Send a letter to the editor about this story.