10.15.08
home | metro silicon valley index | news | silicon valley | news article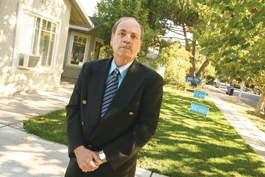 Photograph by Felipe Buitrago
THE UPSTART: Richard Hobbs has a history of friction with the Board of Supervisors, and all of its members have endorsed his opponent, George Shirakawa. But Hobbs' traction in the race has surprised both his supporters and his critics.
Protest Vote
As a headstrong newcomer facing off against George Shirakawa, Richard Hobbs has shaken up the District 2 supes race
By Erin Sherbert
BY the time Richard Hobbs entered the race for a seat on the Santa Clara County Board of Supervisors, most of the brand-name endorsements had already been given away to other candidates. His late entry to the race and relatively unfamiliar name made Hobbs a long shot, especially with a powerful presence like former San Jose Vice Mayor George Shirakawa in the race.
But Hobbs forged ahead. Hobbs, the former director of the county's office of human relations, has only served in one elected position, as a trustee on the board of San Jose Evergreen Community College. But that hasn't deterred his brazen campaign.
Hobbs quickly climbed the ranks in a pool of six candidates in the June 3 primary. He scored 33 percent of the vote, pitting him against Shirakawa, who garnered 35 percent of the vote, in the Nov. 4 runoff.
This upstart's quick success has caught many political insiders off-guard. Although mostly an unknown in politics, Hobbs has a history of friction with some of the current county supervisors, all of whom have endorsed his opponent in the race. Hobbs says their differences have been cordial disagreements over issues like resolutions about Iraq. He's also hit some bumps along the way, like when the county counsel scolded him for using the county employee's email system to send out campaign material.
And yet, Hobbs has continued to turn heads in the county with an aggressive grassroots campaign, consistently drawing on some 150 volunteers to phone-bank and walk precincts.
Even Shirakawa, who is known for being a mild campaigner with powerful name recognition, admits he doesn't have this election in the bag.
"Richard has been around." Shirakawa says. "It's going to be a tough race."
Grabbing Attention
What triggered Hobbs to run was former San Jose Vice Mayor Cindy Chavez's decision not to make a bid for the District 2 seat.
"When I saw there didn't seem to be a viable candidate to prevent George from winning in the first round, that's when I decided to throw my hat in the ring," Hobbs says.
His candidacy has irked some on the current Board of Supervisors.
Don Gage, who represents District 1, says Hobbs is a heavy-handed, difficult person, who as the director of the office of relations, has put forward a slew of resolutions that have incited controversy.
"He has put us in some very uncomfortable positions," Gage says. "He does a lot of things that are not above-board and I don't trust him."
Hobbs abruptly left his position as the director of the office of human relations after he was admonished by the county counsel for distributing campaign literature that county officials said were misleading.
Hobbs says he left solely to run his political campaign.
Despite the criticism, others who have worked closely with Hobbs on the Evergreen board say that even though he can come off as stubborn, he's also passionate and dedicated.
Part of his appeal is his impressive educational background—he has two master's degrees and a law degree as well as experience in immigration issues and education.
At the office of human relations, Hobbs was involved in some emotionally charged controversies, most recently the Little Saigon debate in San Jose. Hobbs unsuccessfully tried to bring the Vietnamese community together to hash out their differences with San Jose Councilwoman Madison Nguyen (who could be recalled next spring).
The multilingual Hobbs has an affinity for immigrant issues. He says he's lived or studied in more than 40 countries, and draws on his experiences to assist underserved people in the county. As supervisor, he says, he would work to bridge gaps between government and these poorer communities. For example, he wants to expand the county's public portal to include other languages besides English.
"I've lived in four foster homes," he says. "I understand the importance of people who need help."
Making open government his mantra, Hobbs recently unveiled his 10-point plan for a sunshine ordinance. Like San Jose, he wants county supervisors to post their calendars online and hold weekly meetings as opposed to every other week.
Hobbs sidesteps political identifications like liberal or progressive. Still, his stated passion for vulnerable populations is why one of the most liberal lawmakers in California, Assemblywoman Sally Lieber, says she is endorsing him.
"I've been concerned, from the vantage point in being in Sacramento, that the board hasn't really pushed the envelope," Lieber says. "I really feel like we need someone else who is going to be a flamethrower, and who is really going to push the issues, and I think there is a better chance of that happening with Richard."
A Popular Opponent
Shirakawa, 46, isn't unveiling sunshine ordinances (which he supports) or government reform like Hobbs. Instead, he's highlighting the one thing he says he has that Hobbs doesn't: experience as a savvy politician.
"With what the county is facing, especially with the budget, you need someone with a lot of experience," Shirakawa says. "That's why I think I'm the best person."
The high school coach and youth counselor fell into politics in his early 30s. His father, George Shirakawa Sr., was campaigning for re-election to the San Jose City Council in 1994 when he died suddenly. The council, which included former Mayor Susan Hammer, appointed George Jr. to fill his father's seat. At the end of his father's term, he ran again, and voters re-elected Shirakawa.
But Shirakawa grew into the job, serving eight years on the San Jose council, which included a stint as vice mayor. He's still taking hits over some unpopular positions he took while on the council, including his vote against paying a so-called living wage to city employees.
Clearly, he's been able to overcome those political hits. After being termed out, he was elected to the East Side Union High School board, where he currently serves as a trustee.
Shirakawa feels right at home in his current position, a hybrid of his two passions: youth and politics. He's been a champion of gang prevention and has been working to close the achievement gaps in schools while on the board.
Last fall, he decided it was time to step into county politics. He announced his candidacy to run to replace Blanca Alvarado, who is termed out this year.
District 2 is considered one of the county's more ethnically diverse and underserved districts. Shirakawa's Hispanic roots and Asian last name will certainly give him the upper hand among voters in this district, says county Assessor Larry Stone.
At the same time, Shirakawa has his own hurdles to jump, including the image, he says half-joking, of being a "corrupt lobbyist." Shirakawa says he quit that job to run a clean campaign.
"I had opportunity after I left the council to do consulting lobby work and I'm not ashamed of it," Shirakawa says. "I stopped last fall because there is a negative connotation with 'lobbyist.' Anything I can do to reduce that was better since I'm running a race."
Supporters say it's Shirakawa's political acumen and street smarts that make him right for the job. While he's kept his platform simple, talking about budget problems and maintaining county resources, supervisors are already looking to tap into his expertise working with youth and gangs.
More importantly, they call him a team player, which is what the county really needs, said Supervisor Liz Kniss, who is supporting Shirakawa.
"He has support of all the supervisors, and its very important when you work with a group of five not that you vote the same but that you get along well with everyone," Kniss says. "It's a lot about being someone who I can disagree with and it won't be a problem."
Send a letter to the editor about this story.