10.15.08
home | metro silicon valley index | features | silicon valley | sports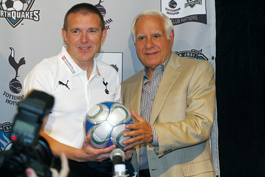 Photograph by Felipe Buitrago
BALL HANDLERS: Tottenham Hotspur executive director Paul Baber (left) and Oakland A's owner Lew Wolff (right) seal the deal on a new soccer partnership for the Quakes.
Quakes Felt Across The Pond
By Gary Singh
LAST WEEK, the San Jose Earthquakes announced a strategic partnership deal with one of England's most storied clubs, Tottenham Hotspur. Based in north London, the Spurs will use the situation to develop their brand in the US, while the Quakes will probably get some peer counseling on coaching, youth development and/or training methods. The Spurs have one hell of a youth operation and the Quakes are about to begin the first stages of initiating their own youth academy anyway. It appears to be a win-win situation for both businesses. The partnership grew out of initial discussions a few years ago between Tottenham sporting director Damien Comolli, Oakland A's owner Lew Wolff and general manager Billy Beane—a relationship that led to Wolff deciding to bring the Quakes back into MLS. At a well-attended press conference in the Fairmont Hotel last week, top brass from both teams addressed members of the media, fans and local luminaries. Spurs bigwigs even commented under their breath about how polite the media were compared to Europe. Representatives from the Spurs' fan club in San Francisco made the trip to show their support.
Now, for those Quakes fans who also happen to be Arsenal or West Ham supporters, this situation poses a serious problem. Those other London clubs get along with Tottenham like oil and water, and you even occasionally see "Tottenscum" in their game programs.
Send a letter to the editor about this story.