10.17.07
home | metro silicon valley index | news | silicon valley | news article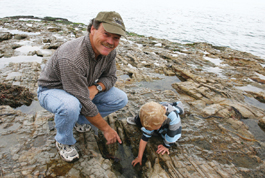 School of Rock: UCSC biologist Mark Carr says Marine Protected Areas will give scientists the opportunity to answer longtime questions about the effects of fishing on the Central Coast's ecosystem.
Current Affairs
Historic new protections could save our shores, but the real impact remains to be seen
By By Steve Hahn
A SEAL basked on a rock just off Point Lobos, watching the curious scene above unfold. California Fish and Game Commission President Richard Rogers stood before a microphone, his back to the large underwater kelp forest where the seal would likely find his dinner that night. A strand of algae washed up onto the rocks as a pelican glided low along the water. Rogers adjusted his microphone.
"If you listen closely," he said to the 50 audience members assembled to celebrate a critical turning point in environmental politics, "you can hear the marine life thanking us."
The event last month celebrated the implementation of the first network of Marine Protected Areas (MPAs) in the nation and one of the first in the world. Located off the Central Coast from San Mateo County's Pigeon Point to Point Conception in Santa Barbara County, the new MPAs include 14 state conservation areas allowing limited fishing of specific species, two marine parks with only recreational fishing allowed, and 13 marine reserves with no fishing allowed at all. Overall, 18 percent of Central Coast waters extending three miles offshore are protected under the new regulations. The species expected to benefit include halibut, salmon, red snapper, sea otters, flounders, lingcod and hundreds more.
This historic moment did not come easily. It is the result of years of tense negotiations, extensive planning and detailed scientific review. The process began in 1999, when California passed the Marine Life Protection Act (MLPA) into law. The MLPA directed the Department of Fish and Game (DFG) to approach the task of fisheries management from a whole new perspective.
Historically, fishing regulations restricted how many of a particular species of fish could be taken from the water during a season. Some regulations also restricted the size of fish one was allowed to take in order to protect breeders within the species. In severe cases of fishery depletion, large areas of state waters would be cordoned off as "conservation zones" where fishing for a particular threatened species was banned.
These regulations had shown progress in replenishing some fish populations, most notably rockfish, a category that includes popular species such as the striped bass and red snapper. But conservationist legislators in Sacramento, including MLPA co-sponsor and former Assemblyman Fred Keeley, thought a more thorough system needed to be implemented. They worried that the species-specific management approach the DFG was using overlooked the role habitat, other sea life and migratory patterns played in determining the abundance of fish populations. If the government could protect entire ecosystems from human disturbance, the thinking went, fish populations would rebound at a quicker rate.
Kaitilin Gaffney, who represented the Ocean Conservancy during the Central Coast MLPA process, notes this was an important departure from a system that generally "waited for disaster to strike" before implementing regulations.
"The old system also missed the interactions between different species," says Gaffney. "MPAs are one way to try to do a better job in what is termed 'ecosystem protection.' It's not a substitute for traditional fisheries management, but it's one additional tool in the toolbox. "
Additionally, the new system would create a "backbone" of protected areas encompassing fertile and healthy breeding grounds, where fish populations could regenerate faster and then spread the new population boom out to unprotected and overfished areas.
The paradigm shift ushered in by the MLPA was music to the ears of conservationist activists, but getting these ideas off paper and into the water was a much more difficult task. In fact, the process sat idle for nearly five years, bogged down by a depleted state budget and DFG staff shortage.
In 2004, as Gov. Schwarzenegger was readying his administration for an unprecedented reworking of the state's environmental regulations, the process was restarted and the Central Coast was selected as a pilot area. Scientists, policy advisers, government bureaucrats, commercial and recreational fishers, scuba divers and anyone else with a stake in the future of the ocean were called together to hammer out the specifics of the ambitious goals laid down in the MLPA.
Fissures among the different interest groups were quickly laid bare. Fishing industry representatives were severely disappointed that the MLPA process didn't take into account the role coastal development, destruction of habitat in watersheds and runoff pollution had in depleting fish populations. They felt like they were carrying the cross for the sins of the entire state, while development firms, agricultural interests and polluting industries were let off the hook.
Of course, the Schwarzenegger administration was also championing environmental causes that would impact land-based industries, including the signing of a bill to reduce atmosphere-warming carbon emissions 25 percent by 2020 (opening developers up for crippling lawsuits) and another that raised penalties for illegal discharging of pollutants.
MLPA negotiations lasted for approximately two years, and concessions were made to allow limited fishing in some areas and to keep fishing grounds closer to port open.
Finally, in March 2006, when the negotiations had wound down and the science advisory team had wrapped up its research, three options remained on the table. One was designed by fishing interests, another by conservationists, and a third plan combined elements of the first two. The Blue Ribbon Task Force recommended the hybrid plan, and, after some minor modifications, the Fish and Game Commission voted to implement that plan in April 2007.
With 204 square miles of state waters now protected in an extensive system of "offshore wilderness parks," and protection slated for four more regions along the rest of the state's coast by 2011, it was clear to all involved that a vital shift had occurred in the way California's humans dealt with their seaside neighbors. Most involved in the process, whether supportive or antagonistic, anticipate the new mind-set will spread quickly across the nation's coastal states.
The Final Frontier
This new set of MPAs represents not only a new approach to fishery management, but a unique opportunity for marine biologists to study the effects of human activity on a diverse array of marine ecosystems. While scientists have studied the waters off California's shore for decades, there has never been a set of untarnished ecosystems that can serve as controls for testing hypotheses related to how fishing impacts the complex web of mineral, plant and animal life beneath the waves.
Mark Carr, a prominent associate professor of ecology and evolutionary biology at UCSC, is eager to get in the water and use the MPAs to test a number of questions he and others in the field have been pondering for years.
"Everybody talks about this stuff, but we haven't had a tool for actually testing it," he says. "That's what's exciting about these MPAs. We'll finally be able to scientifically and rigorously test whether and to what extent fishing has an impact on different components of the ecosystem."
By observing differences between fish populations inside and outside the no-take reserves, Carr hopes to isolate the effects of fishing on a given ecosystem. This can lead to a more thorough understanding of the relationship between humans and marine life, the lack of which became an argument fishing industry representatives used in claiming MPAs were based on "questionable science."
While the Ocean Conservancy reports that 95 percent of the comments received during the MLPA public hearing process were supportive of establishing MPAs, not everyone is happy with the end result. Vern Goehring, manager of the California Fishing Coalition, thinks the Central Coast MLPA process was misguided and may actually exacerbate the problem of overfishing.
First off, Goehring notes that the coast off California is already much better protected than other areas around the nation and world. He cites a report issued by the Fish and Wildlife Service last spring that identified many overfished areas off the nation's coast but none in California. Additionally, says Goehring, restricting fishing in these areas will not actually reduce the number of vessels competing for a catch; it will just compact them into fewer areas.
"The public is not going to tolerate having no-take reserves abundant in fish population and fish life, and every place else overfished. It doesn't make sense to have that situation, so what will likely happen is there will be increased regulations in the other areas following," predicts Goehring. "It's starting a cyclical problem, a spiraling up of regulations and controls, which are not being understood adequately in a rush forward to create this thing that superficially sounds good, but scientifically is really questionable."
While Carr believes the MLPA process was actually heavily influenced by good science, he admits there are still a lot of unanswered questions, many of which could take at least five years to even begin to answer.
First, there is the obvious question of how much bigger individual fish, especially egg-laying females, grow, and how many more fish result from these robust breeders being protected within the MPAs. Gaffney says studies have shown that certain species of rockfish can have between 50 to 200 times as many eggs when they grow just a few feet larger.
"It's a scientific theory referred to as the 'big old fat female fish,'" she says. "If you can keep some of these breeder stock protected, that can potentially have a benefit for areas outside the MPAs."
If fish populations become more robust and individual fish larger within the MPAs, as is anticipated, a new set of scientific questions are raised. Factors such as climate change, cyclical weather patterns, the resilience of a fish species to pollution and trans-species interactions can be studied with the factor of fishing already controlled. While it is very hard to completely isolate any of these factors, the MPAs are a step in the right direction for researchers like Carr.
As an example, he cites the planned revitalization of the underwater habitat he specializes in, kelp forests. Fishery managers want to increase the numbers of the 10 or so different species of fish that live in kelp forests to 40 percent of their historic numbers. (The current population is around 25 percent, an increase from the low of about 10 percent that accompanied the over fishing of the late 20th century.) This may be great for the fish, but Carr is more interested in the fate of the rest of the food chain after the predators rebound to a better percentage of their formerly glorious numbers.
"So, maybe you get more rockfish, but if they're eating other guys, we project declines in other species, so we want to see if these changes occur," he says. "Not everybody is going to benefit from the presence of these big old rockfish, but the argument is: that's the natural state of the ecosystem. So, what is that state, and how does it compare with what we have now? We're trying to look at how the whole system may change over time in addition to just how individual species are responding."
As the results from these new experiments trickle in over the next few decades, the regulatory framework managing these ecosystems can be further tweaked to accommodate the new data. This may help settle the debate over the legitimacy of the science used to implement the MPAs in the first place.
"If you see impacts within and outside the MPAs, then maybe you know it isn't fishing causing that problem," says Gaffney, "Then you look for a different cause."
Send a letter to the editor about this story.