10.17.07
home | metro silicon valley index | features | silicon valley | column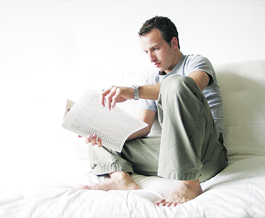 IS THE TRUTH IN HERE? If you need a $1,500 shirt, maybe.
Men's Magazine Madness
By Joseph Rosenfeld
ONE of my monthly rituals is to review the many monthly men's publications dedicated to style, fashion and fitness. I get them all. GQ. Esquire. Men's Vogue. Men's Fitness. Details. I used to get FHM and Cargo, too, but those have gone by the wayside. It's probably for the best. How many snobby East Coast–oriented magazines can we possibly stand? The reason I read all of these magazines is to see what the editors are trying to spoon-feed us lowly, out-of the-know non–New Yorkers. These guys—and gals—have got a serious case of Manhattanitis.
Flip through any of the magazines, and you'll find that luxury for the masses abounds. Anything from the utilitarian T-shirt to the utopian bespoke suit can now be considered and consumed as luxuries. As much as this is true, the results for the consumer are confounding. Footwear from French brand Yves St. Laurent is shown more regularly in these magazines than Timberlands. Just about any pair of shoes or trousers depicted in the magazines is $700. Oh, but those can all be paired with something cheap and chic from Target or H&M! And because it is entirely possible to do something this particularly special, those shoes and trousers from France or Belgium are now a bargain. Hmmm ...
Details just kills me. From sexually ambiguous cover to cover, page after page, the magazine is full of contortions that bring a scowl to my face. Sometimes it's a challenge to finish reading it to the end. In the latest edition, some New York club doorman dude gets a magazine makeover as a "style arbiter" who says that most people who come to the door don't get in. It's a losing bet that those L.A. guys with "big fucking Dior aviators," tilted hats and Ed Hardy T-shirts will get into a club near TriBeCa while donning that trifecta.
Turn the page to find a suggestion that camel hair be used to "add an air of grandeur" to the wardrobe. The way they show it, though, is a lot more like blandeur than grandeur. Turn another page and Kean Etro, a well regarded fashion designer, suggests that "the biggest mistake a man can make when dressing is following other people's advice," while adding that it's OK if he ends up badly dressed, so long as he's happy. How's that for a piece of passive-aggressive advice? After reading and viewing all of these images and ideas, the last place I'd take advice from is from the pages of Details. It's a last-place triple play, indeed.
If you believe everything you read (and if your bank account is as high as a Wall Street investment banker's), bespoke suits, shirts and shoes are easily attainable. And to prove it, they show a stack of collar styles available from the new and highly touted eponymous collection from Tom Ford. Tom's go-for-broke handmade shirts range in price from $630 to $1,490, according to the editorial. For that price, do we get French laundry service by Tom himself? Now that would be a luxury I might pay for—once!
If you find a fashion magazine that consistently delivers information about a style that you identify as your own, that's a magazine whose advice you should consider. But for this style arbiter, I'll keep reviewing the magazines and the fashion shows, and talking to my clients and people on the street in an effort to learn what's real about style. After all, developing your style is an individual pursuit worth receiving independent and objective counsel not at all likely to be found in the pages of a magazine.
Joseph Rosenfeld, the nation's only male certified image professional, helps professional men and corporate employee groups to become more dynamic, compelling and stylish. Visit www.JRImageMentor.com for more information.
Send a letter to the editor about this story.