10.24.07
home | metro silicon valley index | features | silicon valley | feature story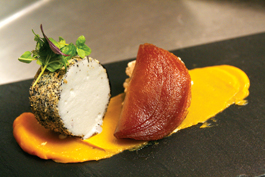 Photograph by Felipe Buitrago
WINTER THRILLS: Butternut squash purée with frozen coconut croquette at Trevese.
Back in Season
Local chefs come in from the cold to prove winter is still a prime time for fresh local produce.
By Cheryl Sternman Rule
FOR many of us, a cage match between a pristine tomato and a knobby celeriac wouldn't be much of a fight. But talk to some of Silicon Valley's finest chefs and local farmers and you'll find them breathless–giddy, almost—about the impending cool-weather produce season. When the beefsteaks have sung their swan song, celeriac, squash, kale, cabbages and parsnips move in with a flourish, and their arrival sets these chefs aglow.
On a recent wet Friday, I walked through Lindencroft Farms with Linda Butler, who has tended her 1-acre, certified-organic plot in Ben Lomond for four years. Butler sells her produce to Gabriella Café in Santa Cruz and a handful of very local customers through her CSA (Community Supported Agriculture). Hearing her talk softly but passionately about spigariello, an Italian variety of "nonheading" (i.e., leafy) broccoli that she cuts into ribbons, braises gently, finishes with vinegar and swirls into potato soup, I suddenly wanted to yank the verdant vegetable from its plot and hightail it back to my kitchen 30 miles away, soup-pot bound. And this was even before she showed me her rainbow chard and purple dragon carrots.
Chef Mike Miller of Trevese in Los Gatos is just as excited about the changing seasons. "In fall and winter," he says, "it's cozier. There's something more romantic about the produce. It's familiar; it's comforting."
In fact, the day before we spoke he'd spent the afternoon with his son at Rodoni Farms in Santa Cruz, checking out the pumpkins for his restaurant. "There were all these varietals I'd never seen before," he says, thrilled.
One of Miller's favorite seasonal combinations is a purée of celeriac and apple. "It's no more difficult to make than applesauce," he says.
Squash is similarly versatile. William Werner, Trevese's pastry chef, has been pairing roasted butternut squash with apples and coconut.
Then there are leafy greens. To those tortured by overboiled spinach in childhood, properly prepared winter greens can be a revelation. Take kale, which Miller loves.
"If you dice some bacon, sauté it with onions, pop in torn kale, hit it with a little stock, then let it cook down slowly and toss it with some almonds, you have a fantastic side dish," he says.
On Trevese's current menu, you'll find kale paired with smoked and port-braised organic pheasant.
And how about the unsung heroes of the cabbage family? Josiah Slone, chef/owner of Sent Sovi in Saratoga, is a devoted Brussels sprouts enthusiast.
"I quarter them and roast them with brown butter," he says, "and we serve them with venison, lamb or short ribs. Or we'll take them off leaf by leaf—we call them 'sprout petals'—and sauté them quickly. The mouthfeel and texture are lighter, and they're great with fish. Or you can braise Brussels sprouts with bacon and caramelized onions." As with spinach, some people have bad memories of "nasty, big, round" Brussels sprouts that their moms made them eat, says Slone. He promises that today's varieties are sweeter and tastier.
When it comes to winter fruit, both Slone and Miller rave about quince. At Trevese, Miller purées the fruit and extracts the juice, clarifying it and creating a gelée, which he serves as an amuse bouche with ricotta and arugula. At Sent Sovi, Slone cooks the fruit down for 24 hours with cinnamon, allspice and simple syrup until it turns ruby-red, making a quince paste to serve with cheese.
During this season of falling mercury, the prize for the most ebullient winter-produce-focused chef may just have to go to chef Jesse Cool, owner of Flea Street Café and jZcool Eatery, both in Menlo Park, and the Cool Café at Stanford's Cantor Arts Center. According to Cool, people tend to gravitate toward the red foods of summer: tomatoes, strawberries, raspberries, bell peppers.
"But what I like about winter is that it challenges us to play with foods that are more interesting and often more exciting in flavor because of their depth."
Cool adores beets. Roasting is wonderful, she says, but she also likes to cook them on the stove-top until al dente with some peppercorns, a bay leaf and a little onion. She then strains and reduces the cooking liquid with a little balsamic vinegar and sugar to create a syrup for drizzling.
And don't even get her started on squash, particularly the Delicata variety. "I don't know if there's anything more delicious than a Delicata squash served with brown sugar or a little maple syrup."
To hesitant cooks, Cool advises getting over the stink factor (hot cabbages and turnips, for example, reek) and diving in. Many root vegetables don't even have to be peeled: just scrub them, chop them up and throw them in with whatever meat you're preparing, like braised pork butt or lamb shanks. Or simply roast them with olive oil, salt and pepper.
Granted, it's not as easy as slicing into a September tomato, but the results are just as satisfying.
Send a letter to the editor about this story.