10.24.07
home | metro silicon valley index | features | silicon valley | sports news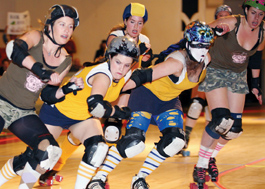 Photograph by Felipe Buitrago
THIS WHEEL'S ON FIRE: The Bay Area Derby Girls are on their toes for the Championships.
Total Pandemonium
By Felipe Buitrago
WHAT IF the world were facing total annihilation by alien invaders and we'd exhausted all our resources to fight back against aliens? Who would fight back? The roller derby girls, of course, and everybody would be there to watch. You can't see them battle cylons—yet—but you can watch undefeated Richmond Wrecking Belles take on the Oakland Outlaws in the final bout of the season Nov. 3 at the Civic Auditorium in San Jose. These gals already plowed the ShEvil Dead into the ground at the first bout on Sept. 8 in a grueling 66–47 win, and now they're looking to take the Oakland gals to the mat. But don't forget when the Outlaws get crazy, "Pandemonium" hits the track—literally. Also known as "Panda," No. 0 on her jersey, the No. 1 jammer for the Outlaws not only turns heads as she skates by but she's also notorious for turning the scoreboard. So get your popcorn, nachos or what-have-you's, 'cause as long as the girls make it out in one piece, Intergalactic Armageddon may not be so bad after all.
Send a letter to the editor about this story.