October 25-31, 2006
home | metro silicon valley index | news | silicon valley | news article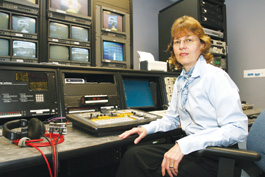 Spanning the digital divide: Annie Folger, executive director of Palo Alto's Media Center, worries that the new law allowing phone companies to get statewide franchises will lead to redlining of low-income communities.
Crossed Wires
As San Jose hosts a community-media conference, it's become clear that the state's new cable legislation has hidden costs for consumers
By Diane Solomon
COMING SOON to cable TV: your phone company. Promising faster access to emerging technologies, more choices and lower rates for all, California legislators passed a law last month allowing phone companies to bypass cities and get statewide franchises to sell video services directly from California's Public Utilities Commission. Under prior law, pay TV providers, like Silicon Valley's Comcast, had to negotiate franchises city-by-city. As early as spring 2007, you'll be able to buy pay TV from phone companies.
Cable technology is now a whole new ball game, and with that in mind, local media producers from all over the state will be streaming to the Alliance for Community Media's (ACM) conference at the Hilton San Jose this Friday and Saturday to learn more about life after the Digital Infrastructure and Video Competition Act of 2006 (DIVCA).
What many of them are discovering is that there is a huge disconnect between what legislators think they put into effect, and what cities, customers and community cable TV media centers are going to be wrestling with for years to come.
One Size Fits All
With phone profits dwindling, Verizon and AT&T have been lobbying state and federal legislators to change the law so they can jump right into the more lucrative cable market without having to negotiate with thousands of pesky cities. This summer, they lobbied mightily for DIVCA. It will allow the issuance of state franchises to providers of video services, which includes cable service and open-video systems. The law goes into effect on Jan. 1; similar laws have been passed in other states, and a federal franchise bill is on the horizon. If a national franchise bill is passed, it will trump DIVCA.
Suzanne St. John-Crane is one of the organizers of this weekend's conference, and runs CMAP, the public, education and government cable TV media center that serves Gilroy, Hollister and San Juan Bautista. She says that Verizon and AT&T's shortcut to the pay TV market will short-change California consumers.
Cities will continue to operate under their current franchises. When they expire, cable providers will likely file for a statewide franchise along with the phone companies. Cities will still receive a fixed 5 percent of service providers' revenues as rent for their use of public rights of way, but dollars to support public, education and government access (PEG) cable TV channels and the community media centers that produce PEG will be limited.
San Jose might be better off after DIVCA. Because San Jose and Comcast are in litigation, they're operating under a 1985 agreement that provides zero funding for PEG. San Jose's PEG needs-assessment identified 2 percent to 3 percent of Comcast's local gross revenue as the appropriate amount. Under a DIVCA franchise they would get about 1 percent.
This summer state Sen. Joe Simitian, St. John-Crane and community media advocates worked hard to prevent DIVCA's original version from nuking PEG funding. It didn't protect funding for California's 55 community media centers and it would have caused 13 to close.
The end result is that cities can keep the PEG channels they have, but they can't get additional channels if they have three, regardless of how they grow and change.
St. John-Crane says that this one-size-fits-all approach is a tremendous loss. It takes away cities' rights to negotiate the amount of PEG access channels, funding, resources and universal access to services.
Digital Divide
The Media Center operates Palo Alto, East Palo Alto, Atherton, Menlo Park and Stanford's joint PEG. They have five channels and a showcase of a community media center on San Antonio Road. MC executive director Annie Folger is concerned about redlining.
"Unlike city-negotiated franchises, state-franchised companies can take three to five years to provide low-income areas with services, and they can get extensions. There's no provision to put everyone on the same time schedule. This means the digital divide will just get bigger because there's no guarantee that low income areas will be supported by new providers."
Oakland's Media Alliance lobbied against DIVCA and will be presenting at the conference.
"There are loopholes in this law," says Sidney Levy, Media Alliance's program director. "Certain percentages are required to be met in their services' build-out. These percentages don't add up to 100 percent. The law allows franchises that will not get to everyone."
Institutional networks provided by cable operators have been a boon to cities. When cable companies lay their cable, they can drop in fiber that enables city agencies to transmit video, data and voice within a network. This is like having private T1 lines and saves a city millions of dollars each year. A training at one fire station can be broadcast or conference-called to every fire station. The Media Center uses I-Net to broadcast videos from all of their cities' middle and high schools.
Folger wonders what will happen this January.
"The new bill says whatever in-kind arrangements that you have in place like rent-free I-Net will stay through your current agreement. The new bill doesn't say that we own it," she says. "It says that we may use it. Comcast may tell us to stop using it or they may send us a bill."
No Recourse for Customers
San Jose's public outreach manager Tom Manheim worries about customer service under DIVCA. "In San Jose if a resident requests service and isn't happy with Comcast's response, they can call the city and the city will work with Comcast to resolve the problem. This is going to change," he says.
Sue Buske is a consultant who has been helping cities negotiate with cable providers for 30 years. Although local governments will retain control of consumer protection, she says enforcement power is limited.
"Fines are capped, they can't terminate a franchise and they are so limited they will not have any effect," says Buske. No one seems to know how dissatisfied cities and customers will get help from the PUC.
Thankfully, Verizon and AT&T won't be digging up our streets to install their equipment. Instead, AT&T plans on putting 800 to 900 big ugly utility boxes on San Jose's sidewalks. The League of California Cities' Dwight Stenbakken says that they aren't attractive: "They will be about 5-feet-8-inches tall and 2 to 3 feet in depth. They are substantial. We already have things on our streets that look like this. This law will bring more of them."
If city permitting departments are vigilant, the boxes won't obstruct pedestrians or be placed on sidewalks in front of homes. Once they appear, it could be impossible to have them removed.
OK, so community cable TV channels will get less support; cities will have to spend billions on I-Net which will take money away from more direct public services; cities and consumers will have to go to the PUC with service problems and our streets will get more big ugly utility boxes. Why did lawmakers pass this?
State Assemblyman Lloyd Levine co-authored DIVCA. He believes that low income and rural areas will be serviced, and he says that DIVCA's purpose wasn't just to save money.
"There is new technology, and we have companies wanting to provide it. Under prior law they would have had to go to all 470 cities in California and negotiate individual franchises," says Levine. "This is a time-consuming model."
He sees a boon for customers in deregulation.
"Theoretically, it should provide a price break to consumers," he says. "Look at what happened with telephone services. Once we deregulated cell phones we saw innovation in pricing, devices and services that changed the pricing for land lines. I saw a similar model for video service. This modernizes our laws and regulations so that we are ready for the technology of the 21st century."
Buske thinks it's a pipe dream.
"There has been a real sales job done to sell people on this who don't understand the history of these companies and the financial ramifications. People assume that there will automatically be lower prices and more choice if there is a competitor coming in," she says. "Prices will probably not be lower with the introduction of another provider."
Even if the prices do come down for consumers, Levy wonders about the cost to our communities.
"This is the same legislative body that gave us energy deregulation. We said that this was a bad idea and they believe this deregulation is a good idea. Competition only benefits when it benefits everyone," he says. "The phone companies got a great deal from the state. Let's see if they deliver."
Send a letter to the editor about this story.