October 25-31, 2006
home | metro silicon valley index | features | silicon valley | sports news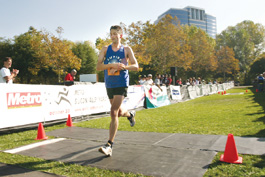 Distance makes the heart stronger: Eric Walker finished third in last year's marathon.
Run, Valley, Run
WHOEVER thought that the Metro Silicon Valley Marathon was just a race is sorely mistaken. Sure, the participants will be running from point A to point B, but in reality so much more will be going on. For starters, this year the marathon has teamed up with Stanford University School of Medicine and Dr. Suzanne Miller, M.D., to research "The Effect of Endurance Exercise on the Cardiac Function of Elite vs. Recreational Athletes"—a title just about as long as the marathon itself. This project seeks to prove that the heart is more of a muscle than previously believed. Basically, the researchers will try to prove that the heart—like any other muscle—after reaching its breaking point due to strenuous activity can rebuild itself to a stronger state. The marathon will serve as a platform to see how this affects professional and recreational athletes.
The Circuit: The Metro Silicon Valley Marathon is third leg of a circuit of three marathons that 75 runners will attempt to complete. After completing the Almaden Times Classic 10K held on Sept. 24 and the Rock 'N' Roll 1/2 Marathon held on Oct. 8, those who finish this 26.2-mile race will receive a signed San Jose Sharks game-used puck that will mark the runners' elite status in the Silicon Valley running and walking communities.
The Theme: Health and wellness will take center stage on Oct. 29. The marathon's official charity is Health Trust, along with other organizations such as All Stars Helping Kids, Sports4Kids and Breathe California, to name just a few.
The Prizes: What would a race be without the prizes? This year the marathon offers Bowflex Series 5 treadmills and round-trip tickets on Southwest Airlines for both men and women's Marathon and 1/2 Marathon winners. There is also $250 waiting at the finish line for First Place, and Second place will receive $100. With everything going on Oct. 29, it is evident that the Metro Silicon Valley Marathon will be more than just a long run from San Jose to Los Gatos and back. So whether you are planning on running, walking or simply stopping by to cheer, you'll know that you will be a part of something more than a race.
The Metro Silicon Valley Marathon takes place Oct. 29 at 7am, with a starting line on Almaden Boulevard near Park Avenue in downtown San Jose. Online registration is still open. For more information visit www.svmarathon.com.
Send a letter to the editor about this story.