October 25-31, 2006
home | metro silicon valley index | features | silicon valley | feature story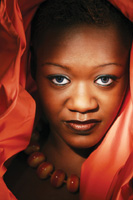 Stay Strong: Attitude is the best accessory.
Still a Woman
Honoring the style of courage during Breast Cancer Awareness Month
By Joseph Rosenfeld
'I'VE NEVER met someone with such tenacity to live. Her strength of mind causes changes in the lives of those who she touches. She is a source of inspiration to her family, friends and colleagues. Certainly, she always had the gifts of sharing and personal strength. And she has always offered that of herself to everyone. But now it's time to be there for her and to return that tenacity, that strength, that inspiration. To know a strong woman with advanced breast cancer is to know a woman who is still alive—and kicking.
The journeys of women with metastatic breast cancer are each unique. Fighting to live requires a strong enough body, a strong enough resolve and excellent medical care. Some women are too frightened to fight the disease beyond accepting medical treatment. Others see their diagnosis as a death sentence and just give up. And then there are the strong ones who inspire everyone with their bravery and who don't think they are special at all. They don't recognize that their decisions to stand up to their cancers are conscious choices. It's an arch example of the fight-or-flight mind-set.
For women who live with advanced disease, their battles are filled with ups and downs. Grateful to be alive, they are still wrought with self-image issues because of the ravages of cancer and its aggressive treatments. Over many years one can grow accustomed to losing one's hair multiple times due to chemotherapy and radiation treatments. "I really didn't like the way it grew back last time," said a very special woman who anticipated the arrival of several new turbans selected by her son.
Always colorful in physicality and in attitude, she relied on accessories to keep her in style. Sumptuous scarves and colorful canes coordinated with her heathery palette of tinted pastels. For a burst of extra energy she'd wear brighter jewel tones. And no matter how her body had changed—the loss of a breast, the repeated loss of hair or even the limited use of her hands and feet due to neuropathy—nothing would shake the resolve of this classically trained pianist.
"I can still sing and enjoy music," she says.
The greatest accessory, it turns out, isn't any of the turbans or scarves; not even makeup. The greatest accessory for a woman with cancer is her attitude. It's also her greatest weapon. She can wear her attitude on her sleeve, put a smile on her face, put some pep in her step or wear her favorite pin like a campaign button informing one and all that "Cancer Sucks." No wig or prosthetic device can come close to re-creating the spirit of a woman. "You've got to accentuate the positive, eliminate the negative," just like the song suggests. So here's to you, Mom: you captivate us with your courageousness. I'm so very proud of you. Happy Birthday.
Joseph Rosenfeld, AICI, CIP, is a men's image mentor based in downtown San Jose. Contact him at: [email protected]
Send a letter to the editor about this story.