10.31.07
home | metro silicon valley index | features | silicon valley | column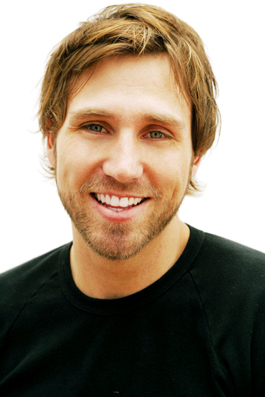 DARE TO SCRUFF Men with facial hair—like werewolves, only nice!
The Razor's Edge
By Joseph Rosenfeld
BEN AFFLECK and Jake Gyllenhaal currently sport it. George Lucas and Steven Spielberg have it. So does Apple co-founder Steve Wozniak. Even Elvis Costello and Bruce Springsteen have some. Yes, they all have facial hair, anything from a soul patch to a full beard. Even with all these examples of men with facial hair (to say nothing of "Honest" Abraham Lincoln), a notion exists that facial hair is a no-no. This concept has less to do with that Y chromosome as much as it has to do with the perception that facial hair prevents the onlooker from seeing the true man beneath.
If you've seen my mug, you know I'm bucking convention on this one. I've been sporting a well-groomed beard for 14 years. At first, the beard gave my youthful face a sense of maturity that exists from deep within. Interactions with clients shifted from them occasionally following my suggestions to them hanging on my every word. My look was transformed. It did not distort my truth. In fact, it still significantly enhances it. Even Hollywood's youthful stars Affleck and Gyllenhaal recently grew their facial hair to appear more mature, and to command greater respect in relation to their latest projects.
Even while writing this column, America's most famous truant, Ferris Bueller (a.k.a. Matthew Broderick), showed up on The Today Show, well attired and well groomed with a shadowy face. Facial hair may be a part of his Broadway character's persona, but the look isn't hurting his personal style either.
Although the frequency may vary, virtually every man needs to shave his face. Whether you keep a clean-shaven face or have some form of facial hair, there's now a fantastic resource in Valley Fair you need to know about. The Art of Shaving has opened its latest store, carrying its eponymous line of all-natural products for the face.
Started in a New York City apartment kitchen by a husband and wife duo with backgrounds in the spa industry and in business, the Art of Shaving grew from a single treatment product into a suite of products designed to take a man through the entire shaving process. That process is a simple four-step process that can be accomplished in nearly as many minutes.
According to the Art of Shaving's website, to perfect the "art of shaving" the skin should be prepared with hot water and pre-shave oil. This softens the beard and protects the skin. Next, shaving cream or shaving soap should be applied with a shaving brush made of badger hair, which helps lift the beard from the face while producing a rich lather. Now you're ready to shave, and the company suggests using a razor that is properly weighted for comfort and control. Finish the process with a moisturizing treatment to refresh and reinvigorate the skin.
Suggestions for a good shave:
(1) After prepping the skin as noted above, shave in the direction the hair grows. Do not shave against the grain first, as this can cause razor burn and ingrown hairs.
(2) Re-lather and shave lightly across or against the grain.
(3) Treat your neck separately from your face, checking to see what direction the hair on your neck grows. If it grows in a different direction from the face, adjust accordingly to shave with the grain. It is possible that you would shave one side of your neck differently than the other side.
(4) Follow up with a moisturizing treatment after shaving, and use an alum block to treat any nicks or cuts.
If you want to wear facial hair, it must be well maintained and the configuration you choose must be in balance to your facial shape and be appropriate for your profession and workplace. If you are considering a beard, be sure it will grow in completely or just scrap the idea. Shaving is a huge part of a man's grooming regimen. Whatever the look of your face, investing in the right tools and products will make your morning routine easier and will help you look as good as ever.
Joseph Rosenfeld, the nation's only male certified image professional, helps professional men and corporate employee groups to become more dynamic, compelling and stylish. Visit www.JRImageMentor.com for more information.
Send a letter to the editor about this story.