November 1-7, 2006
home | metro silicon valley index | features | silicon valley | sports news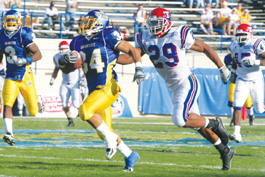 Close doesn't count: Louisiana Tech's Mike Dillard came this close to catching Spartan Yonus Davis who turned up the heat to run the whole 90 yards to score.
The Spartans' Spanking Spree
By Felipe Buitrago
IT'S NO SECRET that college football is in full effect everywhere, and after this Sunday's game our very own Spartans are now back on the scoreboard. This season kicked off to a loss against Washington, but since then the Spartans have been able to hold their own with several wins, and last Sunday at Spartan Stadium was no exception. Yonus Davis, the Spud Webb of college football, is officially on board. The sheer breakneck speed from this 5-foot-7-inch running back out of Skyline High School in Oakland gave Louisiana Tech a 90-yard run for their money seven minutes after delivering an agile seven-yard rush for a TD. All within the first 20 minutes of game time. Like a well-oiled machine, the Spartans united their defensive line, keeping the Bulldogs on a very short leash. Quite a feat considering that Louisiana had managed to pull a total of 344 yards against Nevada, who beat the Spartans last week in Reno 23-7. And if you add a clean offensive line to the mix, you get players like Island making 72-yard runs, and Donte Collins who made 62 yards on only one carry, all off the hands of the confident QB Adam Tafralis, who made 10 of his 15 passing attempts for a total of 163 yards. The Spartans, now in third place, need to keep up the momentum. They have two more games at home, against Boise State on Nov. 11, and the last game of the season, which will be on home turf on Dec. 2 against Fresno. For tickets and more info visit www.sjsuspartans.com or call 877.SJSU.TIX.
Send a letter to the editor about this story.