10.31.07
home | metro silicon valley index | features | silicon valley | feature story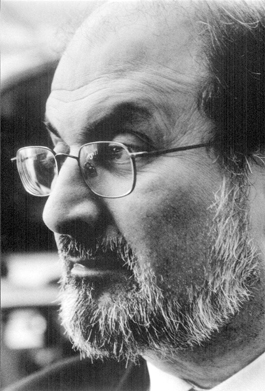 Photograph by Rossano B. Maniscalchi
Knight in Shining Prose: Salman Rushdie was knighted by the queen of England this year.
Rushdie to Speak
SJSU snags Nobelist Salman Rushdie for rare appearance
By John Freeman
SALMAN RUSHDIE has been so busy being literature's conscience, you can almost forget how much time he must spend before a blank page. As president of PEN (the nonprofit writers' group), Rushdie actively campaigned for the safe passage of freedom of writers around the world who were subject—as he was after the publication of The Satanic Verses—to the terror of authoritarian regimes. He also reignited PEN's world-literature conference in New York, bringing writers like Nobel Prize winners Josť Saramago and Nadine Gordimer back to the city, and needling publishers for the pathetic amount of literature they publish in translation. In recent years, Rushdie has appeared on The Colbert Report and Bill Maher's show stumping for the importance of book reviews and just plain old common sense. And all this and he was knighted, too, an act that managed to re-anger Muslim groups, who called the honor "a deliberate provocation and insult to the 1.5 billion Muslims around the world."
Happily, none of this hullabaloo has ever stopped Rushdie from writing. At his heart, Rushdie is the world's best fabulist, a man who takes the thread of real events and weaves them into a kind of magic carpet. Midnight's Children told the story of a child born on the exact hour, minute and second of India's independence. Haroun and the Sea of Stories took the fatwa upon him and turned it into a bedtime fable of the first rank, set in a fanciful world where an evil ruler is trying to poison the sea (from which all stories came). Shalimar the Clown imagined a terrorist birthed from the fable all of us buy into in one way or other: love. Rushdie's new novel, The Enchantress of Florence, tells the tale of a 16th-century Indian princess adrift in Renaissance Italy.
Rushdie appears Thursday (Nov. 8) at the 2007 Margaret and Jim Jimenez Lecture at SJSU. There will be a Q&A session and a booksigning afterward; he will be interviewed by Revathi Krishnaswamy, a member of the SJSU faculty and an expert in post-colonial literature. The event is sponsored by the Center for Literary Arts and SJSU Associated Students.
SALMAN RUSHDIE appears Thursday (Nov. 8) at 7:30pm at Morris Dailey Auditorium, San Jose State University. Tickets are $10–$25. (408.998.8497 or 408.924.4600)
Send a letter to the editor about this story.