11.07.07.07
home | metro silicon valley index | features | silicon valley | sports news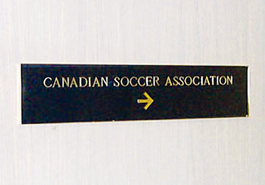 Photograph by Dan Lenarduzzi
HOOLIGANS THIS WAY, PLEASE: The sign outside Frank Yallop's last job in Vancouver. He's now back coaching the Quakes.
Things Are Looking Yallop
By Gary Singh
AFTER revamping the worst franchise of Major League Soccer's 2000 season, Vancouverite Frank Yallop coached the San Jose Earthquakes to two MLS Championships during his three-year reign of supremacy here. Unfortunately, he then high-tailed it back to the Great White North in order to lead the Canadian National team, leaving Quakes fans so dejected, forlorn and downright miserable that an intrepid Metro reporter found himself in Vancouver a few months later to issue Mr. Yallop an ultimatum. It went like this: "If the Quakes can't have you, then no one will." But they did, and in a turn of events vile enough to make any Quakes fan reach for the Pepto-Bismol, Yallop found himself coaching San Jose's favorite collection of human piņatas, that wannabe flagship franchise that Quakes fans love to squish like a sow bug, the immoral and evil Los Angeles Galaxy. But now Yallop is right back where he belongs, prime ready to build the new Quakes from scratch. Again. Hey, it all comes out in the wash anyway, except if you're a Galaxy fan, of course.
Send a letter to the editor about this story.