11.11.09
home | metro silicon valley index | news | silicon valley | news article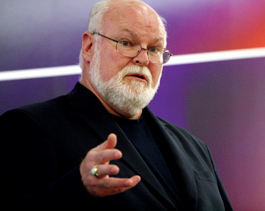 STYLE SAFE: State Assemblymember Jim Beall (D-San Jose) has authored a bill intended to fix the family courts, which he describes as a 'disaster.'
Children's Crusade
Parents who've lost custody of their kids say the family law system is broken, and state lawmakers agree
By Laura Fishman and Alastair Bland
KAREN ANDERSON hates the country's family law court system. She believes that after a traumatic divorce, her two children became victims of sexual abuse perpetrated by their own father. However, when Anderson tried to file for full custody of her children in 1994, the court instead gave full custody of the children to Anderson's ex-husband.
"If ever there was a family law case that would demonstrate the extreme corruption of the family court, it was mine," Anderson says. Anderson has turned her rage into a cause. Along with other mothers who have lost their children in custody battles, she shared her story last week at a Family Law Forum held at the Roosevelt Community Center in San Jose. The meeting was called by the legal activist group Center for Judicial Excellence (CJE) to call attention to what it claims are serious problems in family law court cases.
Along with organizations like the Child Advocacy Center, the Leadership Council on Child Abuse and Interpersonal Violence and the California Protective Parents Association, the CJE believes there is a crisis in the family courts, and that abused children are being handed over to their abusers. One CJE study claims that 38 percent of fathers who are identified as perpetrators of abuse receive full custody of their children.
That statistic, and many others cited by these organizations, could not be independently verified. But there enough evidence of a problem that Sacramento lawmakers, including San Jose Assemblymember Jim Beall Jr., are calling for changes to state law regarding parental custody disputes.
Members of the Center for Judicial Excellence say one serious problem in family courts is that highly disputable, nonscientific theories are used as evidence in the courtroom, and frequently carry a huge amount of weight in many cases. The new law, co-sponsored by Beall, specifically bars theories such as the often-used "parent alienation syndrome" from child custody cases.
Beall sat alongside Anderson during a panel discussion at last week's meeting, where he talked about his Assembly Bill 612, which proposes a solution to problems in family court by establishing evidence standards. If A.B. 612 passes, courts will be prohibited from considering these unproven theories when deciding child custody or visitation rights. A.B. 612 will also eliminate training in these theories from Judicial Council–approved education for family court professionals.
Beall says the presence of these ideas in family courts wastes court resources and unnecessarily prolongs family law cases by discouraging proper investigation of child safety.
"This bill protects the public from unacceptable evidence that's commonly used in family law," he says. "A sense of fairness is necessary in California. That's what inspired me.
"A primary interest of the Legislature is public safety, especially the safety of vulnerable children. The standards we set up in the judicial system are being ignored and violated. This bill is an attempt to stop that from continuing."
Beall's bill passed on the Assembly floor earlier this year, and will make its next stop in the state's Senate Judiciary Committee. The assemblymember remains hopeful that the bill will pass, but admits that he needs all the support he can get from the public. "[The Judiciary Committee] is the biggest roadblock to the laws we're trying to get passed," Beall says. "The bill's still breathing, but we need to do everything we can to keep it alive."
Yet Karen Anderson remains pessimistic about changes in the courts after the experience she went through. Even if new laws were to pass, she feels that divorced dads, aided by judges and lawyers, will always find a way to "cheat the system."
"Trying to fix the family-court laws is about as effective as plugging up the holes in the Titanic with bubble gum," she says. While Beall stops short of such an analysis, both he and Anderson agree that change will only happen if the community gets involved. "Family law is now a recipe for disaster," Beall concludes. "Where's the justice?"
Beall and Assemblymember Mark Leno (D-San Francisco) in July called for the Bureau of State Audits to investigate the family courts system in Sacramento and Marin counties. The audit is intended to improve due process within the system, shed light upon the criteria used by the court in training, qualifying and appointing custody evaluators and others specialists, and ultimately lead to placement of children in the custody of nonabusive parents.
A Vast Conspiracy
When an Alabama Superior Court judge issued an order in 2008 that Amanda Hodge's two adopted children be returned immediately to her custody out of concern for their safety, the family court of Monterey County, where Hodge's children were living with their adoptive father, declined to cooperate.
The Alabama court's order had come following testimony from the children alleging abuse by their adoptive father, according to a February 2008 interview by the Child Advocacy Center. But the courts ruled in his favor and Hodge lost custody entirely. She was granted supervised telephone calls only, and has now not see her children in two years.
Hodge's case is hardly unique. Thousands of others like it, say activists and legal professionals, highlight what they claim is the vast injustice of the nation's family court system, the legal branch that handles divorce cases and the baggage that goes with them, including child custody.
Data collected from 362 cases nationwide, including 137 in California, since 2004 by Dr. Geraldine Stahly, a professor at California State University San Bernardino, indicate that family law is failing to protect abused children. The study shows that courts sometime grant full custody to accused abusers—usually fathers. The activist group the Leadership Council on Child Abuse and Interpersonal Violence claims that 58,000 times per year, in fact, judges in family courts grant full custody of abused children to abusive guardians.
Neither of these studies seems to differentiate between accused and convicted abusers, however. Nor do they point out that groundless charges of abuse have long been used as a weapon in hotly contested custody battles.
In fact, the jaded attorneys and frustrated activists say the problem can be boiled down to financial motives. It's their contention that children of divorce are being handed over to whoever has the most money.
"It becomes like a feeding frenzy in the courtroom," says Kathleen Russell, a co-founder and staff consultant at the Center for Judicial Excellence.
Judges, Russell says, frequently defer families to "custody evaluators" for mandatory meetings in which the specialist interviews the parties, evaluates the situation and writes a report for the court. Many family court judges regularly appoint the same mediators, custody evaluators, child councils and specialists time and again to assist in cases. Russell calls the family court system a "culture of cronyism" from which a "cottage industry" of evaluators and mediators has grown and thrived.
"People get stuck with these custody evaluators and the parent with the money is the one who writes the check, and it becomes a system in which custody of the kid goes to the highest bidder," Russell says. "This system is in need of serious overhaul by eliminating profit incentives."
Evaluators are not cheap, either. In Santa Clara County, evaluator rates may range from $5,000 to $20,000. In Sacramento County, the average rate for an evaluation and report is $15,000. In Marin County, evaluators may charge as much as $60,000. In many cases, the parent who runs short of money first—unable to continue paying legal fees—loses custody.
"Families are being ruined emotionally and financially by this system," says Barbara Kauffman, a family law attorney. "This system is taking children from parents who don't beat them, who don't do drugs, who are respected, who have morals, and these good parents are the ones receiving supervised visitation."
One Santa Cruz man now immersed in a 6-year-old custody battle believes the system, with its mandatory court-appointed evaluators and general incompetence and systemic inconveniences, operates with the foremost objective of extracting money from families. "They'll bleed you dry," says the man, who would give his name only as "George."
"They'll never come to a final decision. They just wear you down until you have nothing left. It's not in their interest to give 50-50 custody. They want to put the squeeze on one parent."
In the infamous case of Alycia Mesiti-Allen, the 14-year-old Santa Clara girl's court-appointed attorney, Jonnie Herring, warned the court in 2006 of her concerns for the safety of the child and her older brother, who had both been placed with their father, Mark Edward Mesiti, in November 2005. Herring later wrote to Santa Clara County Superior Court Judge Vincent Chiarello, "I am deeply concerned about both minors, especially Alycia."
No transfer of custody to Mesiti-Allen's mother or another relative occurred, and in August, 2006 Mesiti-Allen disappeared. Almost three years later, in March 2009, police uncovered her body. Her father has been charged with her murder.
Hating the Haters
One of the greatest problems in the family court system, says Russell, is the use of Parental Alienation Syndrome (PAS), or custody battles. Evaluators and psychologists regularly diagnose parents with this "condition," which is supposedly characterized by one parent seeking to "alienate" the child from the other parent. When a parent becomes stamped with the PAS label, he or she often loses custody.
The legislative action is now under way that could begin to mend the system. And in May 2008 the Elkins Family Law Task Force was appointed by the state to conduct a review of family law proceedings and recommend to the Judicial Council of California proposals that will help provide more effective and consistent rules, policies and procedures, ensure that due process is followed and increase access to justice for families and their children.
Robin Yeamens, a family law specialist in Los Gatos, has reviewed the reforms proposed by the task force. Some she does not approve of, others she does—such as one proposal that would allow litigants to carry tape recorders into the courtroom. Currently, recorders are prohibited and litigants must pay thousands to view transcripts from their own hearings.
The task force, however, did not address PAS, which Russell fears might limit the likelihood that Beall's A.B. 612 will pass through the Legislature this spring.
A public comment period currently open for opinions on the task force's proposals will close Dec. 4, after which the task force will make its recommendations to the California Supreme Court.
Send a letter to the editor about this story.