11.14.07
home | metro silicon valley index | features | silicon valley | feature story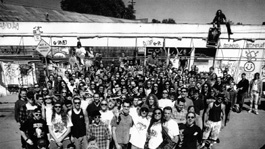 WE ARE THE WEIRD: South Bay scenesters pose for a group shot outside the House of Faith recording studio in Palo Alto in May 1994.
Votes From the Underground
"We love San Jose Rocks, our local version of the Rock and Roll Hall of Fame. But let's keep it as weird as the scene has always been. Here are our decidedly offbeat suggestions for future honorees."
By Gary Singh
Since San Jose and Silicon Valley gave birth to some of the most influential acts and technological advances in rock & roll history, a cabal of dedicated locals in collaboration with History San Jose emerged a few years ago to launch San Jose Rocks: Silicon Valley's Role in Rock, a yearly hall of fame induction jamboree that finally gives local legends their due. The inaugural ceremony took place last year, seeing the likes of Count Five, Syndicate of Sound and Jefferson Starship amongst the inductees. This year's installment of winners included Greg Kihn, Papa Doo Run Run, guitar string manufacturer Dean Markley as well as Christian rock pioneer Larry Norman. All in all, both ceremonies rocked and made all attendees proud to be from this part of the world, as this valley has produced many musicians, inventors, promoters, radio personalities and just plain ordinary folks whose talents just happened to play a major role in the entire course of rock music. They should not be ignored and forgotten.
However, such a noble endeavor cannot, should not and will not stop with just the one-hit wonders and the commercial slices of the social spectrum. While the entire project does indeed rock, it by no means represents the whole shootin' match and probably never will.
With that in mind, we would like to furnish a buzzard's eye view of ignored bits and pieces from the San Jose scene that may or may not be added to the San Jose Rocks fray at a later date, since many noteworthy bits of San Jose music history existed underneath the surface of all this. For example, Bart Thurber's House of Faith recording studio was an anchor for the entire South Bay music scene during the first half of the '90s. Every band recorded there—that is, when they weren't trashing a practice space called the Rock Gardens on Market Street in San Jose. The SoFA district, when it first emerged, constituted every aspect of a thriving downtown nightlife that San Jose is still falling over itself in trying to implement. A fixture of that scene was one Mr. Frank Bella, who is featured on our cover. Bella was a notorious poet who staged regular booze-fueled readings at Ajax and Marsugi's under the banner of a "Purgatory Tour."
And speaking of SoFA, did you know that Kurt Cobain and Nirvana also stayed in downtown San Jose after they played at Cactus Club in February of 1990? Betcha didn't. Also, way up in them thar hills of Los Altos, KFJC continued to pioneer the uses and abuses of college radio, as they still do.
So let it rock. Let these examples serve as only a tip of the iceberg. I look forward to a San Jose Rocks Hall of Fame that incorporates it all.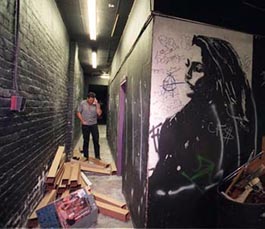 The Rock Gardens, South Market Street, San Jose.
For two decades, this was every quintessential rock & roll practice space and hundreds of bands had the time of their lives partying and rehearsing in this building. To this day, the inside of this condemned masterpiece is a twisted, graffiti-covered maze of San Jose rock & roll history with probably 30 rooms. With the recent hoopla surrounding new museum ideas for downtown San Jose, I suggest that this building be relocated and included in such an enterprise, as it was home for many a runaway stoner chick who dropped out of continuation school to be with her 28-year-old boyfriend's metal band circa 1989 or so.
House at 435 Jackson Street, San Jose.
This is where a relatively unknown band called Nirvana crashed out after they played at Cactus Club in February of 1990, and long before anyone had used the word 'grunge' to describe the plethora of stoner/gas station/sludge-rock/torn flannel/mophead bands then emerging from Seattle on Sub Pop Records. The vinyl junkies who lived in this house began collecting all the 45s in the Sub Pop Singles Club and invited any band from that label to stay at their house after they came through San Jose.
Bart Thurber's House of Faith Recording Studio, 707 Urban Lane, Palo Alto.
Originally doubling as CFY Records, this funky building right off El Camino Real behind what's now the Palo Alto Medical Center was home for just about every band in the South Bay during the early '90s. Everyone either recorded, hung out, partied, fell asleep or scribbled on the walls of this place with a felt pen before it closed down in May of 1994. Thurber was like a gigantic dad for all the underground bands of the day. You'd bring in your gear and record an entire demo over a weekend for a hundred bucks. Many folks owe at least the beginnings of their musical careers to Bart Thurber's low-budget recording panache. At the time, there was no other dude who contributed more to the local music scene.

The Hellfire Club, KFJC 89.7, Foothill College.
From 1988 until 1993, this was the most sonically excruciating radio show anywhere in the Bay Area, and perhaps the United States. Hosted by Les Scurry and Bill Christman, a.k.a. Lucifer Sam and the Minister, the Hellfire Club prided itself on providing the harshest and most abrasive sonic racket many folks had ever heard. Much of it had less to do with "music" and more to do with artists using audio collages, improvised homemade electronic sound and destructive noise as tools for expression, but that show completely paved the way for several others that followed. Their last blowout broadcast was seven hours long.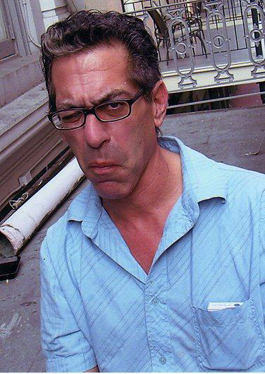 Andy Average Now living in New Orleans, Andy was one of the most eclectic lounge DJs ever in San Jose and he spun bizarre records at almost every underground hangout for 20 years. Known as the Pope of San Jose, Andy was probably San Jose's first true 'alternative' weirdo club DJ and his vinyl collection, which unfortunately was lost in Hurricane Katrina, was legendary. Now, when we say 'alternative,' we mean spaceage bachelor pad tunes, '60s exotica, Martin Denny, Italian horror soundtracks, bagpipe covers of cracked rockabilly stuff, Lenny Dee, the Ramones, Tiny Tim, cowpunk stomps, lesbian vampire audiobooks or anything appealing to hula dancers, tiki bars or that crazed dude in the corner with the soft blue blazer, the maroon fez and the glass of Absinthe. San Jose will never see another Andy Average.

The Rothouse, San Jose.
Throughout the '80s and '90s, several punk-rock party houses existed in San Jose, but this one stood out from all of them. A band called the Rotting Humans lived there and probably still do, but this place saw several years of constant abuses of everything imaginable. There were parties, bands, traveling winos, and all sorts of shenanigans—yet another place where traveling bands would probably wind up crashing after performing in downtown San Jose.

The Laundry Works, 97 N. San Pedro, San Jose.
We're probably missing a few establishments throughout the run, but the Laundry Works building later became Club St. John, Hamburger Mary's, Club Echo, Blue Tattoo, Club Deep and now Taste Ultralounge. But back in the mid- to late '80s, bands like the Frontier Wives and the Kingpins, the latter of which won it all on Star Search, found home in this restaurant. It was one of the first cornerpieces of a modern rock scene in San Jose in the later part of that decade. Some of those same bands also spearheaded a San Jose music collective called First Strike.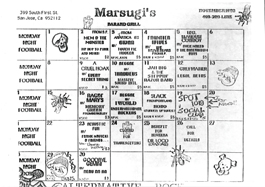 The Original SoFA District, San Jose.
In the late '80s to mid-'90s, a thriving live music scene emerged in San Jose, comprised of the Cactus Club, Marsugi's, Ajax, F/X and The Red Light District. Countless national touring bands played there as nobodies while other local bands, like Smash Mouth, Trapt, Papa Roach and Insolence, got their start in that scene. It was the epitome of what you would call "drop-in nightlife," that is, anyone from any walk of life could go get dinner and then waltz on over to see who was playing in whichever club. It made downtown, as a whole, a rocking place to live. In addition to already having our own hospital and a major grocery store, we had live bands every night. All the amenities of urban living were right at our doorstep and the neighborhood went through a cultural renaissance the likes of which will never be seen again.
Send a letter to the editor about this story.