November 15-21, 2006
home | metro silicon valley index | features | silicon valley | sports news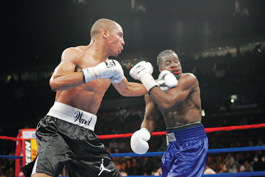 Photograph by Jan Sanders
There's gold in them thar gloves!! Andre Ward delivers a solid left hook to Andy Kolle's jaw at the Foxwoods Resort, Mashantucket, Conn., earlier this year.
For the Bell of It
By Felipe Buitrago
ON NEW YEAR'S EVE, 2002, Anita Ward sang "Ring My Bell" in Times Square. This Thursday, Nov. 16, Andre Ward will be out to ring Derrick Findley's bell on the canvas at the HP Pavilion. No relation, but it doesn't matter. Yet another round of Fight Night at the Tank is on!
The fight card for Thursday compiles a list of five bouts with contenders like Antonio Johnson and Karim Mayfield in the four-round Junior Middleweight Bouts that start off the night and will give way to the eight-round Middleweight Bout where Oakland's Andre Ward, with a 9-0 record (5 KOs) will be facing off in the ring with Derrick Findley, originally from Chicago with a 6-1 record, also with 5 KOs. Findley may be known as Superman, but Ward needs no alias. His gloves come with the weight of Olympic Gold—the 2004 Summer Olympics Gold to be precise. Ward became the first American boxer since 1996 to carry such a medal. And since then he's gone pro and knows nothing but the taste of victory. The main event will be the 10-round Light Heavyweight Bout. Julio Gonzalez has scheduled his appointment with Dr. TKO himself Vitali Kopitko. Gonzalez will be checking in his 40-3 (24 KOs) record to the "Doc's" 24-8 (9 KOs).
The clock-cleaning for this very promising lineup and last round of Fight Night at the Tank starts at 7:30pm at the HP Pavilion. Tickets are available through TicketMaster.com.
Send a letter to the editor about this story.