11.18.09
home | metro silicon valley index | news | silicon valley | news article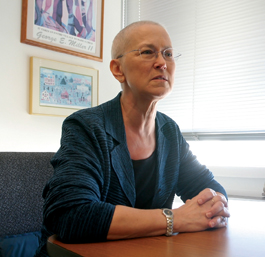 UNSTOPPABLE: While she was undergoing chemotherapy, Judy Chirco took some time off from her jobrepresenting the Cambrian district on the San Jose City Council, but she was back on the job within weeks.
Judy Chirco's Challenge
The San Jose City Council member brings a familiar determination to her battle with cancer
By Laura Fishman
SAN JOSE Vice Mayor Judy Chirco stands on the floor in the council chambers on a Tuesday afternoon wearing a pink ribbon on her business suit. She looks around to see Mayor Chuck Reed standing beside her and her fellow councilmembers surrounding her in a tight-knit semicircle. With a smile, she proceeds to give each of the councilmembers a hug.
As Chirco breaks away from the group, Ash Kalra of District 2 hands her a glass plaque awarding her for the "strength, courage and resolve" she has shown during her fight against breast cancer. Looking down at the award, Chirco's eyes start to tear up.
Chirco was diagnosed with breast cancer in December 2008. Though she's not very public about the subject, Chirco has become a behind-the-scenes supporter of many charities and a cancer awareness activist.
"We admire her for her courage to continue doing what's a physically demanding job for a person in good health," Councilman Sam Liccardo says. "For a person who is experiencing everything from chemotherapy to radiation therapy, it's got to be an incredible burden just to show up."
The affection for Chirco predates her illness. She is known as a pragmatist who makes decisions based on merits rather than political ties. Mayor Reed refers to Chirco as the "conscience of the floor."
"I think everybody on the council values her judgment because of her calm, thoughtful approach," Reed says. "She is a very good person to work with because there's no BS involved. There's definitely no game play with Judy."
Liccardo agrees. "She's the most principal councilmember on the floor, as far as I'm concerned," he says Her public service has been focused on education and environmental justice. For the past five years, she has worked with San Jose's Schools/City Collaborative, collaborating with the city's 20 superintendents. She has been a successful champion of Homework Centers and other after-school programs.
Her passion for education came long before she was elected to the City Council. Before entering politics, Chirco worked for 20 years in the Cambrian School District.
Chirco was active in establishing San Jose as a center for green technology. She recently pushed for a recycled water distribution system in the San Jose Airport last year, when airport developments were being made. And she was one of the leading advocates for the city's controversial plastic-bag ban.
She also chairs the Healthy Neighborhood Venture Fund (HNVF) program, where she developed programs geared toward tobacco prevention, fitness and education improvement. With five years on HNVF, Chirco launched after-school care groups, counseling services, senior-wellness programs and health education services.
She says she still has the same passion for improving the city that she did she did seven years ago when she started the position—even as she fights for her life.
"I refused to let it get me down," says Chirco. "It doesn't mean that I don't get sick from chemo. It doesn't mean that I don't feel bad at times. But it does mean that I keep going."
Local Girl
Ed and Judy Chirco met in the 1960s while attending West Valley College, and both later transferred to San Jose State. Married for 41 years, they have two sons, Matt and Steve, both of whom attended public school in the Cambrian School District. Steve Chirco recently returned from military service in Iraq.
Ed Chirco is known in local circles as the life of the party. "There's nothing shy about Ed," Judy says.
"Ed's the perfect spouse for any politician," Liccardo says, "because he doesn't mind being dragged to any of these events. And he usually has a better time than anybody else in the room."
It was Ed Chirco who first urged Judy to enter politics. As a room parent and active PTA mom, she believed education needed to be given a higher priority when it comes to government spending. So when a seat opened up on the Cambrian School Board, Ed Chirco saw his wife as the perfect candidate for the position and encouraged her to take on the leadership role.
During Chirco's time on the school board, academic achievement rose for 11 consecutive years in the district. When she started in 1992, the district was ranked in the bottom quartile by the state, and when she left the board in 2003 to join the City Council, the state ranked the school in the top quartile.
While she developed a reputation as a feisty leader, Chirco also could be hard-headed when it came to money. The school had faced budgetary problems at the time, so she organized parcel tax collections for school bonds. She also brought new programs into the schools, including physical education.
Barry Groves, who used to be the superintendent of the Cambrian School District, says he's a big Chirco fan. "She's a good problem solver, always thinking about the future," he says. "But I'd say her greatest [accomplishment] was her role as an ambassador for the kids."
In addition to her work on the board, Chirco volunteered in her son's school as a classroom tutor. She also worked with People Acting in Community Together (PACT) as a community organizer, where she fought for more alternative education and after-school programs.
One might say that Chirco volunteered her way into public office. She decided to run for the District 9 City Council seat in 2002 when John Diquisto termed out.
Chirco faced a tough battle. Her opponent, Chris Hemingway, had worked alongside Diquisto for seven years as his aide. The 33-year-old knew the ropes at City Hall and had established relationships. He also had a significantly larger campaign war chest than Chirco. At the time, he was considered a shoo-in for the job.
Yet Chirco prevailed on election day—capturing almost 60 percent of the -popular vote.
"It was 'eye on the prize,'" Chirco says, reflecting on how she was able to pull off her conquest. "Don't look left, don't look right. Don't be distracted by chaos."
Ed Chirco believes his wife's success had to do with her deep ties to the district. "Chris wasn't really connected to the community like Judy was, and it really showed," Ed Chirco recalls. "Judy was able to put a face to City Council."
After living in the Cambrian community for more than 40 years, Judy Chirco had become something of a neighborhood celebrity. School board member, homework tutor, baseball mom, church teacher and volunteer with the Santa Clara County Health Plan.
And if there was somebody in Cambrian who didn't know Judy Chirco, they probably knew Ed, who coached Little League and volunteered at the Cambrian United Methodist Church. Hemingway had only lived in District 9 for one year. Voters surmised he had moved to the area just so he could run for City Council.
In her seven years on the council, Chirco has earned a reputation as a quiet renegade.
When asked who her closest allies are on the council, Chirco responds with a puzzled look and says she doesn't think she has any. "I always vote by the issue, not the person," she says.
That has made Chirco the swing vote on a lot of key issues. She placed a deciding vote with several issues, including rejecting greater access to police records and preserving Santana Row's commercial space.
"People often divide us into camps about who's with the mayor, who's with labor, and all that kind of stuff," Liccardo says. "But Judy doesn't really fit into any of that."
While her votes are occasionally unpredictable, she stands as a consistent voice on the council for progressive environmental initiatives. On the Transportation and Environment Committee, Chirco made a motion last year to recommend that the council adopt a "Green Cities Sustainability Resolution," which approved emission reduction standards for city vehicle fleets and ensured that the city purchases "100 percent post-consumer recycled" paper for all operations.
Chirco also took on a leadership role when it came to adopting new, innovative green-building policies. Last year, she pushed for new standards in the private sector by making a motion—again controversial—to approve mandatory green building guidelines with private-sector construction projects.
The Fight of Her Life
While Chirco wears many hats in the San Jose community, she chooses not to wear a wig. After her cancer treatment and chemotherapy, she lost all her hair last spring, and now walks proudly as a patient battling breast cancer.
"I've got this striking new hairdo, which can be any color I choose to make it," she says while stroking her thin hair with a huge grin.
The people who are closest to Chirco express sadness, yet she almost brushes it off.
Meanwhile, Ed Chirco battles an illness of his own. Earlier this year he was diagnosed with melanoma and had to undergo surgery.
"We went through cancer together, and I still don't know what she's going through, and I can't say that I knew what she felt," Ed Chirco says.
"It's kind of an awakening," she says. "Now, I have a self-awareness."
Chirco is one of 200,000 women in the United States fighting breast cancer. By the end of 2009, the American Cancer Society (ACS) estimates, 41,170 women will have died this year from the disease, making it the second most deadly cancer just behind lung cancer.
"If I can in any way serve as a model or form of support, I would be touched and honored," Chirco says. "Because there are so many around me going through the same thing."
In Santa Clara County there are five ACS office locations, where each chapter promotes community events and cancer education programs. On Oct. 31, ACS held its second annual Making Strides Against Breast Cancer Walk to promote awareness and raise money for a cure. In San Jose and San Francisco, ACS supporters wrangled 600 volunteers and 30,000 walkers, raising over $1 million.
The city of San Jose dedicated a lot time, funding and resources in order to ensure that the event was a success. People working with the city promoted the event, hired security and gave ACS access to city streets and Guadalupe Park.
Paige McKinnon, an event coordinator with ACS, loves that the city dedicates so much effort to the cause. McKinnon met Chirco at the Oct. 27 City Council meeting, when Chirco was honored. After the meeting McKinnon said she was amazed by how much love Chirco has from the community.
"It's incredibly inspiring to see her become the advocate," McKinnon says. "And it's moving that she has so much support. It just shows that you really can't fight cancer alone."
Having completed her regimen of treatments, Chirco thanked McKinnon and the American Cancer Society at the meeting for helping so many cancer patients in the United States facing challenges of the disease.
"There are committed groups that are looking for a cure, but what so many of us are looking for is the living," Chirco said. "I am living testimony to the love and compassion that lifts you up when you are down, carries you through the rough places, and allows you to celebrate with joy when you are able to."
Send a letter to the editor about this story.