11.25.09
home | metro silicon valley index | features | silicon valley | holiday gift guide 2009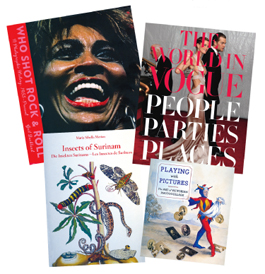 Coffee Table Books
By Michael S. Gant
I have, under dire circumstances, been reduced to reading downloaded stories on an iPhone. All the more reason to still covet the ultimate intellectual fetish object: the coffee-table art book. No Kindle yet nurtured in Jeff Bezos' brain can reproduce the sensual frisson of fingering the thick, glossy pages of a fine-arts volume. When you give a book, make sure that it is worth the paper it's printed on—full of high-quality images and packed with significant text, something worth reading and displaying. These sterling new publications fit the bill. They can all be easily obtaining by dropping in on a local bookstore or art museum gift shop, which is a gift in and of itself.
Who Shot Rock & Roll: A Photographic History, 1955 to the Present
by Gail Buckland
Knopf; 322 pages; $40 hardback
Our memories of famous rockers are determined as much by images as by sounds. Buckland's book surveys the iconizing efforts of scores of photographers, from the celebrated (Annie Leibovitz and Dennis Hopper) to the obscure. The pictures here (mostly in black-and-white) range from Alfred Wertheimer's candid shots of Elvis on the cusp of stardom to the raw action of Ian Dickson's in-the-moment snap of the Ramones in 1977. French photographer Jean-Pierre Leloir captures Chuck Berry in 1996 putting his tight pants to the ultimate test with a spread-eagle split. Mark Seliger's closeup of a anguished-looking Neil Young has the power of an Avedon.
Insects of Surinam
by Maria Sibylla Merian
Taschen; 192 pages; $39.99 hardback
For a woman to pack up her daughter and travel to the jungles of Surinam and return three years later with exquisitely detailed, botanically and entomologically accurate and visually stunning paintings of flora and fauna is an impressive achievement. To have done so circa 1700 is nothing short of astonishing. This oversize (10 by 14 inches) book reproduces in full folio dimension the colored engravings from her greatest work. The plates demonstrate Merian's uncanny mix of scientific detail and aesthetic sense, as she arrays curious and colorful insects in various states of metamorphosis flitting around or munching on the branches and leaves of exotic plants.
The Collected Letters of Robinson Jeffers, With Selected Letters of Una Jeffers, Vol. One, 1890–1930
edited by James Karman
Stanford University Press; 998 pages; $95 hardback
California poet Robinson Jeffers has always seemed a formidable, even forbidding figure—something about that fortress known as Tor House in Carmel, and verses like "We must unhumanize our views a little, and become confident / As the rock and ocean that we were made from." This remarkable cache of letters (beginning with a 3-year-old Jeffers note to his mama) helps to humanize the poet, especially the passionate, sometimes to the point of gushing, exchanges with his wife, Una. There are also illuminating bits of correspondences with publishers, critics and other writers. Coming from Stanford University Press, the book is dense with critical apparatus, footnotes and a substantial biographical introduction.
The World in Vogue: People Parties Places
edited by Alexandra Kotur
Knopf; 390 pages; $75 hardback
Let's face it, whatever dreams of a life of international indolence we ever strived for have been thoroughly dashed by the Bush/Obama depression. But vicarious thrills galore can be found in this paean to wretched excess in that most wretchedly excessive of all human endeavors: high fashion. The aptly homonymic Alexandra Kotur has assembled an enormous collection of large-scale pictures from the bible of well-dressed society, Vogue magazine, covering the last 40 years or so. Some major shutterbugs—Richard Avedon, Bruce Weber, Helmut Newton—contribute studio portraits and in situ portraits of society icons, celebs and movie stars like Babe Paley, Warholite Edie Sedgwick, Jackie O., Angelina Jolie doing stretching exercises on a Louis Quatorze settee. Oddly, the magazine seems infatuated with the upper echelon's canine companions: Brooke Astor, resplendent in pink tweed, poses with her dachshund; Jennifer Lopez walks a brace of menacing Dobermans; Naomi Campbell chauffeurs three Dalmatians in a convertible. Weirdest of all is Weber's photo of his golden retrievers at a staged doggie wedding.
Historical Atlas of The American West
by Derek Hayes
UC Press; 288 pages; $39.95 hardback
The appeal of old maps—richly colored, redolent with the sense of discovery, frequently embellished with artistic flourishes—has driven some addicts to archival crimes. Luckily, Hayes' Historical Atlas satisfies the cartographical itch within the bounds of the laws. This extra-large selection begins with Native American settlements and runs through the Spanish explorers, early forays by American pioneers, the Gold Rush, the building of the Transcontinental railroad to the rise of urban centers. Hayes provides considerable context for survey, land grant, topo and tourism maps. A brochure route map for the Great Northern streamliners trumpets the "New Empire Builder," echoing the whole dubious project of Manifest Destiny. A 1940 Arizona Highways guide to the state features scores of tiny vignettes with cowboys, cacti and cattle.
Playing With Pictures: The Art of Victorian Photocollage
by Elizabeth Siegel
Yale University Press; 200 pages; $45 hardback
Scrapbooking is faddish now, but it is hardly a new phenomenon. The Victorians (women mostly) delighted in constructed fanciful bound volumes full of clever collages. The rise of photography and, in particular, the carte de visite, provided English women of the mid-1800s with endless source material for their imaginative constructions. Many of the examples in this fascinating study involve watercolor backgrounds in which cutout images of the famous have been pasted, frequently in multiple scales and perspectives, creating surprisingly surreal results. In one sample, a painted boy blows bubbles; in the gossamer spheres, one Georgina Berkeley has pasted cut-out heads of her acquaintances. It isn't far from here to Joseph Cornell.
Send a letter to the editor about this story.