12.02.09
home | metro silicon valley index | features | silicon valley | holiday gift guide 2009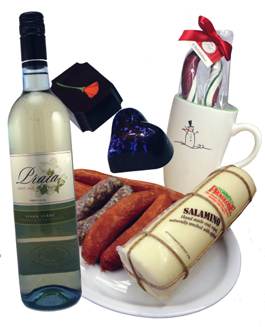 Food
By Stett Holbrook
You love the carne asada at your favorite taqueria so much you want to share the love and give one to all your friends. Trouble is, carne asada super burritos and food in general don't make good gifts. Something about the smell of compost puts people off. But not to worry. Here's a list of local food treats for all the food lovers on your list. There's more to giving the gift of food than those boxes of Pepperidge Farms smoked cheese packed in fake grass.
Neto Sausage Co.
1313 Franklin St., Santa Clara; 408.296.0818.
Who wants a fruitcake when you can give the gift of sausage? Arthur Gonçalvez founded Neto's Sausage Co. in a tiny storefront on The Alameda in 1948. A Portuguese immigrant, Gonçalvez catered to his countrymen with his handmade linguiça, morcilla and Spanish chorizo, but the company's customer base soon expanded. From the company's three-sausage beginnings, Neto's now makes about 25 different varieties. All the sausage is made on site from Gonçalvez's original recipes and overseen by grandson Ed Costa.
Artisan Wine Depot
400A Villa St. Mountain View; 650.969.3511; www.artisanwinedepot.com.
Choosing wine for the wine lovers in your life is easy at Mountain View's Artisan Wine Depot. All of the wines are online so you can peruse their vast selection and read tasting notes at your leisure. But better than that is friendly and knowledgeable co-owner and sommelier Christine Tran. Tran has tasted all the wines in her warehouselike shop, and she knows her stuff. She will help you pick wines you're not likely to find elsewhere at prices that will also allow you to snag a few for yourself.
Ku Day Ta Tea Lounge
447 Great Mall Dr. #124, Milpitas; 408.935.9083.
Tea makes a great gift, especially if it's premium loose-leaf tea. But for a one-of-a-kind gift for tea lovers, check out Ku Day Ta's lineup of chais. Chai is simply spiced tea and milk, and there's no one recipe. Ku Day Ta offers nearly a dozen special blends of tea and spices to suit any taste.
Sogo Tofu
1600 S. De Anza Blvd., San Jose; 408.517.8958.
Will all those turkeys and hams, vegetarians kind of get the shaft during the holidays. Turn them on to Sogo Tofu, and you'll have a friend for life. This small store turns out an astounding variety of tofu and soy-milk products, all made with organic soybeans. Behind the small store is a full-blown factory that turns the magic beans into dozens of sweet and savory creations. Whether you're a vegetarian or not, you need to sample some of the wares at this tofu specialty shop.
The Butter Paddle
14510 Big Basin Way Saratoga; 408.867.1678.
Years before Williams-Sonoma and Sur la Table came onto the scene with their fancy blenders and expensive cutlery, the Butter Paddle in downtown Saratoga has been quietly but consistently offering cooking and houseware products to discerning home cooks since 1967. Staffed entirely by volunteers, the Butter Paddle offers all the stuff you can get at the mall as well as items you're not likely to find elsewhere. What makes the Butter Paddle unique is that all proceeds go to EMQ Families First, a local nonprofit that offers support and services for families and children recovering from abuse and neglect.
Rangoli
1584 Halford Ave., Santa Clara; 408.244.1160.
Barfi may not be the best name for a sweet treat, but the confection made from condensed milk cooked with sugar will win you over, and this haven of Hindu sweets is the place to get them and other milk-based sweets. Rangoli is the go-to place for Diwali or any other holiday when sweets are called for. They come in various shapes and colors. Pistachio barfi is similar to a truffle nut-chew filling, a pistachio marzipan of sorts. Gulab jamen sandwich pairs two wafers of fried cottage cheese fritters with a ricottalike filling. The entire concoction is soaked in sweet and sticky rose-water syrup. More adaptable to American tastes is the Indian donut, a pastry that gives Krispy Kreme a run for its money. It's a dense ball of deep-fried dough glazed in a crisp, sugar coating. It's crunchy at first, but then dissolves almost instantly in the mouth
Saratoga Chocolates
14572 Big Basin Way, Saratoga; 408.872.1431.
I'm not one to turn down a box of See's Candies, but they're pretty humdrum compared to the meticulously crafted and deliciously flavored chocolate treats, truffles and bonbons from Saratoga Chocolates. The chocolate is produced in Northern California by premier chocolate sources. Creams come from a local dairy and all the produce used in the confections is grown in California. Check out the "chili spice truffle," dark chocolate ganache blended with cinnamon, clove, and cayenne pepper. My other favorite is the "vanilla caramel and sea salt caramel" made with house-made caramel, fresh vanilla beans, milk chocolate and dark chocolate and sea-salted caramel.
Send a letter to the editor about this story.