11.25.09
home | metro silicon valley index | features | silicon valley | holiday gift guide 2009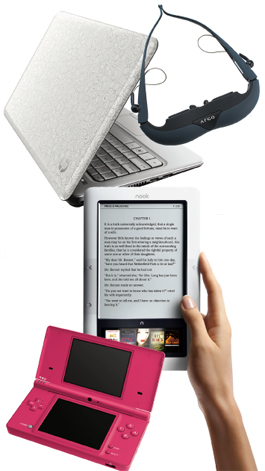 Gadgets
By Colleen Watson
Gadgets in Silicon Valley are ubiquitous. On every train and bus that passes, every rider has their headphones on or their earpods in. Our cars, our desks and our homes are rigged with handy devices. And the companies we work for keep producing more. Here are some of our favorite new electronic goodies.
Hewlett-Packard HP Mini 311
Office depot and online, starting at $399.99.
These are extra clever and supersmall, with an 11.6-inch screen and weighing in at just over 3 pounds. Sure, they don't have the memory or storage capacity of normal laptops, but these are specifically for using the Internet. They are just right for travel or if you already have a desktop computer and want something smaller so you can sit on the couch and play on the Internet at the same time.
Nintendo DSi
Best Buy, Wal-Mart, Target and other retailers, $169.
I know it's been out for a while but it's just awesome. The Nintendo DSi is the best little hand-held gaming device. The sleek rectangle fits easily into any purse or bag and lets you play games like Mario Kart against random strangers. The DSi also lets you download games, comes in bright pink, teal, white and black and has a built-in camera. This is the ultimate time waster when waiting in lines, on public transportation or hiding from your boss in the storage closet.
Mindflex Brainwave Game
$119.95 Amazon.com.
Flex your brain muscle and try to get a floating ball through a series of obstacles. I don't know why, but this just sounds so cool to me. OK, it reminds me of this game from Star Trek the Next Generation when Number 2 got seduced by this chick and then. ... Anyway, the geek in me is excited.
JuiceBar Portable Solar Charger
Thinkgeek.com, $49.95.
The JuiceBar Portable Solar Charger is for the gadget lover who has everything and wants to save the world. With the portable solar charger, users can charge multiple gizmos and not waste electricity. Great for travelers.
Argo Video Glasses
www.22moo.com.au, $195–$495.
Don't strain to see Transformers 2 on your iPod; these video glasses make any movie seem like it's on a big-screen TV. Yes, the glasses look a little dorky, but on the plus side you get a theatrical experience in the palm of your hand. 22moo makes the Argos line with a few different varieties, and these are great if you take CalTrain or light rail and want to zone out.
eReader
On sale after Nov. 30 at Barnes & Noble for $259.
E-readers are the coolest gadgets for bibliophiles. You can carry around a not-so-small library without breaking your back. The Nook from Barnes and Noble is thin with a touch-screen, holds more than 1,500 books, e-magazines or e-newspapers and has a 10-day battery life. With an E-Ink display, it's easier to read than a normal computer monitor. Want, want want.
iPod Nano and Shuffle
Online and at stores; Shuffle $59–$79, Nano $149–$179.
Apple's Shuffle and Nano have got to be the cutest electronic devices ever—not surprising since Apple knows that cute packaging plus easy use equals the best MP3 players out there. The iPod Shuffle has gotten so tiny, it's almost invisible. But it comes in bright candy colors to make it easier to find. It has a song capacity of between two and four gigabytes. The Nano has an even larger storage capacity and can now take video. I want one of each.
Send a letter to the editor about this story.