11.25.09
home | metro silicon valley index | features | silicon valley | holiday gift guide 2009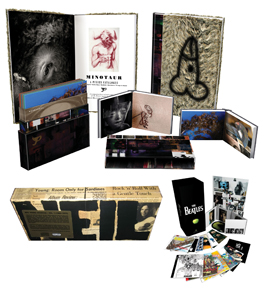 The Unpirateables
By Steve Palopoli
THE music industry has an interesting new strategy in the war on piracy: "Fine then, steal it."
Oh, the RIAA still talks big, and they still rattle their sabers about prosecuting this and that, and their lawyers are still no doubt raking in plenty of dough going after college ISPs, file-sharing websites and the occasional lil' suburban downloader. But their heart barely seems to be in it anymore, and can you blame them? Keeping people from getting music for free is maybe the most pointless pursuit on the Internet, other than Rickrolling.
Musicians themselves, however, are moving on. Eddie Spaghetti of the Supersuckers was the first known artist to tell me that he considers the band's recorded music an advertisement for their live show at this point, but I've heard the sentiment echoed endlessly since. Others are taking it even further—Billy Corgan recently announced his upcoming 44-song album will be available completely free on the Internet.
However, Corgan's underlying strategy is part of a new approach becoming increasingly popular among artists and labels: give the music away, but offer something tangible that can't be digitized, torrented, uploaded or otherwise shoved into any hole in your computer and spread around the world in seconds. The music industry has discovered what I call The Unpirateables.
Corgan will be offering "highly limited edition EPs" of the music he's releasing for free. Yes, they will likely be expensive collector's editions for superfans willing to pay for extras: art, liner notes, the works. It's a strategy popularized by Radiohead in 2007 when they more or less gave away the MP3s for In Rainbows but offered pricey and loaded special edition sets that sold extremely well.
Here are this season's biggest, coolest and strangest Unpirateables, hoping to find the right fan:
Pixies 'Minotaur' Box Set
The most controversial of this year's Unpirateables, even the Pixies themselves were said to have initially given the idea the thumbs down, before seeing the light. Jeff Anderson—who founded Artist in Residence, the company producing these sets—says he didn't want to screw with the music, so nothing has been remastered. There is a Deluxe Edition, which includes the Pixies' five studio albums on 24k-layered CD as well as Blu-Ray, and a DVD of the band's videos and a 1991 live show. It also includes a 54-page book and new art from the men who made the Pixies' covers famous, Vaughan Oliver and Simon Larbalestier. It costs $175. For $450 comes the Limited Edition—everything from the Deluxe Edition plus the albums on vinyl, a 72-book book and a giclee print of an Oliver art piece. The backlash has come from fans who don't want to pay so much money for music they already own (there are no bonus tracks). Of course, no one is making them, and as pricey as these things are, you can be sure there are some fanatics out there who'll snatch up these sets before they end up going for twice those prices in a few years.
Neil Young: 'Archives, Vol. 1'
Geez, how many volumes can there be? This set is 10 discs of concert recordings, unreleased demos, studio albums and a 1973 concert film, all cleverly packaged with plenty of documentation and lots of extra bits.
Beatles Remastered Stereo Box Set
If you liked the Beatles Mono Box Set, you may or may not love the Beatles Stereo Box Set. A collection of 13 remastered albums, a DVD of mini-documentaries, intricate liner notes and crazy packaging. It's often a risky move to repackage popular back-catalog material once again, but EMI and Apple have gotten glowing reviews for this one, with some fans calling it the definitive Beatles box set.
Radiohead Special Collector's Editions
The band that started it all is back this year with special editions of all their individual albums. They include a CD of the original album, a second CD of rarities, a DVD and exclusive postcards.
The Smiths 12-CD Singles Remastered Box Set
Oh, it's a bit ironic now that Morrissey once bemoaned how labels "reissue, repackage, repackage" their rock stars in "Paint a Vulgar Picture," isn't it? Here's the latest: a CD version of the Smiths' Singles Box that comes in a clamshell card box with the records' original picture sleeves, and two 12-inch versions ("This Charming Man" and "Barbarism Begins at Home") not released in the previous set. Limited to 10,000 copies, it also includes a poster featuring the singles' art.
Send a letter to the editor about this story.