11.25.09
home | metro silicon valley index | features | silicon valley | holiday gift guide 2009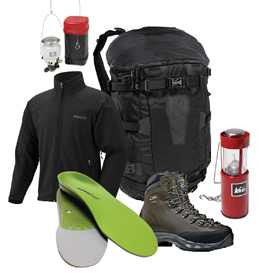 Outdoor Gear
By Eric Johnson
Ski slopes, mountain trails, rivers, lakes and surf are hard on gear. And outdoor recreation, more than almost any other human endeavor, rewards those who are packing good equipment. Below are some newly invented wonders and a few time-tested treasures that will make it easier to go out and play.
Marmot Sharp Point Soft Shell
The soft shell jacket is one of the great inventions of textile science. Tailored for winter fun. It's made of the stuff Gore-Tex calls Windstopper. Feather-light, with a texture halfway between neoprene and cashmere, this miracle fabric is wind-proof, virtually waterproof, breathable and insulates like a wetsuit.
The Marmot version is cut perfectly—it fits snugly, but thanks to its trademarked "Angel-Wing" design, allows for a remarkable freedom of movement. With a zippered turtle-neck collar, Velcro wrist-closures and drawstring waist, it battens down completely, to keep blowing snow out and body heat in. And pit-zips prevent overheating if your idea of winter fun requires some exertion.
Burton [ak] 31L Pack
It makes sense that a snowboard company designs excellent backpacks. For Burton's core customers, this piece of equipment can mean the difference between a sweet back-country expedition and a deadly slog.
Manufactured for the company by the legendary Gravis, formerly of Burlington, Vt., and now of Irvine, Calif., the [ak] 31 does everything an ordinary back-country pack does, but its action-sport pedigree means it's a much less obtrusive presence on your back. Which is nice whether or not you're going for big air.
Primus EasyLight Lantern
It is not necessary to pollute your campsite with the deathly white glare of halogen, nor the deafening hiss of a white-gas lantern. Primus, the Swedish company that invented the backpacking stove, makes an elegant gas lantern that silently emits a warm yellow flame-glow that can be adjusted for 80-watt dinner prep or 40-watt late-night chillin'.
With a clouded-glass globe and brass fittings, it recalls the days of Byrd and Mallory (both of whom carried Primus products, to the North Pole and Everest, respectively) and is conveniently fueled by an MSR isobutane canister.
REI Candle Lantern Uco Candlelier
Little monuments to frugality and simplicity (and excellent stocking-stuffers), the REI Candle Lantern and Uco Candlelier work so well it's almost amazing. The Candle Lantern is ideal for sleeping-bag reading, while the Candlelier, which burns three candles at once, will fill a wall tent with plenty of light for 10 solid hours.
Asolo Power Matic 500 gv Hiking Boots
The lightweight boots so popular these days—glorified trail sneakers—feel great in the store. But out on a rocky trail, after five-plus hours walking with something on your back, those "boots" are worthless. John Muir didn't wear wimpy boots—hell no. Asolo's, made in Italy since 1975, employ industrial-strength materials and high-tech design, including the most complex molded soles on earth. These boots are designed for serious alpinists, but there's no reason the weekend warrior on your "Nice" list doesn't deserve a pair.
Superfeet Premium Insoles
A great pair of socks is the classic stocking-stuffer. These insoles are an update on the classic—equally pedestrian (ahem) and just as practical.
The foot is made up of more than 100 moving parts. Outdoor activity puts a strain on all of them—which puts extra stress on the rest of the body's moving parts. These insoles are more like custom orthotics than Dr. Scholl's; with sturdy heel-cups and arch support, they turn any pair of shoes into high-performance footwear.
Apple iPhone 3GS Compass
There is something deeply comforting about knowing exactly where you are. This is particularly true in the case of outdoor enthusiasts, for whom that information can be essential to survival. The iPhone compass uses the 3G network, an onboard GPS, and cell phone towers to function exactly like a magnetic compass. Granted—that is a bit ridiculous; but then, who carries a magnetic compass around? And granted, the iPhone will not work in any remote location when it would be a matter of life and death. But still. There is something deeply comforting about knowing where you are, and that is particularly true for outdoor enthusiasts—even when they're in the city.
Send a letter to the editor about this story.