11.25.09
home | metro silicon valley index | features | silicon valley | holiday gift guide 2009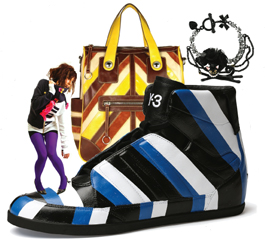 Style
By Jessica Fromm
This holiday season, fashion is all about standing out from the crowd with bold stripes and color. Look to small-time fashion designers like Stuff by Kate, Akire Pierre and Breezy Excursion for zany, original wearables with impeccable construction. At the same time, international labels like Y-3 and Betsey Johnson offer distinctive shoes and accessories that show people one is in the know without being humdrum.
Bel Air Collection by Breezy Excursion
Price: $28 and up
"Now, this is a story all about how, My life got flipped-turned upside down, and I liked to take a minute, just sit right there, I'll tell you how I became the prince of a town called Bel Air ..." Urban wear enthusiasts will find themselves singing this tune when they wear the Bel Air Collection by Breezy Excursion. The biggest urban-wear label to come out of San Jose in years, Breezy Excursion has been blowing up on the Bay Area street-wear scene. Label owners Ryan Mante and Christian "Flip" Lilleland aim to make clothing that is an in-joke with their customers, and their Bel Air Collection is exactly that. Inspired by the classic '90s sitcom The Fresh Prince of Bel Air, their T-shirts have accents like Carlton's bow ties and the Bel Air Academy crest. Breezy Excursion is sold at Aristocrats on Jackson Street in San Jose and Workmens/Balance at the Eastridge Mall.
Akire Pierre Crochet Cocktail Dresses
Price: $40–$70
With the motto "Changing the World One Crochet at a Time," fashion line Akire Pierre has been making bright, fun little cocktail dresses out of yarn since 2005. CEO and designer Marquis Smith was an avid crocheter of hats, blankets and scarves when a client asked him to take a crack at crocheting her a frock. The pretty little number his crochet hook whipped out was so popular that he decided to make dress designing the focus of his craft. Akire Pierre now offers a wide variety of unique, handmade flirty dresses in bright, contrasting stripes and patterns, all available on their website www.akirepierre.com.
Multicolored Chevron Tote by Melie Bianco
Price: $90
This statement bag by Melie Bianco combines that trendy tote design that is so hot right now, with lively stitched-on stripes that are anything but subdued. All eyes will be on this bag with its square structured shape, not to mention the fact that it's roomy enough to carry notebooks to class or a small laptop for work. Side pockets act as a perfect home for ones Blackberry. At only $90 and made from PVC, if one spills one's mocha chino on this handbag, no big whoop. This and other bags and accessories by Melie Bianco are sold at Bella James Boutique in Willow Glen.
Music Man Fleecie Hoodie by Stuff by Kate
Price: $295
Modesto-based designer Stuff by Kate fashions clothing that brings zany and cute together with a whimsical edge and quality construction. Her Music Man Fleecie Hoodie is handmade and combines military gold button details with stitched piano keys and pink tuxedo ruffles, all fashioned out of soft, heavyweight sweatshirt fleece. This casual, asymmetrical hoodie with a high-cowl-style collar is a great alternative to the same old sweatshirt on those days where it's too cold to wear anything but jeans and a cozy top. Stuff by Kate designs are sold at Underground Fashion, Music, Art at 516 McHenry Ave in Modesto and www.stuffbykate.com.
Y-3 Honja Hi Sneakers
Price: $290
Y-3 high-tops are coveted worldwide by sneakerholics, and with the vibrant, hand-painted black, white and blue stripes of these Y-3 Honja Hi's, wearers are sure to be noticed. Not to mention, the goatskin lining, padded leather insole and hidden lacing system boast comfort and luxury. A favorite of urban-wear aficionados and celebrities like Kanye West, Y-3 is a collaboration between German athletic brand Adidas and Japanese haute couture designer Yohji Yamamoto. Look for these kicks and other sporty hipster street wear at Azuki on Paseo de San Antonio in downtown San Jose.
Vintage Vicky Toggle Bracelet by Betsey Johnson
Price: $55
Betsey Johnson has always been known for her distinctly feminine and over-the-top designs, but for some of us, her layers of tulle and spangles can get a bit much. But Johnson's jewelry line is a great jumping-off point into her world of fun, wacky designs. Case in point, Johnson's Vintage Vicky Toggle Bracelet features a stretched, glossy enamel black cat accented with charms, stones and bows. A great gift for teens and young women who don't mind standing out with their accessories, this bracelet is sold at the Betsey Johnson store at the Stanford Shopping Center in Palo Alto.
Send a letter to the editor about this story.