11.26.08
home | metro silicon valley index | features | silicon valley | sports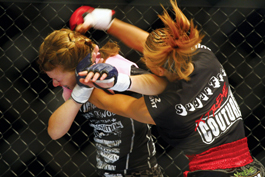 Photograph by Felipe Buitrago
NOT TOO SWEET: Kim Couture (right) notched her first win at Lina Kvokov's expense in round one.
Punch Drunk
By Felipe Buitrago
ANY DOUBT that HP Pavilion is the modern-day Roman coliseum can be put to rest. After this week's events on and off the card—including the brawl that took place at the south entrance—it's safe to say that gladiator style is back. It was too bad that Josh "The Punk" Thompson couldn't make the main event because of an injured toe. Nonetheless, that didn't have a noticeable effect on the excitement at the Tank last Thursday and Friday. Over 3,400 spectators witnessed Thursday's epic American Metal and Iron, in which Robert Frankel defeated Bobby Pacquiao in a unanimous decision. Friday's apocalyptic Strikeforce Destruction held a few surprises, like Renato "Babalu" Sobral elbowing Bobby Southworth, gashing his brow and prematurely ending the fight. Southworth argued with the referee that he had been head-butted, but in the end he had to give up his light heavyweight title to Sobral. And while Kim Couture may be "Sugar Free," she's also fierce—her opponent Lina Kvokov ended up on the mat sobbing after only 1:44 into the fight. The real spectacle came when Scott Smith said "night night" to Terry Martin with one solid punch in retaliation for the onslaught he was receiving. The fight didn't last long—Martin hit the canvas after 24 seconds. Too bad he didn't have the same coach as the guy in the riot on Thursday at the south entrance—he was kicked repeatedly while he was down and got back up.
Send a letter to the editor about this story.