11.28.07
home | metro silicon valley index | features | silicon valley | feature story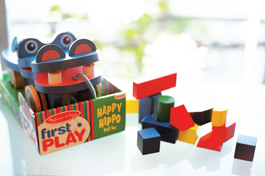 Back to Basics: Melissa & Doug toys keep the fun in, leave the lead out.
Toxic Toy Story
Why, and how, to avoid lead-tainted products for kids
By Paul Wagner
WANT TO avoid giving children the holiday gifts of brain damage, hearing loss, anemia, kidney problems and a lowered intelligence level for life? Then take a good look at this list: Children's toys. Children's crafts. Children's jewelry. Children's furniture. Children's clothing. And then take another.
Why? Because tens of millions of such children's items have proven to be tainted with lead. Yes, the heavy metal, the poisonous blue-gray that the state of California has been working to get out of imported candies for more than a year. Lead is now showing up on the shelves of stores across the entire nation.
So great is the number of lead-tinged items that within weeks of the time the federal government, just this August, ordered the removal of 967,000 popular Fisher-Price toys, the toys had not even reached storage warehouses before an additional 675,000 additional items—this time, Barbie accessories—were recalled. The problem, to quote the Centers for Disease Control, was that "surface paints on the toys contain excessive levels of lead, which is prohibited under federal law."
Yet even with the drumbeat of mass recalls, neither the federal nor the state government seems to be able to keep up with the number of lead-contaminated children's products.
In fact, in recent seasons this latest byproduct of the Clinton/Bush "free" trade agreements—usually negotiated without regard to actual costs to nations' workers or the world's health—has continued to spread to millions of other products intended for children. And that's an immense human health problem, because the same properties that make lead industrially desirable also make it biologically toxic.
For one thing, it's heavy, at an atomic weight of 207.2 (compare that to oxygen, at a weight of 16), and its structure is huge, with 82 protons and electrons and 125 neutrons, making it the heaviest of the heavy metals. It's also the softest, most malleable and most able to ooze into just about anyplace. And then it stays put for up to a quarter-century.
Like a large drunken, pouting lout who comes into the house to rest "for just a moment," settles in, tosses empty chip bags and beer cans all around and squirms until the sofa breaks—and then moves to a chair to repeat the process—lead enters the body, perches wherever it wishes, and never leaves.
And some 20 percent of lead never makes it through the urinary excretion process, remaining in the body. It migrates through the blood, disturbing red and white platelet processes. It settles in bone, displacing blood, cutting bone rebuilding and weakening the bone structure.
And worst of all, lead migrates into the soft tissues, most noticeably the brain. It oozes into the large spaces usually occupied by calcium, a nerve-firing helper, and displaces it, occupying synapse-firing zones and gumming up the ability of neurons to respond.
This in turn produces hearing loss, vision loss, slowing of response time, lowering of IQ, linguistic confusion and progressively more primitive social responsiveness. Lead poisoning victims are not only slower and clumsier, but more likely to misinterpret social cues, be inappropriately aggressive, and randomly exhibit cruelty and violent behavior. And that's exactly the behavior, some historians have noted, that characterized the last generations of the Roman Empire, which had lined its cities' water-delivering viaducts with lead.
The effect on young children is even more profound, since their rapidly forming bodies will incorporate virtually anything ingested. Infants and toddlers ingesting lead commonly develop anemia as the blood degenerates, encephalitis as the brain swells and stunted growth as bone formation and replacement slow. And given that young children stick just about anything they can in their mouths to taste the qualities of the new world they're exploring, children can potentially ingest quite a bit of lead. In fact, the primary age for lead poisoning is in the range between 12 and 24 months of age.
Avoiding the Gift of Lead
Luckily, some people are taking effective action to combat the explosion of lead contamination of children's products and have some clear guidance to offer those wishing to avoid giving the gift of lead. One of them is Caroline Cox, research director for the Oakland-based Center for Environmental Health.
Cox, who worked on establishing alternatives to common toxic pesticides for more than a decade before joining CEH, advises this: "The first thing to do is familiarize yourself with what toys have been recalled, so you can avoid those" (see sidebar ). She also points out that potential purchasers can look up children's' jewelry recalled for lead content in the last couple of months.
Additionally, she counsels shoppers to "look for toys that are not made of vinyl, and aren't painted." That's because lead, being soft, malleable and stable, is still used as a stabilizer in many vinyl products and many other nations' paints. While lead content in paint was reduced significantly by federal fiat in the United States in 1978, it isn't controlled nearly as tightly elsewhere—and still isn't controlled in any vinyl product but mini-blinds, even in the United States. "Lead protects the vinyl as it goes through the various heating processes," Cox says, so it is often used, despite its dangers, in manufacturing.
And that continuing use of lead, Cox points out, results just as much from U.S. consumer preference as from manufacturers' irresponsibility. "Somewhere between 80 percent and 90 percent of our toys come from China, but it's important to remember that this is not solely a Chinese problem," Cox says. The problem is also American and other consumers' pressure on retailers to constantly move prices downward, which "emphasizes price over quality. It's a recipe for problems."
For testing already-purchased children's items, Cox mentions home lead test kits, available in paint and hardware stores. Like epoxy glues, these involve mixing two separate tubes of chemical liquid, pouring the mixture on the surfaces of the items to be tested, and waiting to see which color the combined liquids turn.
The federal Consumer Product Safety Commission, however, says that they're not accurate. "None of the kits consistently detected lead in products if the lead was covered with a non-leaded coating," notes an Aug. 22, 2007, press release. In addition, "of 104 total test results, more than half (56) were false negatives, and two were false positives." In short, home lead test kits, designed to measure the many times higher level of lead in old peeling paint, don't seem to read the smaller proportion in children's products very effectively. For that reason, they're not a good tool for determining the safety of toys. So what's the best thing to do overall? Follow the recalls.
Luckily for anyone with web access, that's relatively simple to do. And it's about to get simpler, since CEH and other organizations are, as of Dec. 4, 2007, going live with a central one-stop checkpoint for getting the word on unsafe toys. Here is a list of places that will take shoppers right to well-presented, easy-to-read information and recalls and lead toxicity prevention:

Toy safety: Central checkpoint, to be active as of Dec. 4: www.healthytoys.org.

Children's items lead-related recalls: Federal Centers for Disease Control offers lists, with product photos, of lead-related recalled children's products. Open page, type "lead recalls" in right-hand search box, first item links to all lists: www.cdc.org.

Overall product recalls: Central checkpoint, courtesy of the federal Consumer Product Safety Commission, for all federal recalls, from air conditioners to children's wagons: www.cpsc.org.

Overall lead poisoning prevention: From the federal Environmental Protection Agency, a wider view of lead's most common environmental sources and how to increase effective safety measures in the home: www.epu.gov/lead. Here's to a safe holiday for all.
Local & Safe Toys
Perhaps the strangest news so far this shopping season is that many parents are ignoring the rash of toy recalls in their post-Thanksgiving consumer frenzy. For shoppers looking to keep their purchases kid-safe, the answer is often to shop local. Here are a few South Bay toy stores putting safety first:

Hicklebees Childrens Books & Toys
1378 Lincoln Ave., San Jose 408.292.8880
Offers games, books, board games by EEBOO, baby toys made of easily cleaned fabrics by Lamaze, Ravensburger toys, sets of audio books, action figures of knights on horses and dragons by PAPPO, and a number of plush toys.

The Wooden Horse
796 Blossom Hill Road, Los Gatos 408.356.8821
Offers wood toys painted with nontoxic natural vegetable oil, plastic toys and organic plush toys.

Legends
925 Blossom Hill Road #1230, San Jose; 408.578.5978
Offers plastic toys and acrylic paint. Products containing lead have visible warnings stating that they are not for kids.

Affordable Treasures
15795 Los Gatos Blvd., Los Gatos 408.356.3101
Offers Silly Putty, play dough, wooden toys and plastic toys.

The Train Shop
1829 Pruneridge Ave., Santa Clara 408.296.1050
Offers all lead-free trains.
Send a letter to the editor about this story.