11.28.07
home | metro silicon valley index | news | silicon valley | news article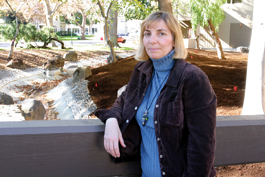 Photograph by Felipe Buitrago
PUBLIC PARKING: Vocal open-space advocate Helen Chapman recently stepped down from the San Jose Parks and Recreation Commission, but she still has strong views on future planning for local parks.
State of the Parks
Talking funding priorities, pools, stadiums and the future of San Jose open space with former parks leader Helen Chapman
By Diane Solomon
SAN JOSE'S neighborhood leaders and City Council say that San Jose's parks are a priority, but looking around you wouldn't know it. Projects like the Guadalupe Creek Trail have remained unfinished for decades; Parks, Recreation and Neighborhood Services is understaffed and the city isn't maintaining or improving what it has. Developers' kickdown of Parkland Dedication and Park Impact Ordinance fees (PDO) is giving the city plenty of no baņo pocket parks, but there's no money to purchase Measure P's soccer fields.
Helen Chapman is determined to change this. Because she wanted a playground for her 2-year-old, she joined Shasta Hanchett Park Neighborhood Association volunteers and worked with the city to build Hester Park. That inspired her to join the San Jose Parks and Recreation Commission, where she served six years, the last two as its chairwoman. She termed out in June, but she still goes to almost every meeting about parks and serves on the Coyote Valley Task Force.
Chapman has strong views on the successes and failures of local parks, and spoke to Metro about what she's learned in her six years inside the system, as well as her hopes for the future of area open space.
METRO: San Jose ranks as America's 10th-largest city. How does it measure up on parks, relative to its size?
HELEN CHAPMAN: We did a lot of the research when we worked on increasing the PDO/PDI, and we found out that we're not No.10 when it comes to parks, trails and our open space. We're way behind, and that concerns me. I think that green space, trails, trees and quality of life should be something we're proud of and should be something we're known for. The CSAA [California State Automobile Association] magazine Via featured the 10 greatest [city] parks in California. San Jose wasn't on the list. We should be and we have the potential to be.
Why has the city been holding Greenprint 2008 meetings all over town? What happened to Greenprint 2000?
When the PDO fees were increased last year, the developer community opposed it. The Greenprint is the master plan for parks. They wanted it revisited to see if we were meeting our goals and they also criticized maintenance. Here we are building parks, but we can't afford to maintain them. What people probably don't know is that the parks department tried to get the Greenprint back in Mayor Gonzales' office, but he wouldn't fund it. So now they're assessing it by asking people what their priorities are. At the meetings that I've gone to people are saying, "We have a lot of unfinished projects. Let's complete them." Yes, let's bring them up to the natural beauty they are and enhance our city with them. We don't need to keep building more little pocket parks.
Metro went to numerous meetings about the Aquatics Master Plan where people told the city that proposals for regional aquatic centers and competition swim venues were well and good, but they wanted the closed pools repaired and open.
We've clearly heard it. It's been said umpteen different ways. It was said in January by the community leaders at the neighborhood budget priority session, "fully fund parks, trails, pools, libraries and their maintenance." I don't think it could be any clearer than that. No one has changed their mind. The Greenprint stands. Let's finish out those projects. We've got the Guadalupe River Park and Gardens and we've got areas in each of the council districts that neighbors have already identified as future park space. We have many trails that have been talked about for years that could be completed. Let's finish them. We don't need another consultant to go out and say, "Let's throw this all out and start over."
It appeared there was plenty of money for consultants, but getting the city to repair the closed pools was like pulling teeth.
Yes, that astounds me also. This came up this month when the city approved the Willow Glen Spur Trail. It was unanimous, but what about the financing? There's lots of money out there! Look at what Our City Forest [a San Jose nonprofit] does to get their trees. They leverage the money they receive from the city and get matching grants from the state transportation department. We could be doing the same thing, but we aren't putting the priority level up high enough. You fund what matters to the community. We don't need to keep making up ideas. There's a reason why people choose to live here. The weather is gorgeous. We should be capitalizing on the weather and get people outdoors. We have beautiful historic neighborhoods. Capitalize on that. Look what the city of Pasadena does with their historic neighborhoods. We're not doing that.
You've earned a reputation for advocacy. Why don't we see more of that in the Parks, Recreation and Neighborhood Services Department?
I think they are, but years of budget cuts took a beating on key people and they lost some good staff members. In order for a department that's a little bit demoralized to come forward they need support. When they get support and direction from the council and the mayor and city manager's office, you see the employees step up. The secrecy that ran the city government under our prior mayor didn't just apply to the community, it applied to the departments. There were times that departments were told, "No, you're not going to go forward with this."
What are the differences between Chuck Reed and Ron Gonzales?
I think Ron Gonzales was very supportive of the libraries, and he worked with the schools, the homework centers and the Mayor's Gang Prevention Task Force. But when it came to vision and planning ahead, I'd give him lower marks. I appreciate where Mayor Reed is going. He's very straightforward and he understands what we've been saying. You have to acquire land now or you won't be able to afford it later and if you make spending cuts, in the long run it will actually cost more. I think they have two different visions. I think Mayor Gonzales had a vision of building a grand downtown and a name for the city, but I don't think it had a green label on it.
What were the most significant changes you saw during your six years on the Parks and Recreation Commission?
I think the PDO increase last year was a catalyst for change. We tried for years to bring it forward and every year it would come back. So we'd need to reconcile the trust fund, or we'd need to talk to the Builders Association again. It got to the point where we thought, What have we got to lose? So we took the Commission out into the community. We showed staff that people were there to help. Some of them formed CALSJ, Citizens for a Livable San Jose. They're a group of people from all over the city who are concerned about the quality of life in San Jose. That's who got the people together to support the Willow Glen Spur at City Council this month. The community is now coming forward and saying, "This is what we care about, this is what we want and this is where we want you to lead us. Did you know that we've already been working on the trails system for umpteen years? Do you know that people want more jobs and less housing so we can fund the services that are being cut? We know we have real budget issues. We'll help you." At the WG Spur meeting they told the City Council, "Don't be afraid to stick your neck out. You're going to be popular with the community. Maybe not the developers but you're going to be popular with us."
What are the changes you'd like to see?
I'm still alarmed at the rate development is taking place. Putting green on the map brings value to the city. Let's put together a General Plan that has parks identified from the beginning. Let's stop trying to place them in way after the fact and by the time you get them they're so small, they're not what was intended. Other cities take developers more into account when they do their development planning and zoning. Instead of just saying, "We'll take this," let's say, "This is what we intend to see here." How can you work with the city to accomplish this? If we know there's going to be a trail going through, we can ask them to contribute their PDO/PDI to that trail. Won't this benefit the development community by giving them certainty instead of long negotiations and confrontational community meetings? To me this is logical. The Greenprint flows into the General Plan. You take the Sports Field Study, the Aquatics Master Plan, the Greenprint and you ply them into the General Plan. You say, "This is where our aquatics center is going to be, this is where our sports fields, parks and trails are going to be." You could complete the trails and put the parks in as little fingers outside the trails. It would be beautiful. PRNS is negotiating with SJSU to put a soccer field near Spartan Stadium. Imagine a trail coming out to the fields. You could have people running along the trails training and tie communities together.
What have been your biggest challenges advocating for parks?
Money! And making sure that the city sees our parks and trails, community centers and libraries as economic opportunities. There are many studies out there that show they actually improve home values, but our city just hasn't caught on yet. One of my biggest frustrations has been really trying to convince them that these matter. Ask anybody where they go when they travel. Do you enjoy Golden Gate Park when you go to San Francisco? Of course you do. San Antonio's River Walk? Of course you do. If we're saying we are the 10th largest city then we have to be the 10th largest livable city.
Because the city is short of funds, there's a debate about privatizing park labor to lower costs. You've suggested that the city hire a volunteer coordinator.
Absolutely. You can't take on more and have the same amount of people doing it. I think the city needs to allocate funding for a full-time volunteer position. That person could bring in volunteers from the community and tap into existing resources like grants. People are out there but they need to be given direction, structure, and projects. The county has three employees running their volunteer program. County volunteers clean up trails, do light construction work and if something goes wrong or needs to be reported they're out there. Volunteers enable the employees to do other work. They do this in the schools all the time. Parent volunteers help and they're not stepping on the teachers' toes or the union workers. We should be doing the same thing.
Do you think we'll see a downtown professional sports stadium?
I have concerns. Lots of people are in favor of Lew Wolff's Istar land swap proposal to put a professional soccer stadium by the FMC property by using the Istar property as the funding source. It's an interesting concept. But is it pay to play? Is this where we want to go? Yes, there's a need for professional soccer, but there's also a need here for amateur soccer fields. We passed Measure P in 2000 which included funding for sports fields but we can't afford the land for it. The city is talking to SJSU about putting in a soccer field but it's not large enough to meet Measure P's vision. Why can't we have large amateur sports fields here, like Pleasanton's? Then we could do something for our youth and capture money from tournaments here.
Send a letter to the editor about this story.