November 29-December 5, 2006
home | metro silicon valley index | news | silicon valley | news article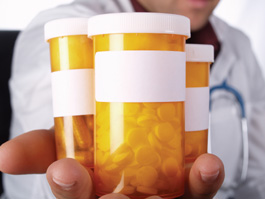 If we have to live there, you'll have to drug me: The new Medicare changes aren't easy to figure out. But seniors better watch out who they take their advice from.
Hazardous to Your Health Care Plan
Are some companies using the looming deadlines and confusing changes in Medicare to scam seniors?
By Patricia Lynn Henley
AT LEAST one for-profit insurance agency may be lulling South Bay seniors into thinking that they're getting help from an altruistic nonprofit.
Medicare recipients have until Dec. 31 to choose a plan during open enrollment. However, prices and coverage policies will change Jan. 1; they must file by Dec. 8 to switch on that date. Applications filed after Dec. 8 won't be effective until Feb. 1.
The only help the feds provide is a 116-page booklet, Medicare & You 2007. Bay Area seniors thumbing through this massive official document may be relieved to also receive a colorful, easy-to-understand mailer offering free advice from a "Medicare specialist" by calling the toll-free number for the San Francisco-based Senior Educators.
Only in one spot—in extremely small type—does the brochure list Senior Educators' officially registered name, Professional Senior Educators Insurance Services. This is a for-profit firm that earns its income from signing up seniors with Medicare coverage from private companies—a situation the mailer characterizes as being "licensed to discuss your healthcare options."
"We're a business, we're not a nonprofit," agrees company spokesman Conor Lee. "Our business basically is that we give people unbiased information for Medicare plans, because we enroll people in the vast majority of plans out there and we get paid about the same amount per plan. We don't advocate for one particular plan."
The company's goal, Lee asserts, is to simplify the Medicare process through easily accessible information—with no long waits on hold as on some governmental phone lines—thus assisting seniors in making wise choices among the plethora of private plans. "We really are proud that our customers come back to us, because we make good recommendations and really work with them to find a plan," Lee adds. "We're a business, but we're in it for the long term."
The company's website touts its "unbiased guidance" and its online address ends in .org, which many people associate with nonprofit organizations. It takes an extremely thorough reading of either the website or the brochure to learn that Senior Educators is a for-profit business. It's easy to come away with the impression that this a nonprofit group, selflessly operating for the benefit of California seniors.
Lee says the website is being revised and that seniors who call the toll-free line are informed that Senior Educators is not a nonprofit organization.
Yet a recent press release sent to Bay Area media neglects to mention the company's for-profit status. A story in the Nov. 12 issue of the Oakland Tribune quoted Senior Educators president Brian Poger on the complexity of the Medicare changes for 2007 and highlighted a Hayward resident who successfully used Senior Educators' services, without ever mentioning that this is, in fact, a for-profit company.
But under California law, all marketing materials must use the company's full name, Professional Senior Educators Insurance Services, says Lauren S. Hersh, deputy press secretary for the California Insurance Commissioner.
"Using just the name 'Senior Educators' is not only misleading, it is in violation of their license," Hersh says. "The Department of Insurance will be looking into this situation."
And Senior Educators isn't the only outfit with promotional efforts that folks might easily misinterpret. Cindy Scarborough, executive director of the Vintage House Senior Center in Sonoma, received copies of a "special issue" of The Seniors Coalition Advocate with a cover story titled "The Medicare Drug Benefit: One Year Later," so she put the publication out where the center's many visitors could read it. A sharp-eyed senior spotted it, and explained to Scarborough that both the AARP Bulletin and Ralph Nader's Public Citizen have identified Seniors Coalition, United Seniors Association and 60 Plus Association as "advocacy" nonprofits reportedly funded by the pharmaceutical industry.
Scarborough says there could be other misleading publications being distributed. "I'm guessing this is the tip of the iceberg, because there is so much money at stake."
Donut Hole Danger
With the move toward privatization and the confusion it causes, the current approach to Medicare needs to be revamped, says Congresswoman Lynn Woolsey, D-Petaluma. It's currently illegal for the government to negotiate lower prices with pharmaceutical companies. Woolsey says that's one of the first things that needs to change when the newly elected Democratic majority hits Washington, D.C. "It's clear that our health-care system is broken, but rather than privatize so the lucky few can afford health care, we need to step up and put together a plan that will have universal coverage."
Meanwhile, seniors are faced with an overabundance of options and not much time to understand the changes in store for 2007. Many private plans have increased premiums, changed the drugs covered and enlarged what's known as the "donut hole," where total prescription costs run so high that seniors have to start paying the full cost of their drugs until catastrophic coverage kicks in.
Some gap coverage is available, and while the donut hole is a serious situation for those who fall into it, it isn't a problem for everyone, says Neil Bodrog, an outreach coordinator for the state-run Health Insurance Counseling and Advocacy Program (HICAP).
"I find personally that this doughnut hole idea causes a bigger anxiety than it should, except for the few who are affected by it," Bodrog explains. "They don't understand the rationale for it. The problem is that it's an unduly complicated plan for prescription drugs."
Bodrog notes one company, considered by many to offer the best plans in 2006, is tripling its basic premium from $5.41 a month to $15.70 in 2007, and is no longer offering a separate plan with full coverage for brand-name drugs. The cheapest local monthly premium for a basic plan in 2007 will be $9.70, he adds, and one with complete coverage of brand-name prescriptions runs $74.80 a month.
There's also a category known as Medicare Advantage or Senior Advantage, in which private insurance companies provide healthcare benefits. In 2006, there were 25 Advantage programs in the greater Bay Area; in 2007, there will be 43.
Bodrog says seniors often feel they have too many choices. "It's like walking into a supermarket and facing a wall of cereals and not having any information on what to pick."
Seniors need to thoroughly understand the plan they have this year and how it will change in 2007, says Bonnie Burns, a training and policy specialist for the nonprofit California Health Advocates.
"Most people are concerned about their prescription drugs, but if they're in a managed HMO health plan, they also need to know how their health coverage may have changed, and the cost," Burns says. "Unfortunately, this issue has more layers than an onion."
Details about Medicare options can be found online at www.medicare.gov; or call HICAP at 1.800.434.0222 for personal counseling.
Send a letter to the editor about this story.