12.03.08
home | metro silicon valley index | features | silicon valley | feature story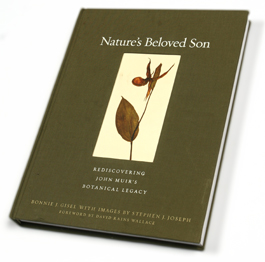 Books
By Michael S. Gant
Richard von Busack contributed
to this article
In the mode of thinking and buying locally, the loveliest coffee-table book of the season is Nature's Beloved Son: Rediscovering John Muir's Botanical Legacy by Bonnie J. Gisel and Stephen J. Joseph ($45, hardback) from Berkeley's Heyday Books, a company with an estimable record for exploring the historical and natural riches of California. From the endpapers, decorated with leaf and fern samples to the insightful text to Joseph's spectacular photographs (many reproduced full-page size), the book looks like a genuine labor of love, just as Muir's tireless trekking and collecting in Yosemite and other wild places (including even a very different Santa Clara Valley) was a deeply passionate affair: Yosemite, he wrote, "was by far the grandest of all the special temples of Nature."
Narrowing the focus from Yosemite Valley to the Santa Clara Valley, consider the many highly localized books issued by Arcadia Publishing in its Images of America series. These uniform, handy paperbacks (all $19.99), collect fascinating archive photographs for various communities, annotated with local lore by people who have lived here, done that—and want to remember all those little details and names that constitute the fabric of a community. Just this year, Arcadia put out South Santa Clara County, which covers South San Jose, Morgan Hill, San Martin and Gilroy. The images range from the Women's Christian Temperance Union to a quintet of happy imbibers at Battista Tognalda's Gilroy saloon. Other recent volumes include The Portuguese in San Jose and Railroads of Los Gatos.
In a similar vein, San Jose native David Lee has mined the area's eerie side for Haunts of San Jose (Schiffer, $14.99 paperback). Lee's look at the ghost stories of this area included spooky bars, haunted hospitals, South County specters and the mother of all possessed widows, Sarah Winchester. Lee even prints what he purports to be a ghostly image of Sarah herself. Judge for yourselves, skeptics.
What Nature's Beloved Son does for plants, Tim Birkhead's The Wisdom of Birds: An illustrated History of Ornithology (Bloomsbury, $45 hardback) does for the winged set. The first temptation upon encountering this substantial volume is to thumb through its pages savoring the many color illustrations excerpted from many centuries of bird books. Birkhead, who studies animal behavior, provides a readable history of how the modern science of ornithology developed from the many superstitions, fables and unsteady observations. His topics cover everything from studies of avian intelligence to breeding strategies.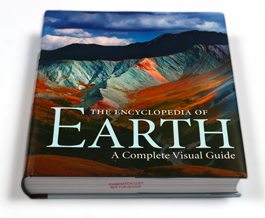 Now that the election has passed and the climate-change deniers have turned aside (for a while, at least), it is the perfect time to consider our beleaguered home, the Earth, while there is still time to save it. The Encyclopedia of Earth: A Complete Visual Guide (UC Press, $39.95 hardback) does so with 600 pages of color photos, maps, charts and in-depth text covering the widest possible definition of geology. The book, reasonably priced considering the wealth of illustrations, contains images both awe-inspiring (a gorgeous photo of Arches National Park) and sobering (one map shows the maldistribution of the world's water supplies).
The biggest book (literally, at 14 by 10 inches) of the season is Art Spiegelman's Breakdowns: Portrait of the Artist as a Young %@&*! (Pantheon; $27.50 hardback). Metro's resident comics expert, Richard von Busack, describes Spiegelman as the man who showed the United States that the term "serious funnies" wasn't an oxymoron. This retrospective includes Spiegelman's one-man show Breakdowns, the 1977 prototype of the high art-comic magazine Raw that Spiegelman created in the 1980s, as well as some very funny selections from Funny Animals, Short Order, Arcade and even less-well-known comic books. An early version of Maus has plenty of impact and a lot less detachment. Best of all is Prisoner on the Hell Planet: A Case History. Perhaps nothing Spiegelman has done surpasses this mix of German Expressionist scratchboard, Kathe Kollwitz drawings and EC comics.
Shop Local
Bell's Books
536 Emerson St., Palo Alto; 650.323.7822. Mon–Thu 9:30am–5:30pm, Fri 9:30am–9pm, and Sat 9:30am–5pm.
Booksmart
80 E. Second St., Morgan Hill; 408.778.6467. Mon–Sat 10am–8pm and Sun 10am–6pm.
Cantor Arts Center Bookshop
Stanford University; 650.725.2775. Wed–Sun 11am–5pm and Thu 11am–8pm.
Hicklebee's
1378 Lincoln Ave., San Jose; 888.898.0093. Mon–Wed and Fri–Sat 10am–5:30pm, Thu 10am–8pm and Sun noon–4pm.
Kepler's
1010 El Camino Real, Menlo Park; 650.324.4321. Mon–Thu 9am–10pm, Fri–Sat 9am–11pm, and Sun 10am–8pm.
Recycle Book Store
1066 The Alameda, San Jose; 408.286.6275.
Recycle Book Store West
241 E. Campbell Ave., Campbell; 408.370.3514.
Leigh's Favorite Books
121 S. Murphy Ave., Sunnyvale; 408.736.2665. Mon–Thu 10am–9pm, Fri–Sat 10am–10pm, and Sun noon–8pm.
Linden Tree Children's Recordings and Books
170 State St., Los Altos; 800.949.3313. Mon–Sat 9:30am–5:30pm.
San Jose Museum of Art Gift and Bookshop
110 S. First St., San Jose; 408.271.6840. Tue–Sun 11am–5pm.
Willow Glen Books
1330 Lincoln Ave., San Jose; 408.298.8141. Mon–Wed 10am–6pm, Thu–Fri 10am–9pm, Sat 10am–6pm, and Sun 11am–5pm.
Send a letter to the editor about this story.