12.03.08
home | metro silicon valley index | features | silicon valley | feature story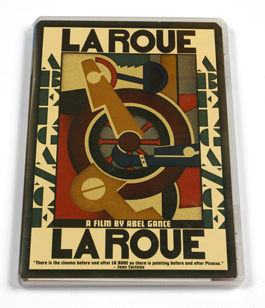 DVDs
By Michael S. Gant
Richard von Busack contributed
to this article
The most inventive director of the post-Griffith silent era was Frenchman Abel Gance, famous mostly for his epic Napoleon. Flicker Alley, keeper of the silent flame, rescued two important early Gance features this year: the antiwar cri de coeur J'accuse (1919) and La Roue (1923). The four-hour-plus version on the two-disc set ($39.95) shows off Gance's many technical advances and bravura melodramatic narrative style. The set comes with a book about Gance's achievements.
Although not so famous as Chaplin and Keaton, silent comedian Harry Langdon was their equal in popularity in his heyday. The four-disc Harry Langdon Collection Lost and Found (Facets, $39.95) restores a score of marvelous shorts plus two features, as well as some oddities from the 1930s, when talking pictures finished off the career of the wan, sad-eyed, childlike comic who Mack Sennett called his "most important discovery."
The Warner Bros. Gangsters Collection, Vol. 4 (Warner Bros., $59.98) provides tommy-gun bang for the buck, with five snappy-patter wrong-side-of-the-law pictures from the 1930s and early '40s with Edward G. Robinson, Humphrey Bogart, Mary Astor and Bette Davis. These features show the evolution of the early gangster dramas into the realm of some self-conscious humor. In The Little Giant, for instance, Robinson's hood forsakes his criminal lifestyle to mix with the society swells in Santa Barbara. Each movie comes with shorts, old newsreels and a cartoon; the set also boasts a full-length documentary about the genre.
Crime took a darker turn in the 1940s with the advent of film noir, with its lonely, shadowy streets full of desperate men and women trying to escape fate. Kino's set Film Noir: Five Classics From the Studio Vaults ($49.95) mixes the familiar (Fritz Lang's Scarlet Street with Edward G. Robinson, Joan Bennett and snarky Dan Duryea) with four fascinating lesser-known films, including Ida Lupino's relentless hostage drama The Hitch-Hiker, two examples of British noir and the genuinely berserk Strange Impersonation, a twisted tale of jealousy that leads to murder and radical plastic surgery.
One of the greatest noirs, Billy Wilder's Sunset Boulevard is back in a newly remastered version from Paramount as part of its Centennial Collection ($24.99). The story of an aging silent-era diva (Gloria Swanson imitating her own life) and her reluctant gigolo (William Holden) justifies multiple viewings, and this edition comes with lots of background materials and interviews.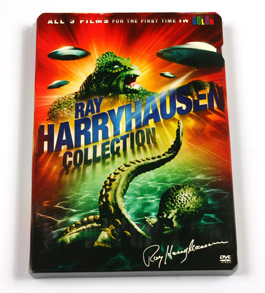 No one did monsters better than special-effects master Ray Harryhausen, who raised stop-action animation to an art form. Three prime examples are pulled together in the Ray Harryhausen Collection ($80.95, Sony Pictures): It Came From the Beneath the Sea (in which a miniature San Francisco bites it), Earth vs. the Flying Saucers and 20 Million Miles to Earth. Each film is presented in its original B&W version along with a newly colorized print. Colorizing classics makes us nervous, but darned if Harryhausen doesn't look pretty good that way. Lots of extras, plus the whole thing comes in a big box with a collectible figurine of a monster from Venus.
Critic Jonathan Rosenbaum, the reigning Orson Welles expert, once wished that all three extant versions of Welles' 1958 dark masterpiece about border-town corruption, Touch of Evil, "could be released in a single box set." Universal has granted his wish with Touch of Evil 50th Anniversary Edition ($26.98). The two-disc set allows film buffs to compare the original theatrical version, the rediscovered longer preview version from 1976 and the 1998 re-edited restoration. Lots of extras, including a reproduction of Welles' extensive editing notes for the film.
Legend Films has recently issued a number of bargain-priced 1960s horror and sci-fi films. They offer viewers a chance to toggle between restored B&W versions and newly colorized prints. Look for The Last Man on Earth ($14.95), an excellent and often overlooked adaptation of Richard Matheson's I Am Legend, and Phantom Planet ($9.95), a risible story of an astronaut who is cut down to size on a planet full of tiny but really devious aliens. Make like MST3K and start riffing.
The newly issued set The Godfather: The Coppola Restoration ($69.99, Paramount) does a great service by rescuing Francis Coppola's brilliant (or at least two-thirds brilliant) trilogy from years of physical abuse to the existing prints. It is now possible to appreciate Gordon Willis' sumptuous cinematography the way he and Coppola intended.
Another trilogy, from the 1980s, gets the boxed set treatment in Indiana Jones: The Adventure Collection (Paramount, $59.98). Harrison Ford in full glory strides the world in Raiders of the Lost Ark, The Temple of Doom and The Last Crusade. The set is flush with behind-the-scenes extras and storyboards. There is also a four-pack with Kingdom of the Crystal Skull added.
Shop Local
Rasputin Music
1820 S. Bascom Ave., Campbell; 800.350.8700. Mon–Thu 11am–9pm, Fri 11am–10pm, Sat 10:30am–10pm, Sun noon–8pm.
630 San Antonio Ave., Mountain View; 800.350.8700. Mon–Thu 11am–9pm, Fri 11am–10pm, Sat 10:30am–10pm, Sun noon–9pm.
Streetlight Records
980 S. Bascom Ave., San Jose; 888.330.7776. Daily 10am–10pm.
939 Pacific Ave., Santa Cruz; 888.648.9201. Mon–Fri 11am–10pm, Sat–Sun 10am–10pm.
Send a letter to the editor about this story.